This is the final edition of Love of Magazine for the year 2020. While I am writing about the holidays I am reflecting on December's in the past and taking into account how different this holiday season might look for most people. With the pandemic in full swing and no end in the near future to wearing masks and social distancing. I had a young friend who whenever faced with getting in some sort of trouble (with the consequences being the almost certainty of a reprimand from a superior) would say "What are they going to do to me? They can't take away my birthday!" She would always put things back into perspective and that allowed her to keep her "power" and confidence in any situation. As you can clearly determine from her statement she was a risk-taker.
2020 has certainly been a year in which we have all had to face some level of risk, whether it was the uncertainty of job loss or the toll of the pandemic on our physical and mental health. This year we were all forced into a situation where we had to weigh the cost-benefit each time a family member or ourselves left the house to grocery shop, exercise, worship, or go to school. We faced the fear of losing real connections with distant loved ones and we risked more than ever, using social media as a platform to dig in our heels to create one of the most extreme political and social divides that I have ever seen in my lifetime in our country. Yes, I too will be glad to see the anger and sadness of 2020 over. We have a lot of healing to do as we move into the new year.
Regardless of how you celebrate the holidays, with a tree, a menorah, or a kinara, this is a time for forgiveness, stepping up, and caring about others more than ourselves. We have one more opportunity to get things right before the year ends. I am reminded of how much many people need the story of hope especially the one that Christmas brings.
In early November, I strolled through some of the retail stores in my area (masked-up of course). I witnessed stores full of cheerful holiday decor and entire families shopping together, In one store that had a big sale going on, people were grabbing up, every last faux tree in sight. (yes, I got one too, so that this year we could have one tree in the dining room and one in the living room). Shoppers were filling their carts to the brim with red, gold, silver, and blue decorations. I could not help but picture all of their homes decorated like winter wonderlands this year. I pictured bright snowflake streamers and miniature train cars chugging along around the bottoms of trees passing colored boxes tied up in sparkly bows. I pictured winter villages made from ceramics and twinkling lights. Why not? These days this is where we are all spending most of our time, home together. It reminded me that no matter what kind of pandemic the world threw at us, they could not take Christmas away!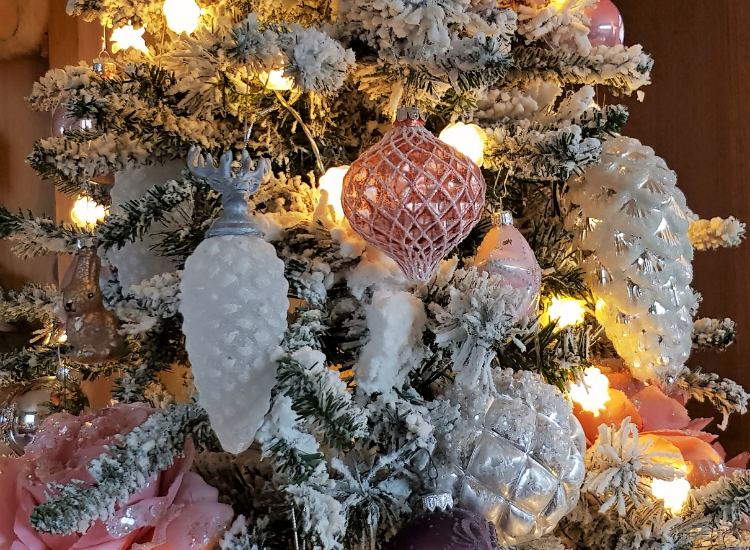 It is only November but the Christmas rush is on in my home! My husband said, "Are you crazy we are going to have the house decorated for Christmas even before Thanksgiving? I can assure you that my madness has a purpose. I am inspired to get my home decorated early and I promise to test as many of the holiday recipes that I could in time for my readers to find them. We need this spirit and cheer this year, more than any year.
Holiday Food Brings Joy
Just because you may not be having a big crowd over this year to celebrate, does not mean that you can't at least make some of that festive food for your family. Why not try instituting the 12 days of holiday food? You could make some fun and different holiday meals or treats each day for the twelve days leading up to Christmas day. This will give everyone something to look forward to every day. Below are some ideas that may inspire you, the full recipes are available by simply clicking the link, many with video tutorials.
Fun Holiday Appetizer Food For The Family
You can start with these wonderful appetizers. Since it will likely be a smaller crowd for the holidays, simply scale these recipes down a bit in size. Your family will feel special and likely not mind at all skipping the usual holiday parties, The Chicken Salad Square was introduced to me by a friend a few years back. This makes a lovely presentation and tastes amazing. The shape is made square by using a loaf pan, and the ribbon and bow are made from green onions and cherry tomatoes.
You don't have to put a lot of effort into making holiday shapes if you have a star-shaped dish, simply make a simple charcuterie, decorate with some rosemary sprigs.
If you feel like playing with your food, you can shape a Christmas tree out of cheese and fruit. We used a piece of star fruit for the top, but you could also make the star out of anything round that you can cut such as an orange slice.
Chicken Salad Square
Holiday Antipasto Platter
Christmas Cheese and Fruit Tray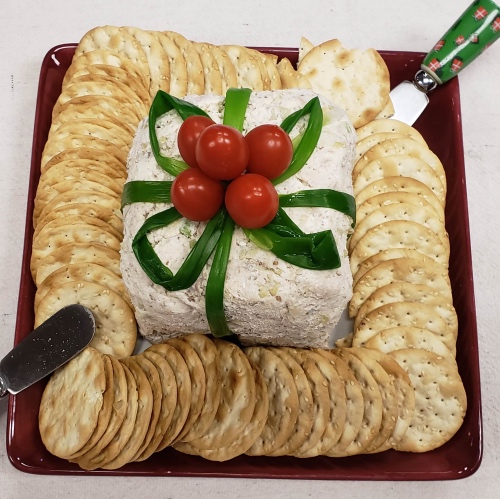 When it comes to appetizers what is more classic and festive than a traditional shrimp cocktail, whether it is for the family or for an afternoon of social distancing with the neighbors, shrimp cocktail always makes everyone feel special.
When you want to make a good impression and satisfy the favorite flavors of each family member's palate, the easiest way to deliver individual flavors is in a salad. The antipasto salad is now a holiday tradition in our home for each and every holiday. It incorporates some things that everyone loves!
Shrimp Cocktail
Antipasto Salad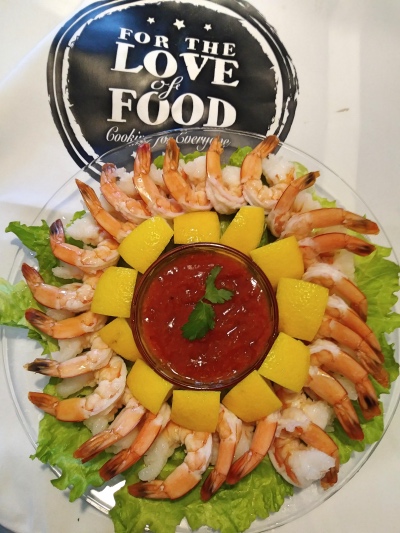 Holiday Breakfast and Brunch Ideas
2020 is the year for making a holiday breakfast last all morning. Why not make some scratch-made favorites and treat your family to a holiday breakfast to remember with sweet treats that will melt in their mouths.
If your family likes cinnamon rolls, we have a couple of perfect recipes for you. One is a gooey sticky Maple Pecan Cinnamon Roll. They take a total of 2 days to make, however, if you are looking for something a bit quicker, you can still incorporate the cinnamon bun flavor into a pancake. We loved these homemade pancakes with the cinnamon swirled throughout and topped with cream cheese frosting.
Of course, there are always scones, these lovelies will last for up to 3 days on the counter and can be frozen for a later time as well. We made blueberry but cranberry or apple or orange-flavored scones would all be holiday-worthy too.
Maple Pecan Cinnamon Rolls
Cinnamon Roll Pancakes
Best Ever Blueberry Scones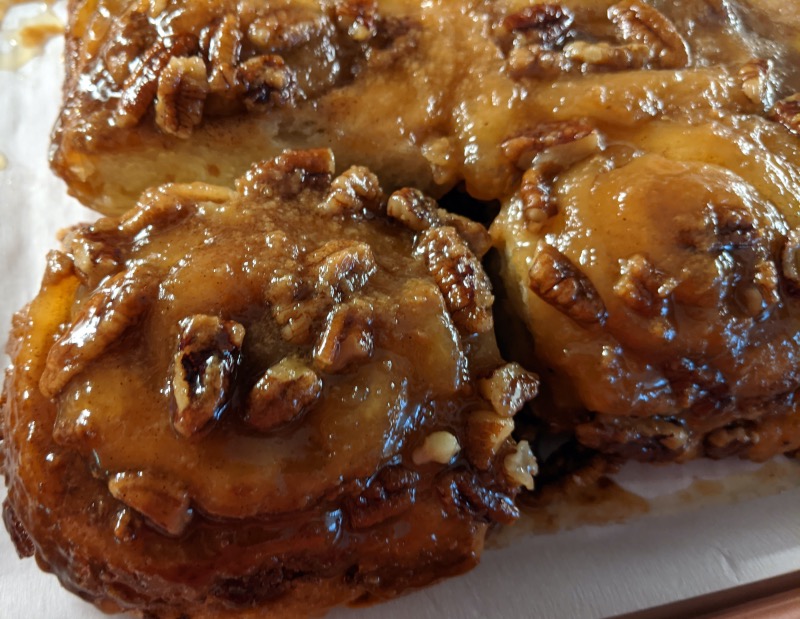 The idea behind all this amazing sweet breakfast food just screams the holidays, so plan to treat your family with tastes that will be enjoyed for many days. You can skip the trip to Rockefeller Center this year and still get a taste of New York with this next recipe. We find that the New York Style Crumb Cake carries all the favorite flavors to make your taste buds jump for joy with each bite.
If you want the decadence of homemade donuts without all the hassle of proofing dough, our expressed glazed donuts will fit the bill perfectly, we even have a video included with the recipe of how to make them.
If it's visions of sugar plums dancing in their heads that you are looking to inspire, then look no further than this Romanian Plum Bread Recipe. This recipe is for an authentic bread passed down to one of our guest bloggers from her grandmother back in Romania.
New York Style Crumb Cake
Express Glazed Donuts
Plum Sweet Bread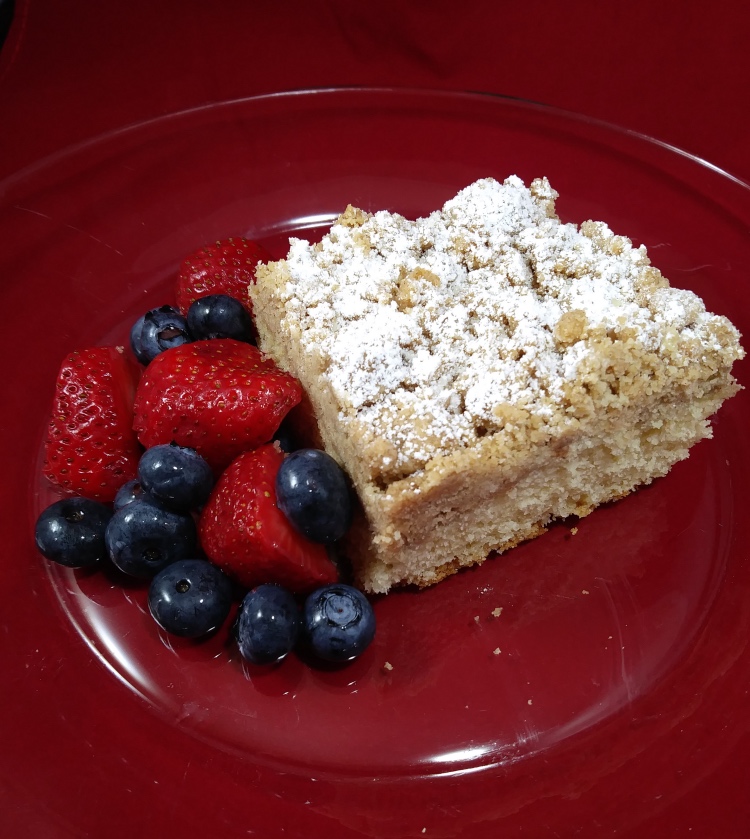 Holiday Entrees or For Any Night
When it comes to selecting which holiday entrees you want to serve it often can be quite straight forward like Turkey, Ham, Prime Rib, or Lobster. This year why not try to come out of your comfort zone a bit to serve foods that are a little less traditional. These can be especially helpful if you are participating in the 12 days of holiday celebration leading up to the Apex of one big meal
Kick up that beef using the Sous Vide method for cooking and then pan-searing your Filet Mignon. Top it with a bit of crab meat and serve it with a vegetable and a twice-baked potato.
For a unique holiday meal, turn a simple chicken thigh into something extra special by wrapping it in bacon.
Who does not love a warm comforting pot roast on a cool winter evening? We even have a video with the recipe to show you how we made this in the Instant Pot.
Filet Mignon w Crabmeat
Bacon-Wrapped Chicken Thigh
Pot Roast – Instant Pot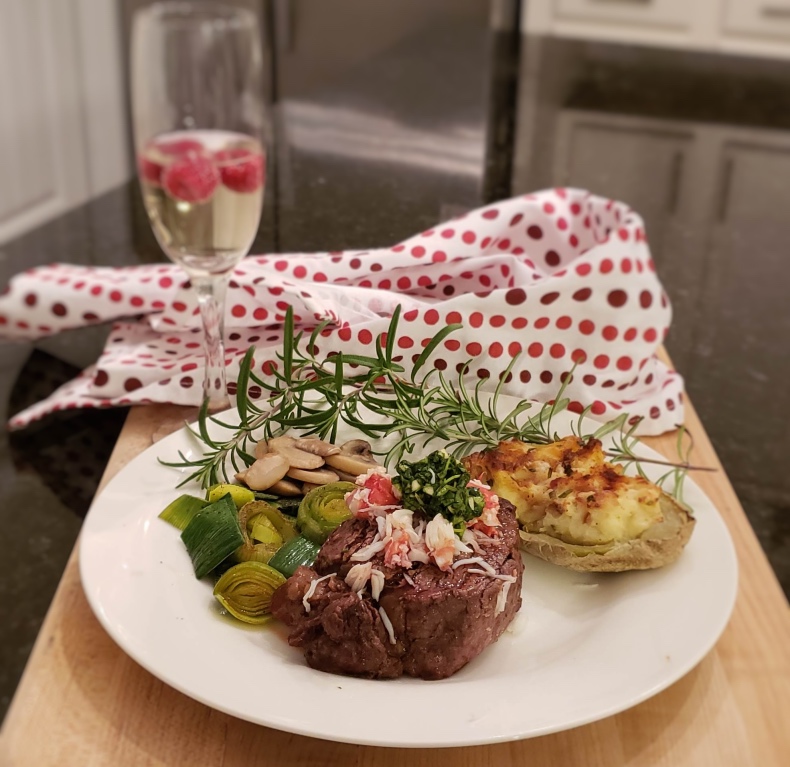 A Fall Squash Lasagna goes a long way to feed a hungry family and its sage and sausage filling with ricotta make it extra special.
Lamb is not just for spring, this rack of lamb is breaded before baking to make it a savory winter treat. Serve it with in-season salted brussel sprouts and some roasted sweet potato.
If the size of your holiday celebration is scaled down this year due to Covid you are likely skipping the huge turkey, however, you can still enjoy all the flavor that comes from roasting a chicken. This butter and herb-roasted chicken is simple to make and will have everyone clamoring to get to the holiday dinner table for their favorite parts.
Butternut Squash Lasagna
Herb Encrusted Rack of Lamb
Butter and Herb Roasted Chicken
Holiday Side Dishes That Are Sure To Please
Holiday sides can be simple and or complex. I like to stick with ones that can either be made a day ahead or are no hassle the day of the holiday meal. Roasted root vegetables are one of my go to's because you can swap out and add vegetables according to what everyone likes. I love beets but my husband does not, it doesn't matter in this medley since he has so many others to select from when plating.
Twice Baked Potatoes can be made a day ahead and placed in the refrigerator or freezer. If freezing them p[ease remember to add extra time in baking them from our recipe.
Savory and rich Duchess Potatoes add sophistication to an all-time holiday favorite -Mashed potatoes. Duchess Potatoes are my new favorite go-to and can be made a day ahead and placed in the refrigerator. What makes them better than regular old mashed? Well, garlic, egg, and cheese of course! Add to that the crusty little golden peaks from baking which provide a bit of texture when you are eating them and you have a holiday worthy side dish Yum!
Roasted Root Vegetables
Twice Baked Potatoes
Duchess Potatoes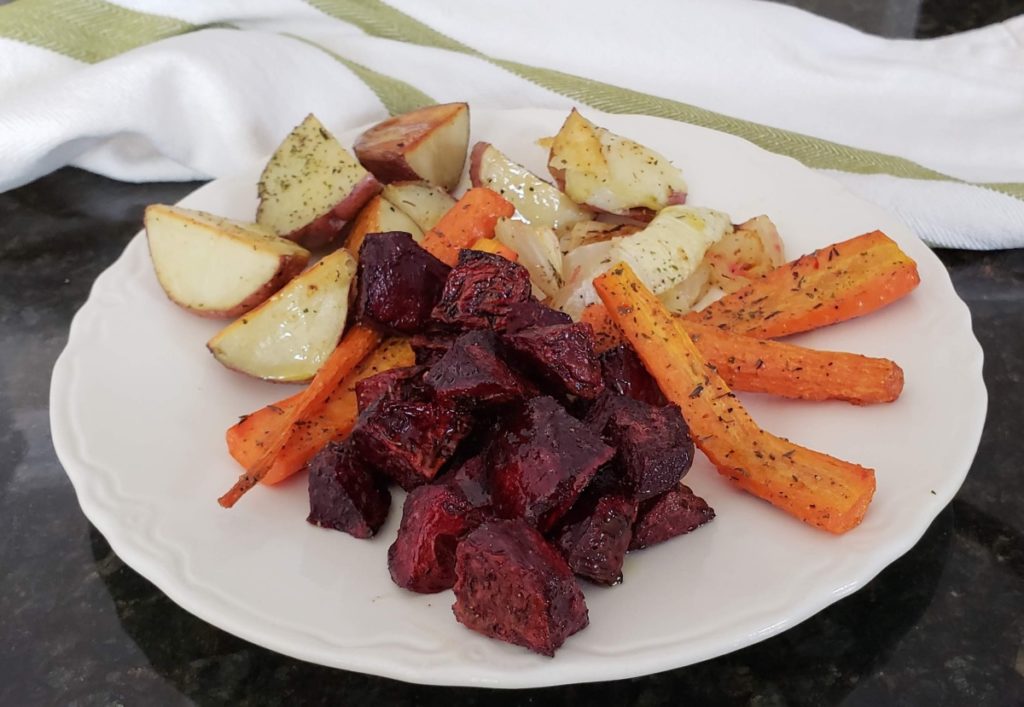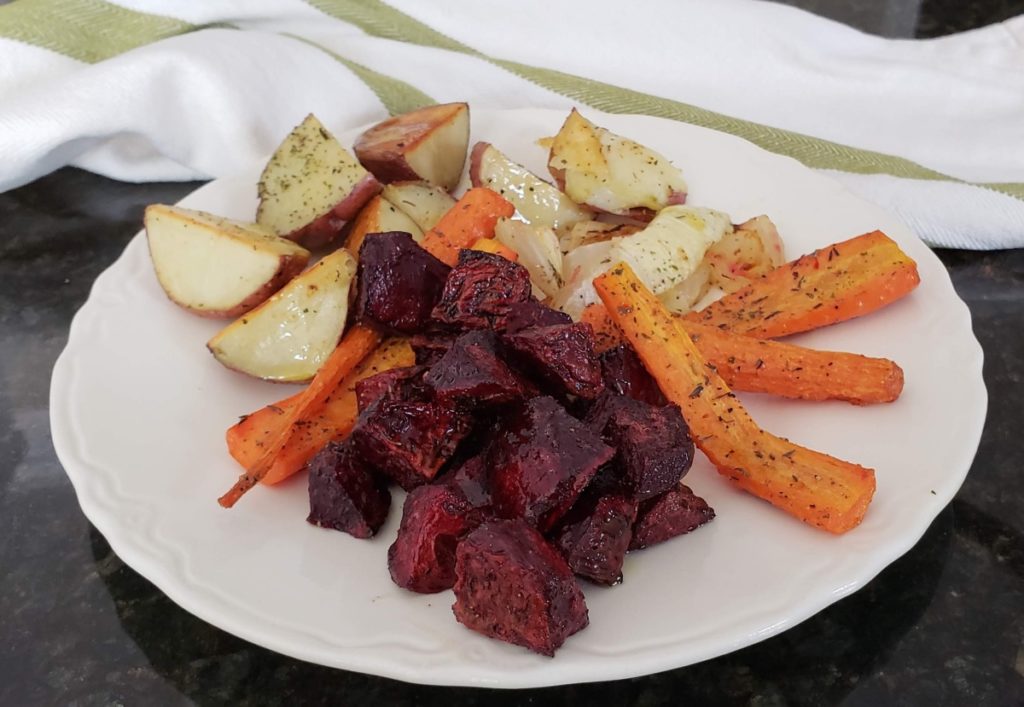 The Sweet Potato Casserole recently came onto my holiday favorites list, for one reason only. It is not that sweet and icky marshmallow-laden casserole that your grandmother makes. This one is bacon and bourbon and all things nice!
We all need some greens even on the holidays so why not serve Garlic Lemon Asparagus, it is made in a saute pan and takes very little effort for such a big flavor.
If you do not mind mixing your greens with cheese then this little Au Gratin that we made with Kale and Spinach can be made a day ahead and just popped in the oven to be cooked on the day of your meal. (If you are not a fan of Kale it can just be made with spinach)
Sweet Potato Casserole
Garlic Lemon Asparagus
Kale and Spinach Au Gratin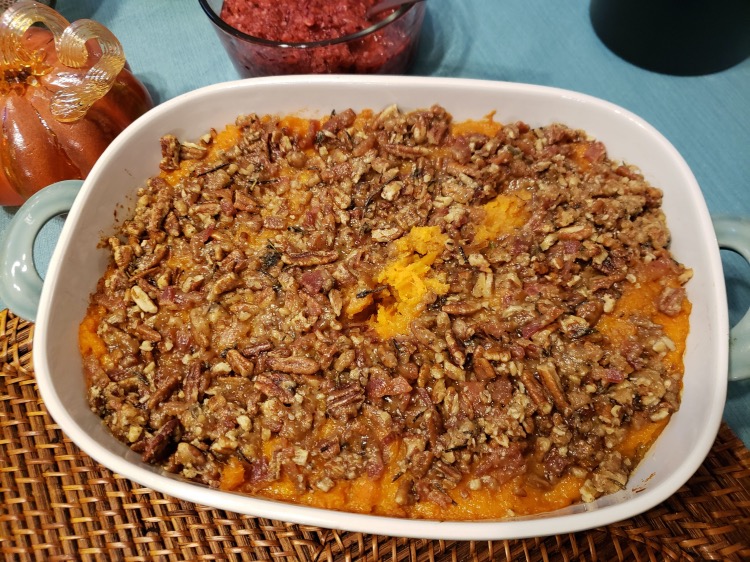 Holiday Sweets for Your Sweets
If you have those sweet-toothed family members, as most of us do. Then we have some fun ways for you to satisfy their cravings for sugar and holiday traditions. Starting with these Italian Ricotta Cookies, they are made using rich and creamy ricotta cheese to create a soft-textured cookie. The topping is a simple sugar icing and they can be decorated with Maraschino Cherries or with holiday sprinkles.
If you want to prepare something simple that the kids can get involved with these Holiday Rice Krispy Treats with holiday M&Ms are the perfect solution.
If you are looking for something a bit more impressive to serve your family at the end of the holiday meal, there will nothing more appealing to diners than a slice of Berry Cheesecake. This homemade cheesecake is light and fluffy with strawberries rather than the traditional cherries. If you have never made a cheesecake before, not to worry this recipe included a video tutorial to help you along.
Ricotta Cookies
Holiday Rice Krispy Treats
Berry Cheesecake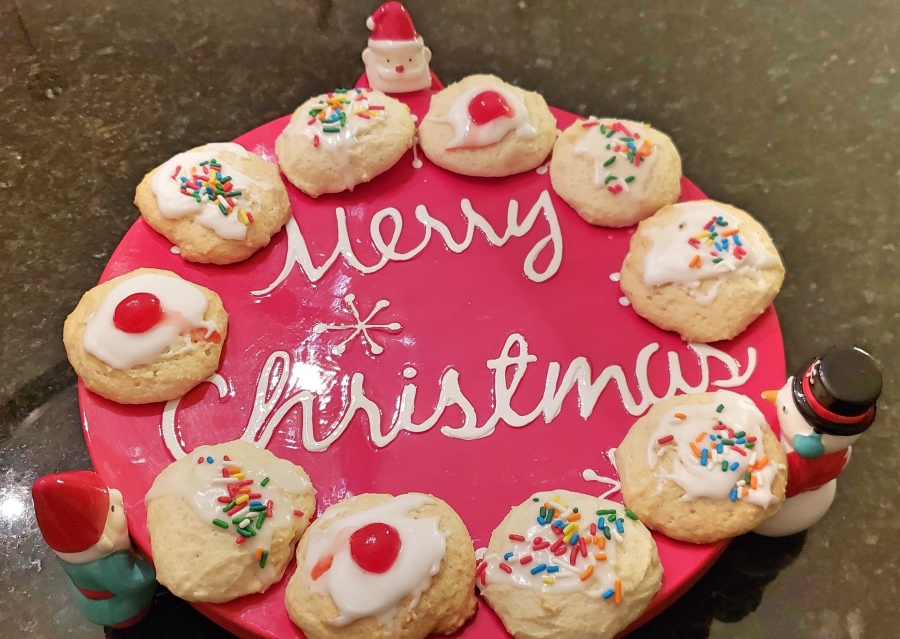 If baking is not your thing, not to worry you can still prepare a sweet treat that everyone will love. This No-Bake Reese's Peanut butter fudge was submitted by one of our guest bloggers. It is amazing and no one will know you did not bake it except you. As I am writing this I want some of this fudge because it is so delish!

Ever tried making a Trifle? It is also super easy and looks amazing in the bowl with its bright colors and creamy texture. No baking required unless you insist on making your own pound cake.
Last but not least we will suggest these little personal apple pies. This year since you likely only need to make enough for your family, it would be the perfect time to serve them. Everyone can have their own little crispy pie served to them and they can choose how to top their pies however they please with ice cream, whipped cream, or even cheese.
No-Bake Reese's Peanut Butter Cup Fudge
Strawberry Trifle
Personal Apple Pies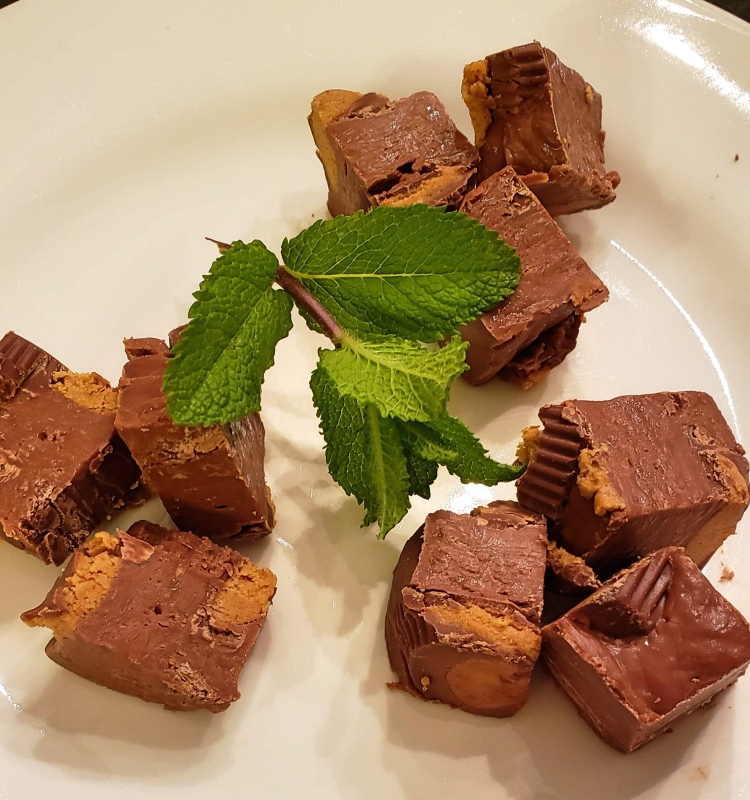 Regardless of which holiday celebration you observe one thing is for certain due to the Covid Grinch, this year they will all be celebrated a bit differently. We hope that some of our festive recipes manage to make their way into your family's holiday table and could possibly get included in your family traditions for years to come.
Joy and Peace to everyone this season.
Merry Christmas, Happy Hanukkah, Happy Kwanzaa! From all of us at Love of Food Magazine