Happy First Year Anniversary to Love Of Food!

April is a special month for Love of Food Magazine. It was one year ago when we actually launched the magazine and began our Facebook page. We thought it would be fun to look back on the day of our launch party, share some photos and talk about that day. If you were part of our special day, we thank you. It was all the encouragement of our friends and family that pushed us forward. Special thanks to Darrell and Susan Vest who opened their facility, D's Bottle Shop in Wake Forest, NC for to us to hold our party. Thank you to all the amazing people who came out to celebrate our launch with us. Watch the videos to learn more, if you were there you might just see yourself!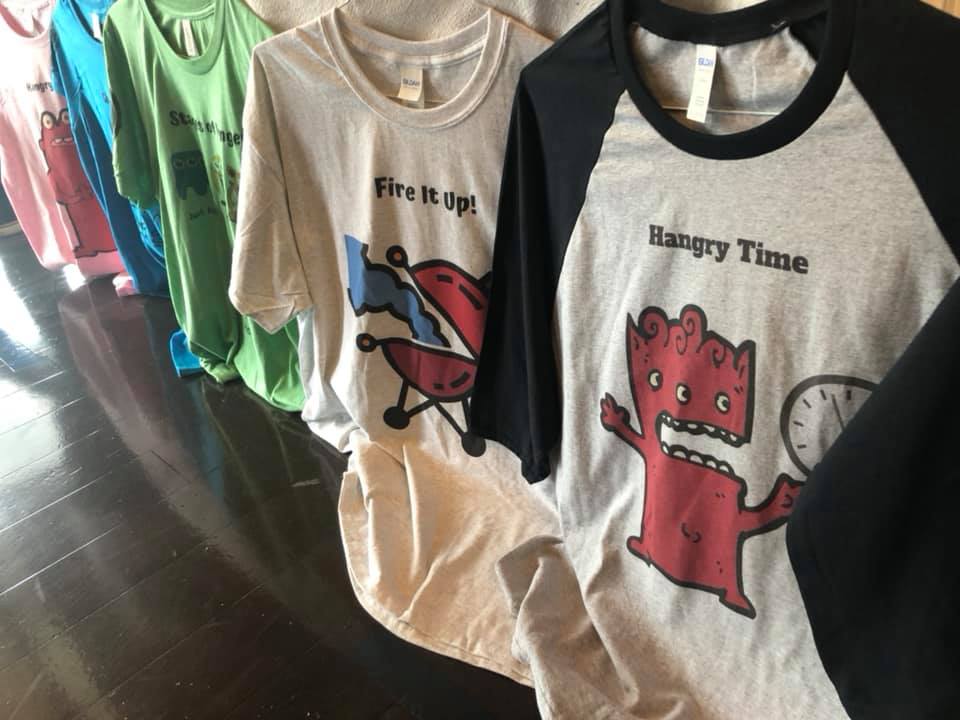 We custom-designed shirts and aprons for prizes and gave away packets of seeds to encourage everyone to grow their own food. We made refrigerator magnets so people would have the web address handy. We hired social media expert, Heather Leah to do a Facebook Live from our event (Heather a year later is a reporter at WRAL- Congrats Heather.)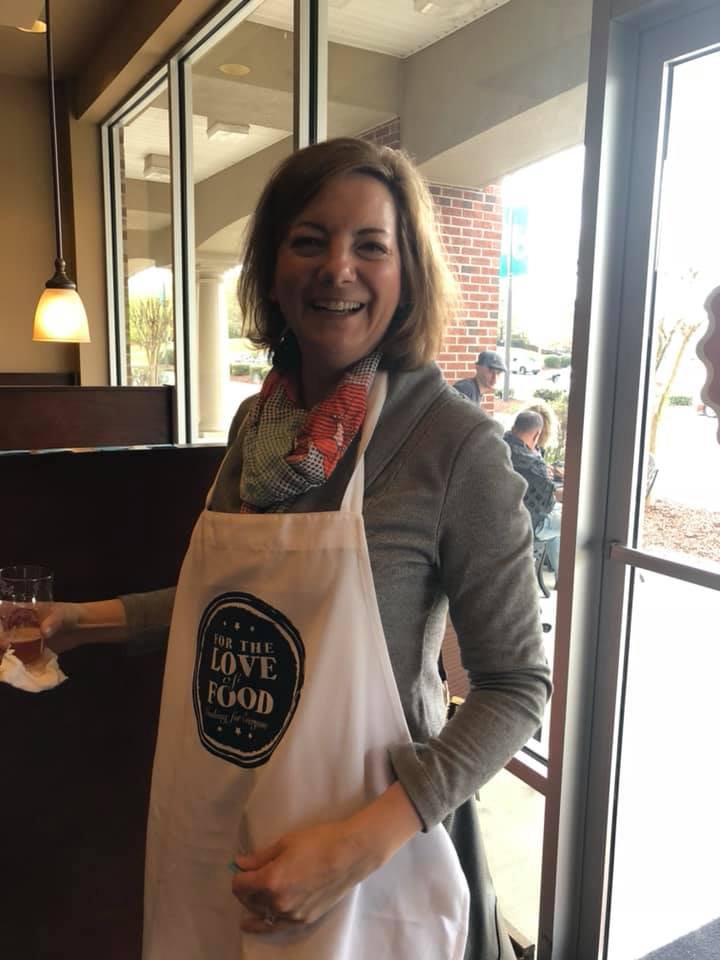 In the days leading up to the launch, we started sourcing all the ingredients for our dishes. We tested audio equipment, measured tables and planned times for giveaways. We created a food trivia game to run on the television screen and a game to challenge the player's sense of smell with spices. To add to the fun we purchased a Sous Vide stick worth $100 to raffle. Then we food prepped all day leading up to April 6th.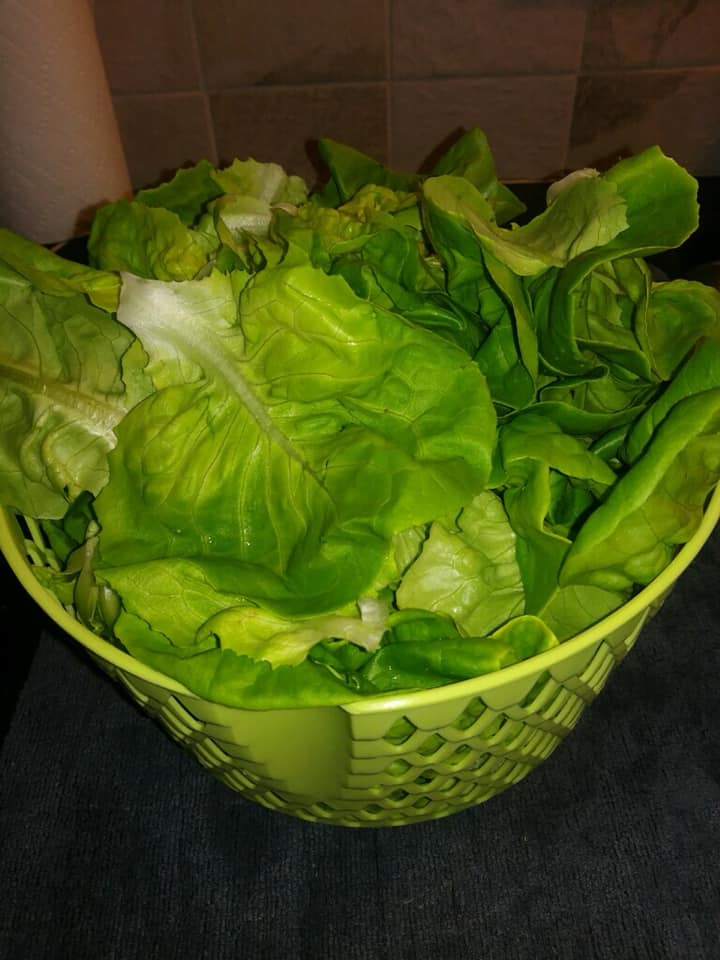 That day was filled with so much excitement starting in the wee early hours of the morning Nicole and I cooked all the food to feed up to 150 people from scratch. We were running my husband Rob to the supermarket and putting him on grill duty. By late morning, it was clear we were getting in the weeds, so we enlisted help from our neighbors to start driving items to D's Bottle Shop, where our event was to be held.
Here is a list of our menu items. You can watch below as Nicole introduces the food.
Cruditate
Homemade Pita Chips
The games, trivia, and challenges were fun for everyone!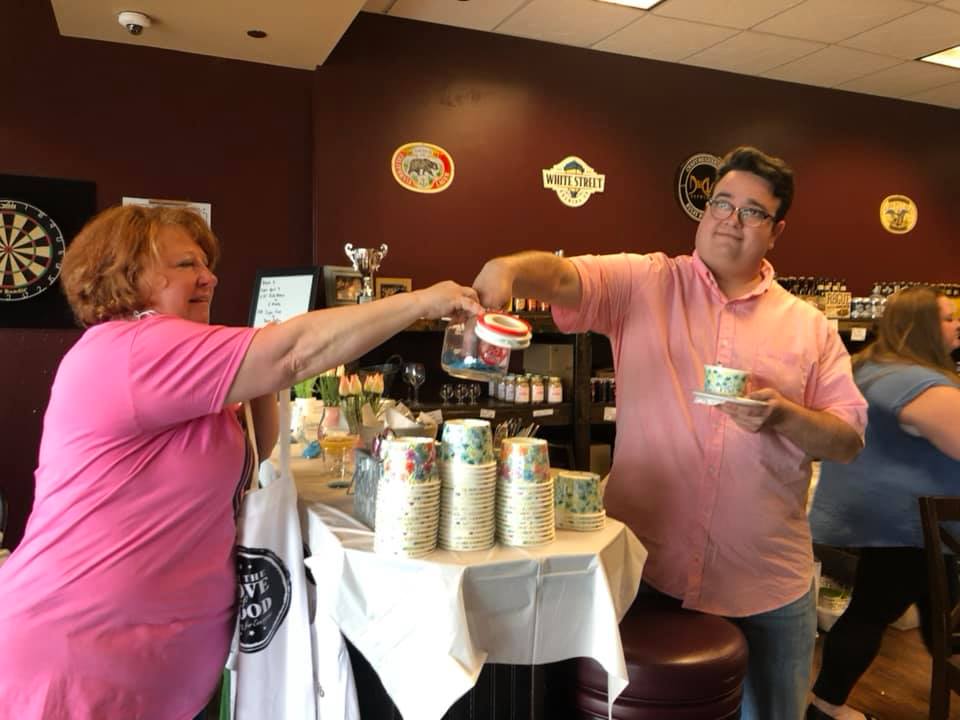 Friends from near and far came out to be part of the celebration.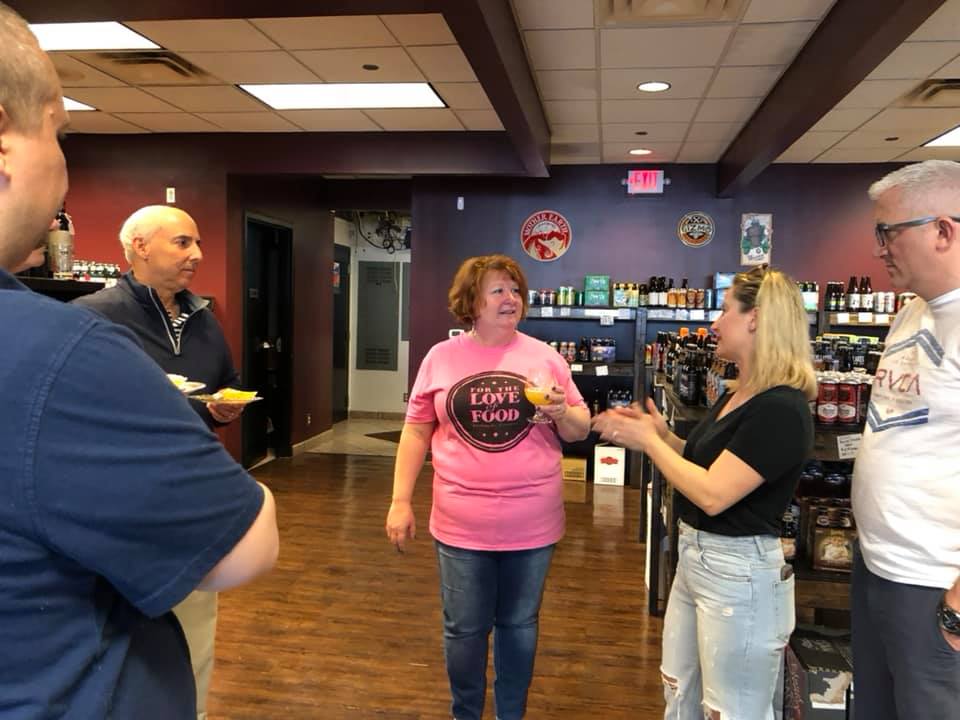 There is no way a year ago April we could have imagined what exactly our venture would look like today. I liken starting a business to being a first-time parent. When you are pregnant you can't wait for the baby to be born. You do all the preparation for what you think you might need. You do your research, listen to others who have gone before you, and remain patient and just hope that you have done all things right. You have no idea what that first year will really hold.
When the baby arrives you instantly fall in love. You do everything in your power to protect them, you compare their growth to make sure they are on track. In the beginning, everyone fawns over the new child while you struggle with sleepless nights, teething, and messes. You realize much of what you thought you would need you didn't. That diaper cake from your baby shower sits collecting dust and the fancy newborn outfits remain on hangers, never even worn before the baby grew out of them. There is a shifting that occurs that first year as you discover your way as a new parent and as the baby progresses through its various stages. Why did I think our baby, Love of Food, would be any different?
I can tell you our baby's first year had its ups and downs. Nicole and I started with the notion that rings very true for most, food is love, it is a common denominator for all people across many divides. Food is one thing that brings us together as humans. Anthony Bourdain was quoted as saying and I paraphrase "when someone cooks for you it is much more than a meal, they are sharing the story of their culture, their life"
We spent many hours discussing the possible monetization models for The Love of Food. We looked at what others were doing and decided we did not want to have the pop-up Adwords model that you see on most blogs. We toyed with multiple ideas, including a private dinner party model where we placed chefs for hire. We began building out that model and in the process became enamored with the stories of local chefs, farmers, and restauranteurs. I personally enjoyed holding the video interviews, editing, writing about our experiences, and building a social community of people who loved food as much as we did. To visit our YouTube Channel click here or on the picture below.

A little known fact is I have a background in magazine advertising sales, I sold ad placement for a Magazine in Boston and managed the sales team for a popular women's business publication here in North Carolina. I also was a contributing writer for several local and national publications. As a child I wanted to be a writer, my hero was Louisa May Alcott and Isak Dinesen. As I got older I became more enamored with Ralph Waldo Emerson, Seth Godin, and Jim Collins. What makes me tick beyond writing is my love for the food. I have so much fun when I get to spotlight what others are doing and what is happening in my community.
After a lot of starts and stops, we decided a good way forward for Love of Food Magazine to build revenue was to sell prime placement spots that had relevance and appeal. In order to do that we knew we would have to focus on building a brand and growing an audience first and that would take time. Patience is not a virtue that comes naturally to me so this has been a lesson in itself. Growing organically, building a true audience of likes for our business page is the right thing to do for our future advertisers and for the health of the brand. This process is painfully slow for an impatient person like me. This past year we went from three followers to over 1000 likes for our FB page and over 500 people joined our Love of Food group on Facebook. This year was so amazing for us!
With growth, there is always so much learning. There was a lot of education required to get us even to where we are now. First I taught myself how to use WordPress and built our first website. It was a great lesson however the design looked too homemade, more like a recipe repository. It became clear soon after the launch that we needed a cleaner, sleeker look to create a better experience for our audience. Back to the drawing board, I went to redesign a new site with more of a magazine format. While any website is a work in progress, we are much happier with this design.
Learning to navigate Facebook and Instagram for business is very different than using it socially. Lucky for me I have a husband that works for a marketing company, who likes to play around with it as much as I do. We attended the Internet Summit for the past two years to take lessons from some of the top experts in their fields. Together we have learned so much about the ever-changing world of social media. My husband Rob, is always nagging me to do more hashtagging, or tag other businesses in my posts, write more copy, etc. I do appreciate his support and without him, I would not have the time to devote to nurturing The Love of Food.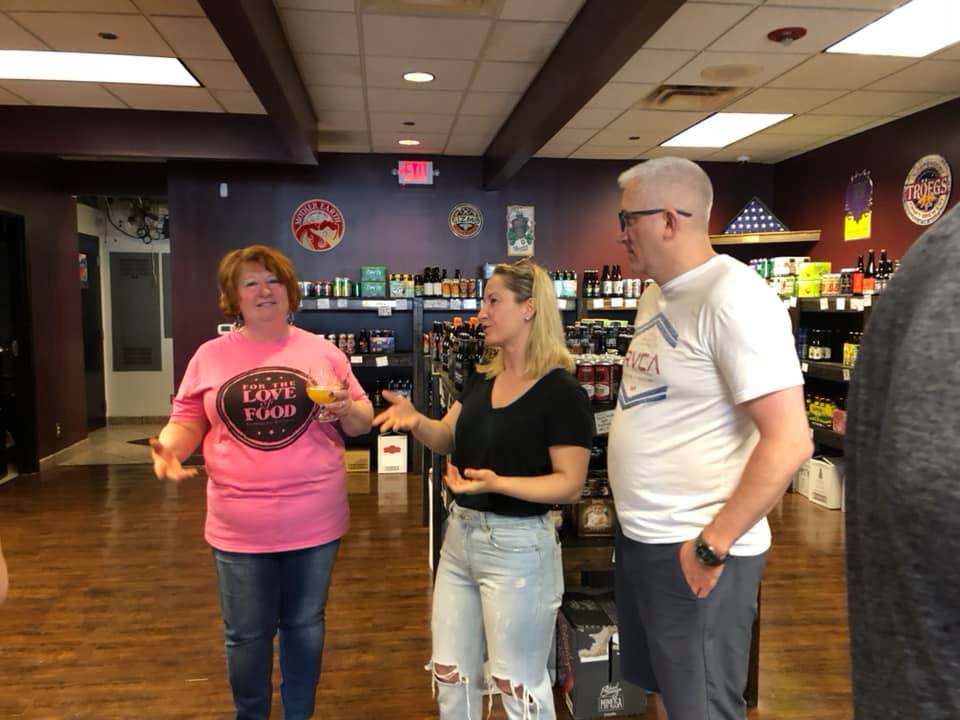 I had to learn to be flexible and to be able to change and bend with the environment. One of the hardest lessons this year had to do with the partnership Nicole and I created. When we started out I had a vision of what it would be like as the business evolved, I believed sharing our love for food was a way forward for my daughter Nicole and I to strengthen our bond and maybe grow a family business together. Her culinary skills far surpass mine (she is professionally trained by Johnson and Wales University). Right now her situation demands that she work full time where she can have the security of a steady income with benefits, which means she is unable to contribute to Love of Food on a regular basis. I miss her input, I miss cooking with her, however, she is welcome to step back on board whenever she thinks the time is right for her. Our mother-daughter relationship is as strong as ever and we make time to talk several times a week (yes, the discussion always involves food and what we are cooking). I still regard Love of Food as our business together and believe the family vision will be fulfilled in the years to come.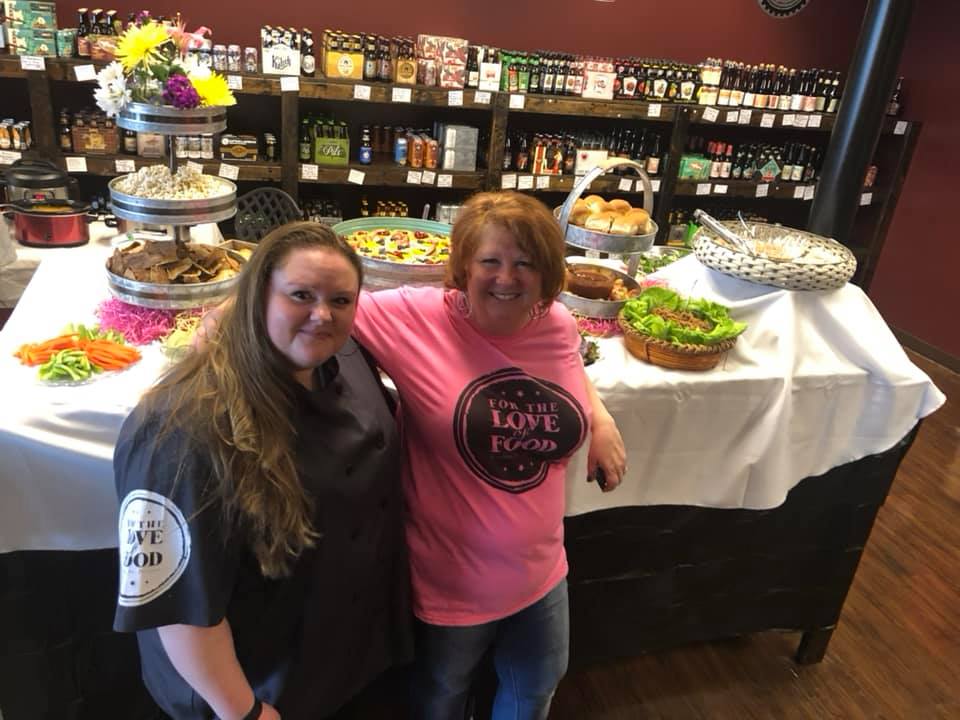 The Love of Food Magazine baby is now a year old, a new toddler really. Our magazine baby hopefully makes people smile as it records and writes about its play dates with talented local chefs and documents the fun food events happening around town. We hope it is seen as a friend who encourages others to cook no matter where they are on their own culinary journey and acts as a voice for our local culinary community. We hope it brings people together in ways that never could across social, cultural and economic boundaries.
Sure just like a toddler, milk gets spilled occasionally, Sometimes we wander off the original path and have to find our way back home, but all in all, people tell us we have something good here and to keep going. I have no doubt in my mind that our Love of Food baby will continue to flourish, become a business with a strong backbone and healthy ad revenue. We are building a firm foundation and investing in our future.
Thank you to all who have been a part of encouraging and supporting us this past year- We can't wait to see what the next 12 months will bring. You are amazing!