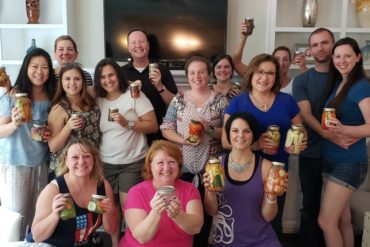 One of my favorite celebrity chefs is Vivian Howard, who owns the Chef and the Farmer in Kinston, NC. I...
Romaine lettuce is the lettuce used in Caesar salads. Its long leafs are good for preparing lettuce boats filled with meats, veggies and rice. Romaine lettuce tends to be firmer than some lettuces and lasts in the refrigerator a week if stored properly.  In the video below we show you...
The bell pepper comes in various colors or varieties. Some bell peppers will start off green and change color as...
Carrots, we love them raw with ranch dip or blue cheese. We put them in our childrens lunch packs and...
Onions, almost every savory dish we cook calls for onions. The tears that are shed over onions are real and according to scientists the chemical that the onion produces that irritates our eyes differs from the chemical from the smell. That may be the reason why mouth breathing while cutting...
Purchasing bone in chicken thighs is less expensive than purchasing boneless chicken breasts. Many people agree that the thigh meat...
Spatchcocking is simply just another name for butterflying, but it's more fun to say and it certainly sounds impressive. When...