When it comes to creating, serving, and showcasing food, the choices are limitless. From setting the tone for a fun party to a formal dinner, and everything in between. All you need is a little creativity, some dinnerware, table cloths, glassware, and holiday decor. A theme will make your food stand out and set the right mood for a memorable holiday meal.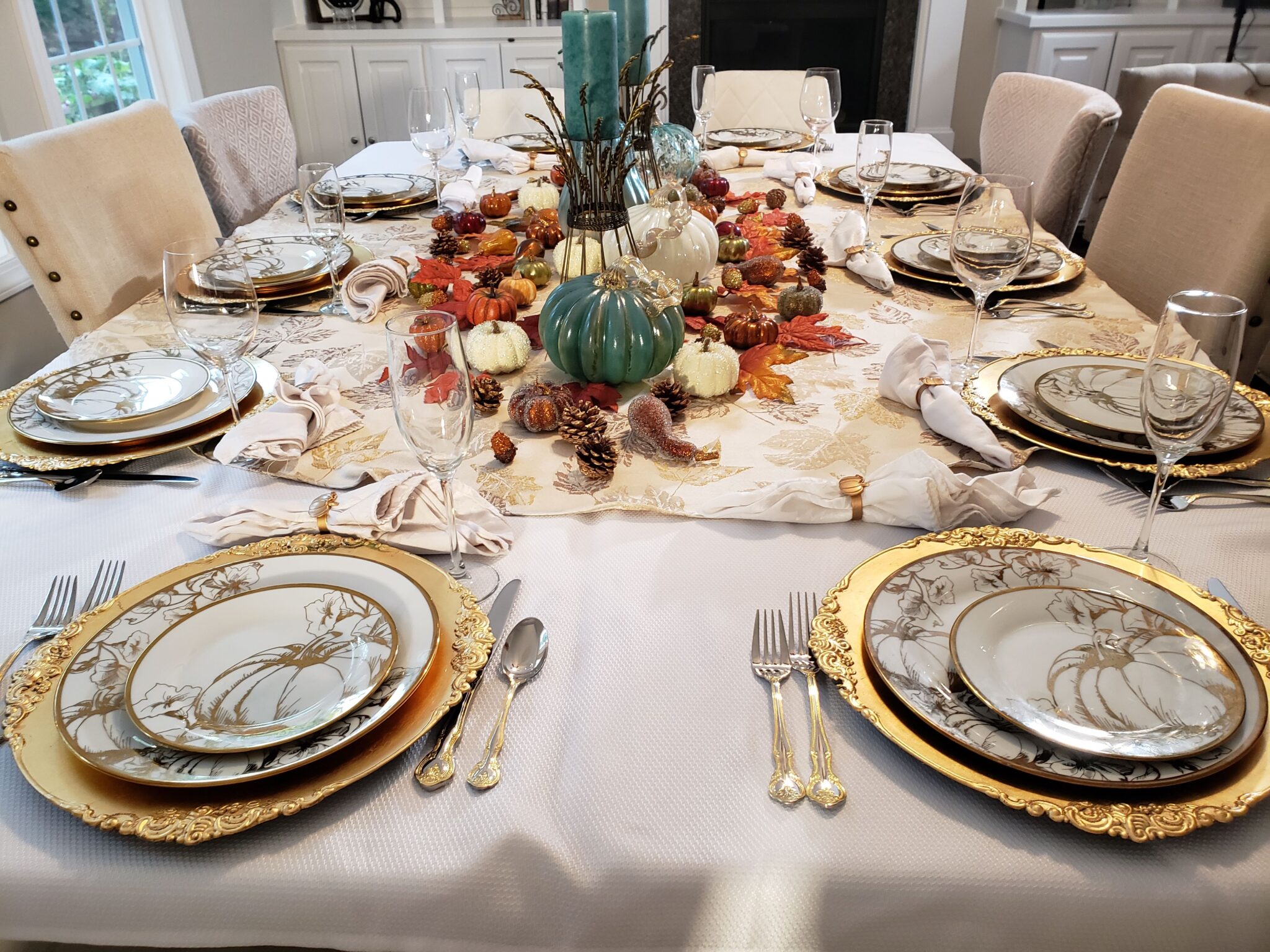 Designing Your Holiday Table- Where Should You Begin?
Many times people shy away from entertaining because the idea of having to set up an extravagant table appears like a daunting task. But it does not have to be hard. The key is starting a week or two ahead of time and follow these simple steps.
1. Elegance or Fun
The first rule of thumb is to decide is who will be in attendance? Perhaps your guest list includes your very traditional mother in law, and or your new boss. If this is the case, the answer is simple. You should shoot for elegance above all else. If it's a group of close friends and neighbors you may want to decide on a fun theme.
There can however be extenuating circumstances once you take your guest list into consideration. Can you have both? The answer is kind of… yes.
Case in point; this Thanksgiving we have little ones attending. While we still all want everyone to feel as if they were being treated to a wonderful meal, we had to consider spills, drips, table bumps and busy hands. We opted to ditch the formality but weave in a sprinkle of elegance. While our tables will not be magazine cover worthy and as fancy as previous years, we are blessed to have children in our lives.
Grandmother's antique platters will not make their appearance. We will skip the tall candles and the decorative glass votives. Low profile decor that is more stable will dawn our table. The crystal long-stemmed wine glasses that can tip too easily will be replaced with stemless options. Instead of the fancy table cloths, our tables will be draped with cloths that will be no worse for their wear if/when they get spilled upon.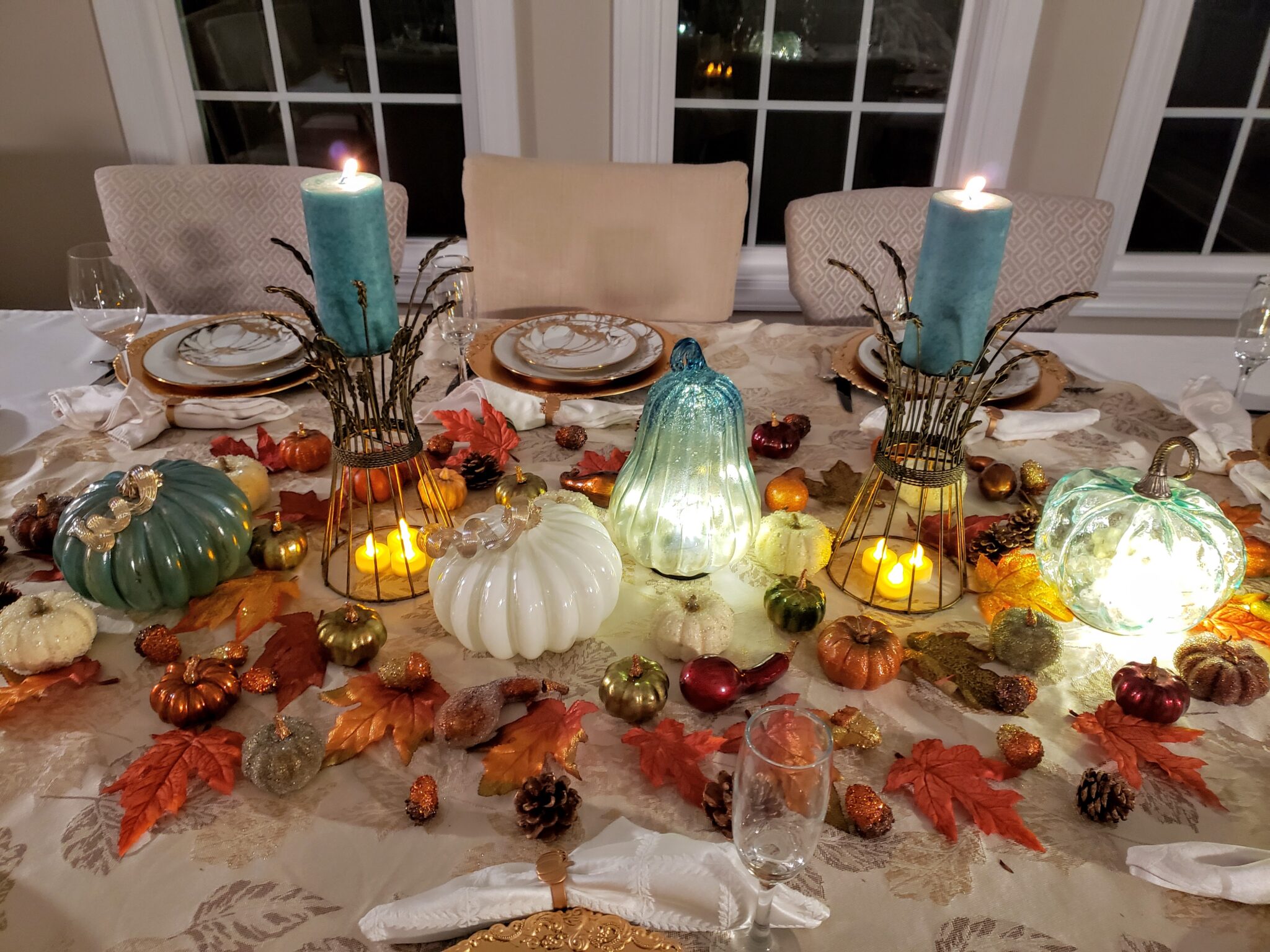 Our tables will still be quite festive, and have a hint of elegance but are more approachable for all the guests. The parents of the little ones will feel more relaxed, as will we, as the hosts. Here are some of the designs we plan to use.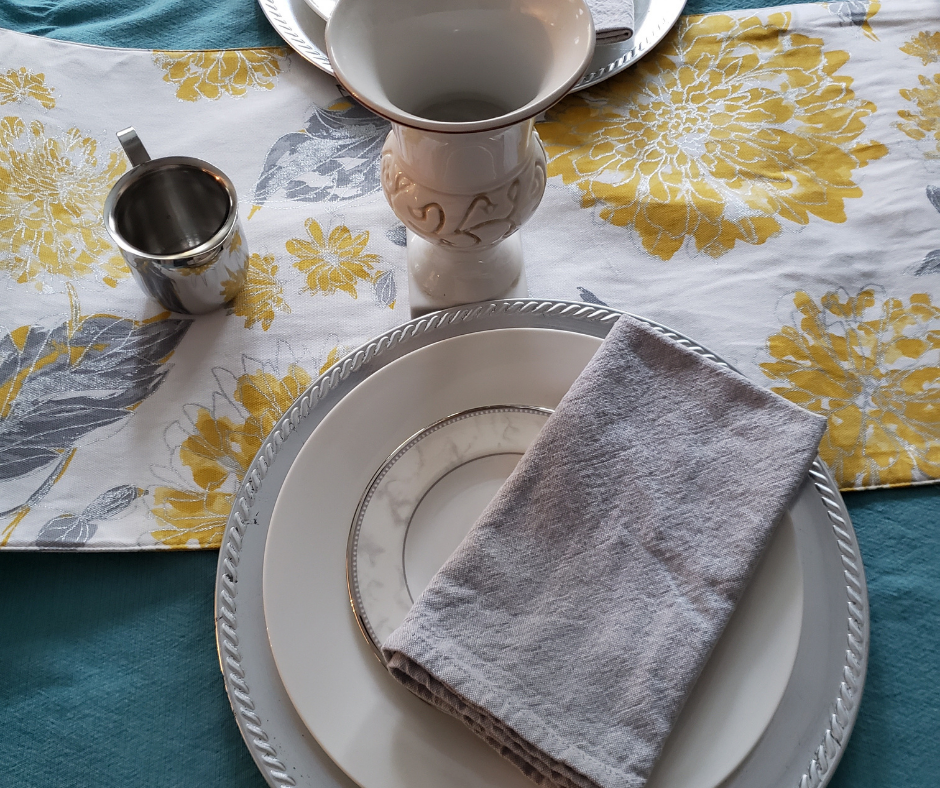 The most important part of creating this sacred space where we will partake of our Thanksgiving meal is that each and everyone seated at the dining table is made to feel comfortable.
Now that you have considered who will be attending, what do you do next?
2. Select A Signature Piece and Build Around It
Start with one signature piece for inspiration that will help define the theme of your design, Sometimes it can be a fantastic dinner plate.
It does not always have to be the dinnerware that is your muse. We found this rooster placemat and decided the theme would be farm/country. From there we were able to gather pieces, gift bags and really hone in on the details. Fresh vegetables were even part of the decor.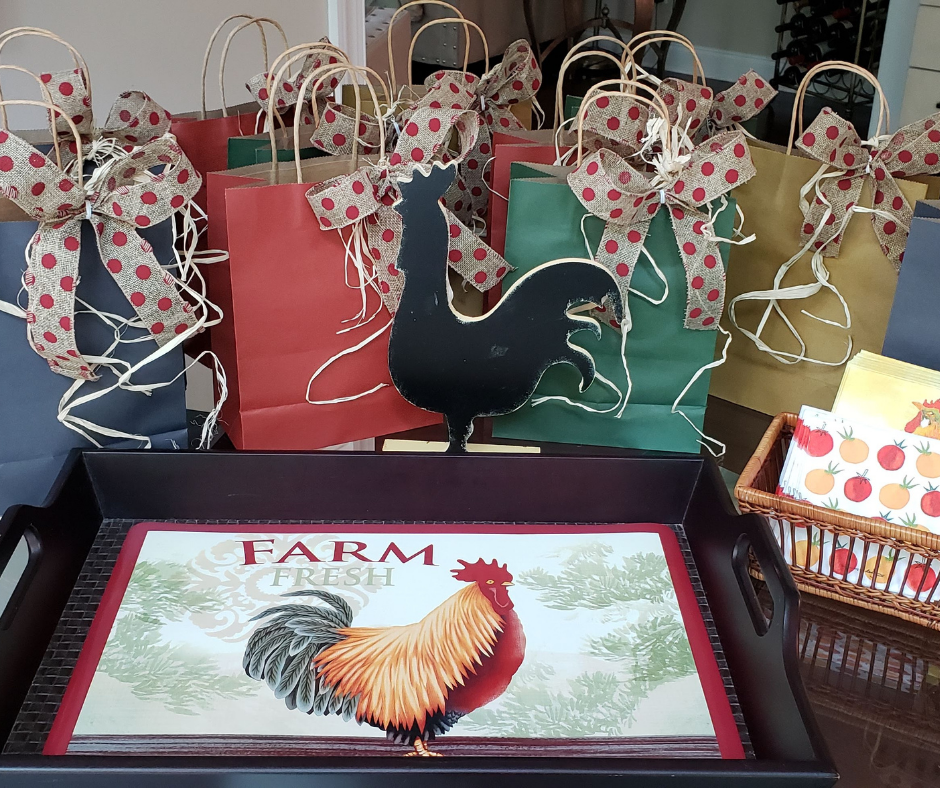 Once we hosted a birthday dinner for a girlfriend from Texas and that gave us the idea of a fun cowgirl theme. The inspiration for this, believe it or not, was not the hat but the cute little checkered pigs we found at a craft store.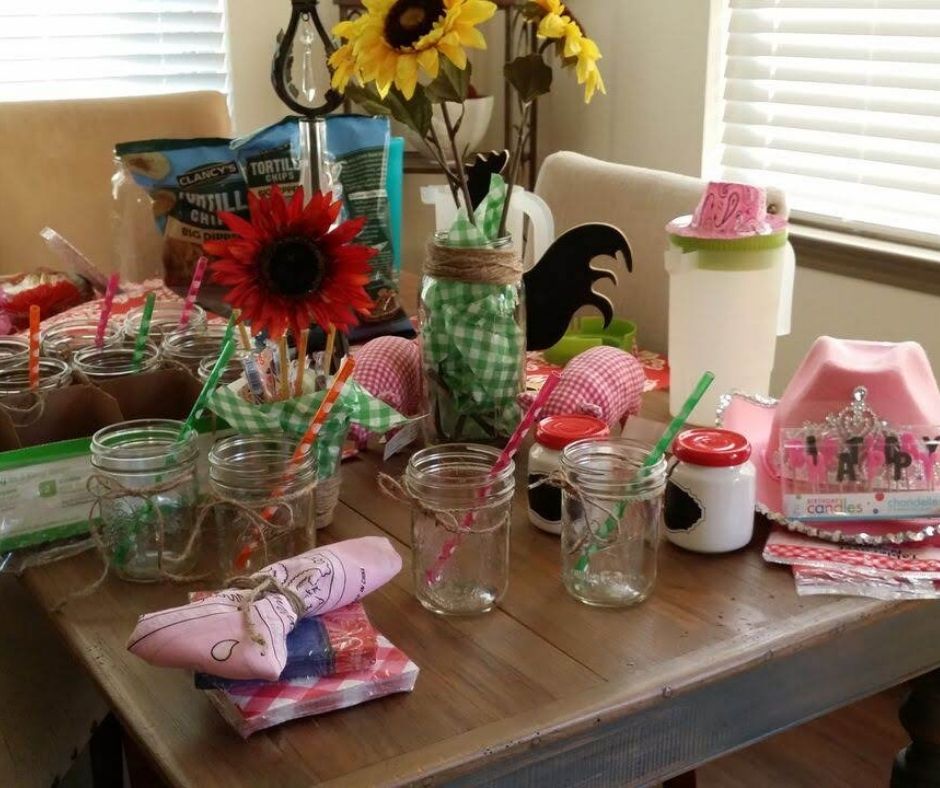 3. You Do Not Have to Break The Bank Creating a Centerpiece
Beautiful tables can be made from Items you source just about anywhere. These beautiful flowers are from a Crepe Myrtle tree located in our neighborhood. Tall weeds were growing around them so they were added for greenery. You can also find sticks or Cat N Nine tails. Even wheat grass can be a great way to add color and dimension to your tablescape. Just be sure to spray anything before coming in from the outside with a solution of dish soap and water to remove any insects hiding in tiny crevices.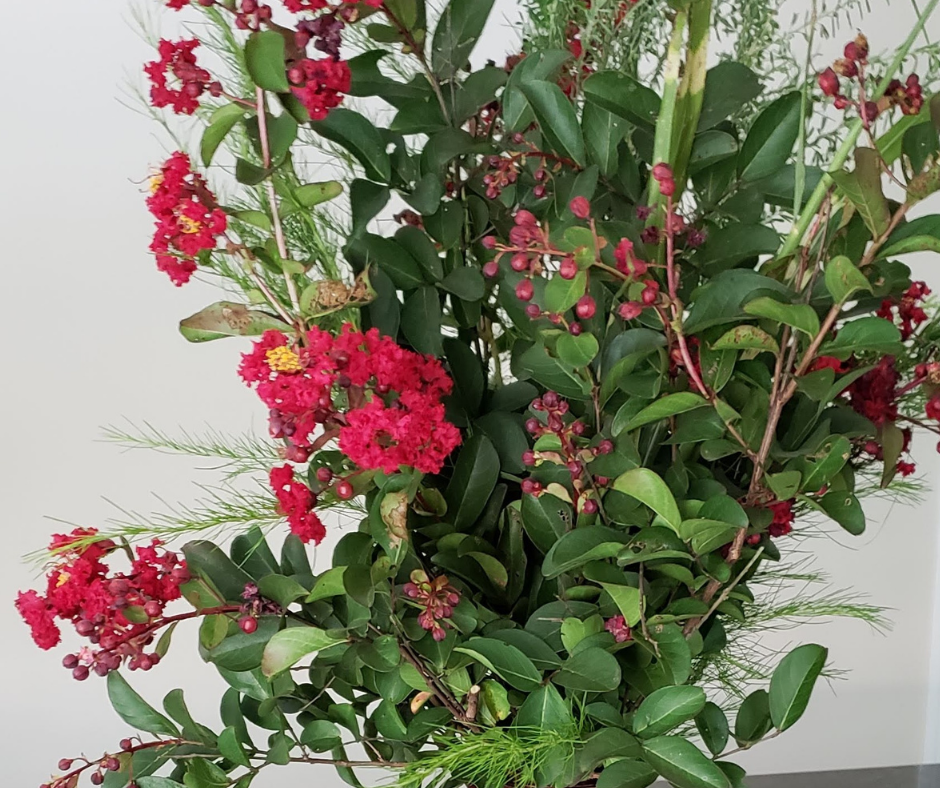 4. Secret Dollar Store Finds
This past Halloween, we were challenged to set a great table using mostly Dollar Store finds. We hosted a dinner and a brunch using the same items. It was the best 15 dollars we ever spent. Storing these items does not make sense for our space, so the next day we packed it all up and made a donation to the local thrift store.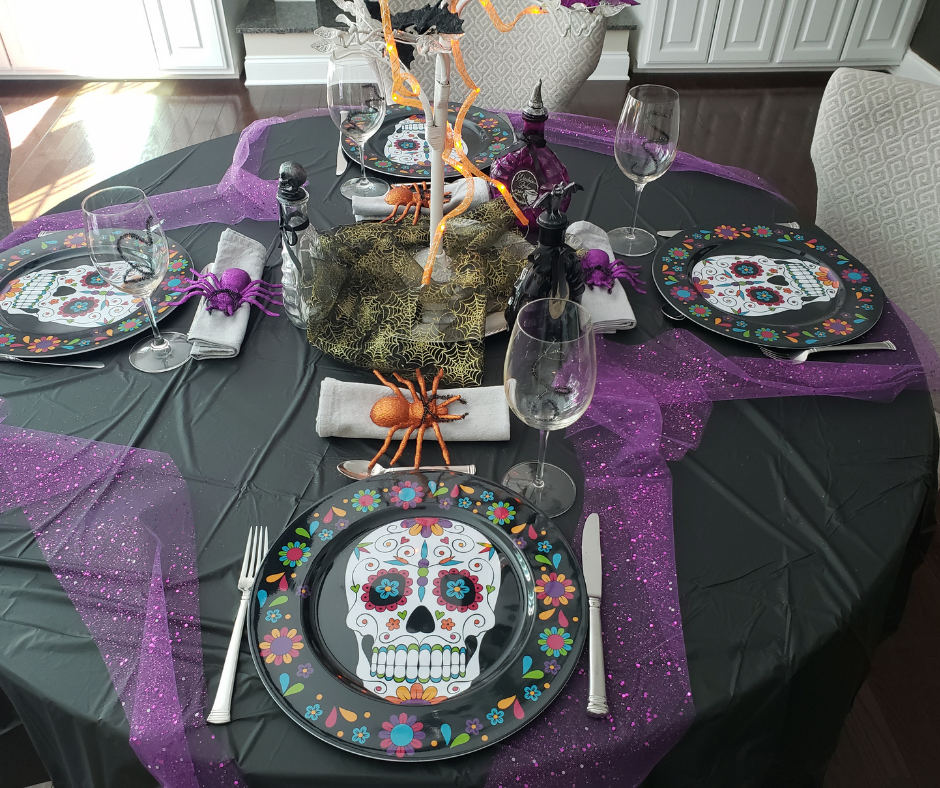 Thrift stores can be a great place to find pieces that you can use for your dinner parties. One time we hosted a birthday dinner for a friend who happens to really like the color blue. We found some pretty blue glassware sitting on the store shelves just begging for us to take it home. We made a small donation to a good cause and made our friend smile when she saw her favorite color proudly displayed on her table. When the party was over we gave her all the glassware to keep.
Thrifting is only one of the ways to have fun with your tablescapes. We know some of you cringe at the thought of using someone else's dishes, but if you think about it you do this each time you dine out. Yes, it would be nice to walk into Sur La Table or Pottery Barn and purchase everything showcased, but unless your last name is Rockefeller, that kind of expenditure for each and every holiday is not sustainable. We even set our Christmas table with pretty red snowflake plates that we found in a box at a local thrift store. This year we donated them back to the same store. That is good example of re-use.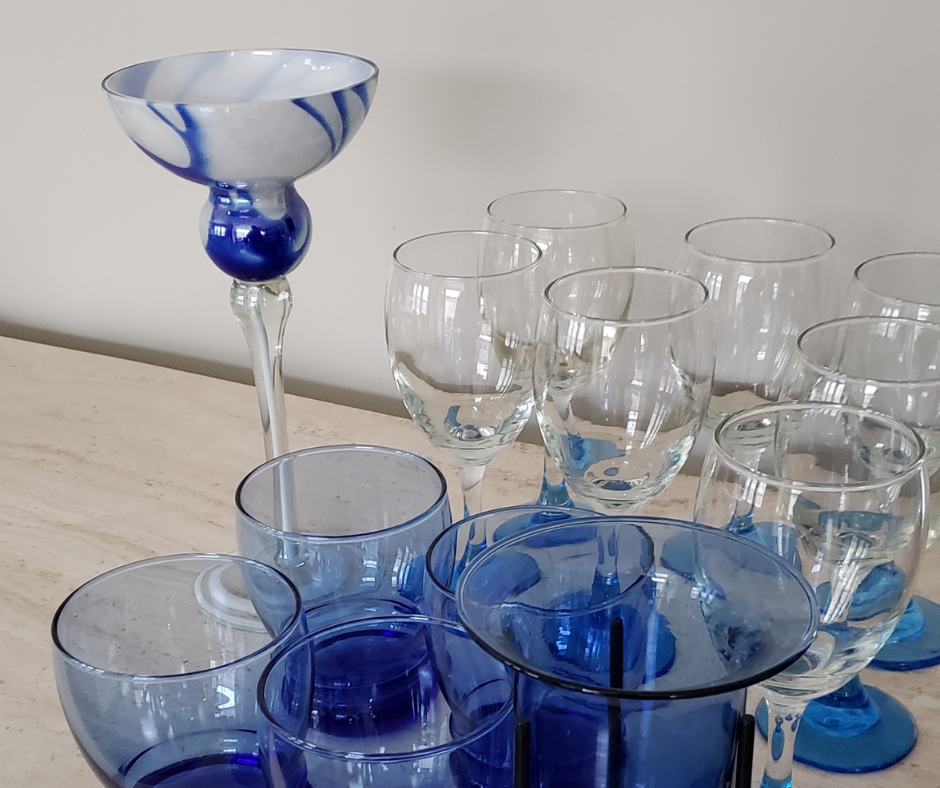 5. Incorporate and Repurpose Already Owned Pieces
You do not have to purchase dinnerware and decorative items for every holiday. The best way to make the most of pieces you love and a table look different is to repurpose them.
For the Halloween tables shown previously we repurposed everything and transformed the dinner table to a buffet. The tree in the middle of the table is an old jewelry tree that we found on clearance at Kirklands. This tree will make its reappearance on our Christmas table. Instead of spooky bats and orange lights it will sparkle with white lights and hold little ornaments. Perhaps it will be repurposed again at Easter where it can drip with pastel colored ribbons and dangle little eggs. One piece repurposed over and over.
Your table is your canvass to create on.
Think of it as a piece of art
Find your muse for inspiration
Follow the tips that we have provided

It does not matter if you will have lots of company or just an intimate holiday dinner. Like a Broadway production, a well staged table allows your food to shine as the star of the show. You and your guest will be seated in the front row. Your holiday dinner table is the vehicle for meaningful dialogue, laughs, and entertainment. Like a well written play the storyline of your dinner may be cherished for many years to come.
We hope you have found some creative inspiration and clear direction on getting started. To see more beautifully dressed tables you can preview of the submissions from our table scape contest on our Facebook Group Page.