Part 5 of 5 in a series Food Among Art- A Love Story
As I continued on my journalistic journey to find the perfect pairing of food and art in the Triangle area of NC. I was steered toward "Lucky Tree Coffeehouse and Art Gallery". It is located across the street from Meredith College, a private institution in Raleigh since 1891. Many of the people in our local foodie group told me that this was a special place for art. As I approached the storefront I could see this was going to be a fun place to visit. An old bathtub upcycled into a water fountain dripped and rippled friendly, calming sounds.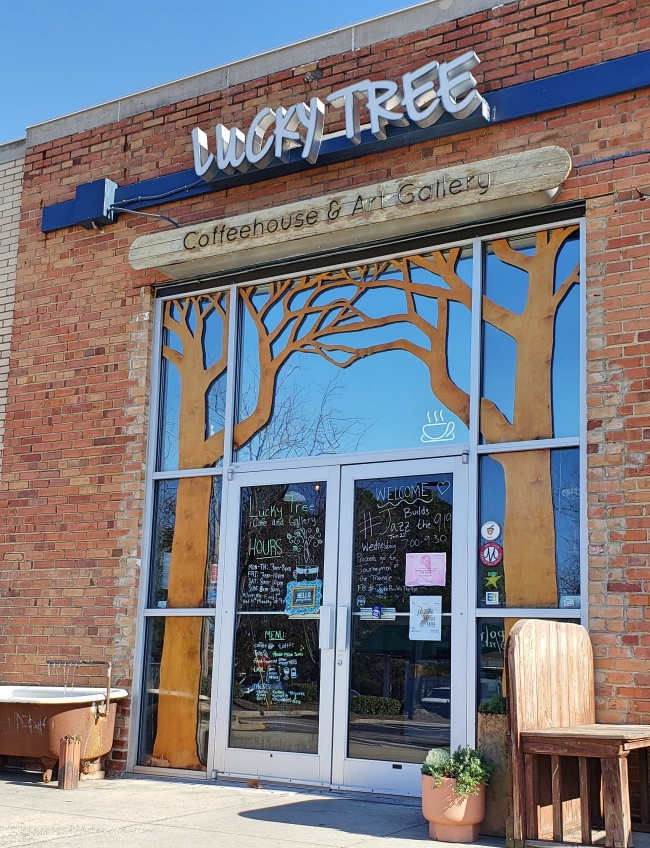 While this place is technically an art gallery, it did not have the pretentiousness and sterile atmosphere that some galleries strive to achieve. Instead, it offered a perfect bohemian blend of cool vibes and art made for and by the local people.
As I introduced myself to the staff one of the owners, Ashley, made her way over. I asked if I could record a few moments of a video so she could tell us about her business. Ashley and her twin sister Amanda are business partners. They have almost a decade of experience in the art world and curated art long before opening a coffee house. Lucky Tree is modeled after their childhood treehouse which, like most tree houses for children, was made out of scraps of leftover materials. Listen to the recording below to meet Ashley and hear her tell their story.
Lucky Tree features art from more than fifty artists, most of them are local. The art displayed is eclectic and showcases every medium from wall and decor art to soap and gift items.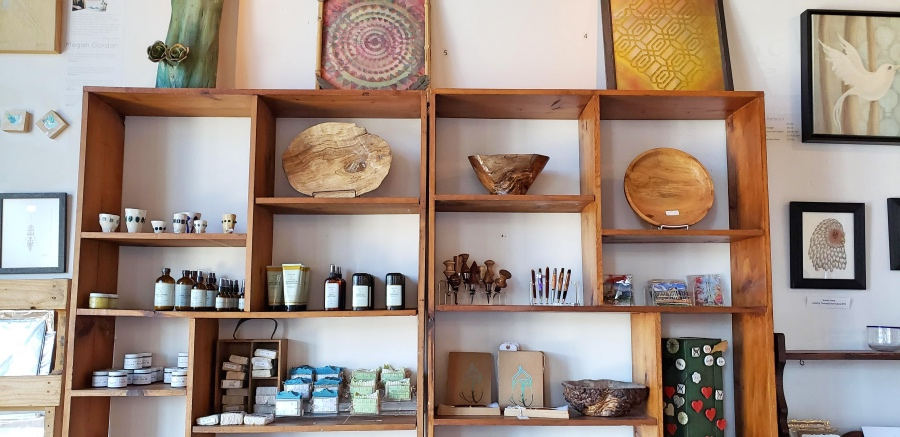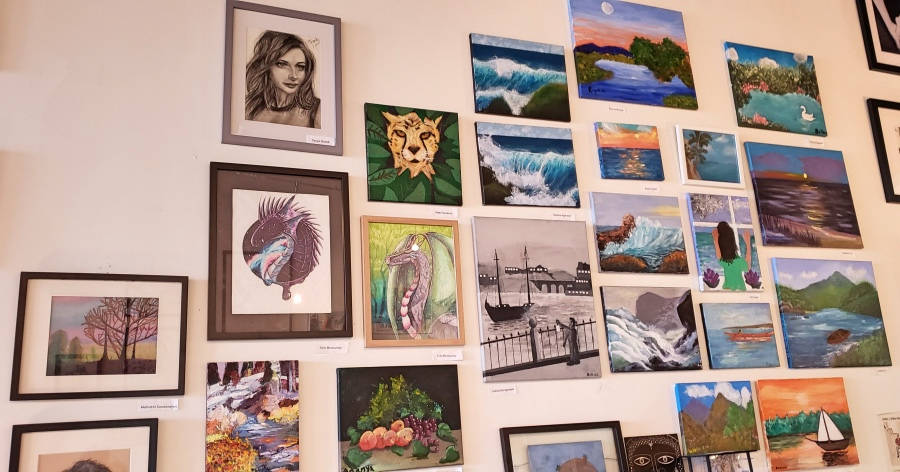 The decor used to showcase the art in itself is its own art. It is fun, whimsical and everything screams upcycled. I particularly loved the old sewing machine legs added to this display table, the old trunks, and the cable spool complete with the cable still attached made into a table.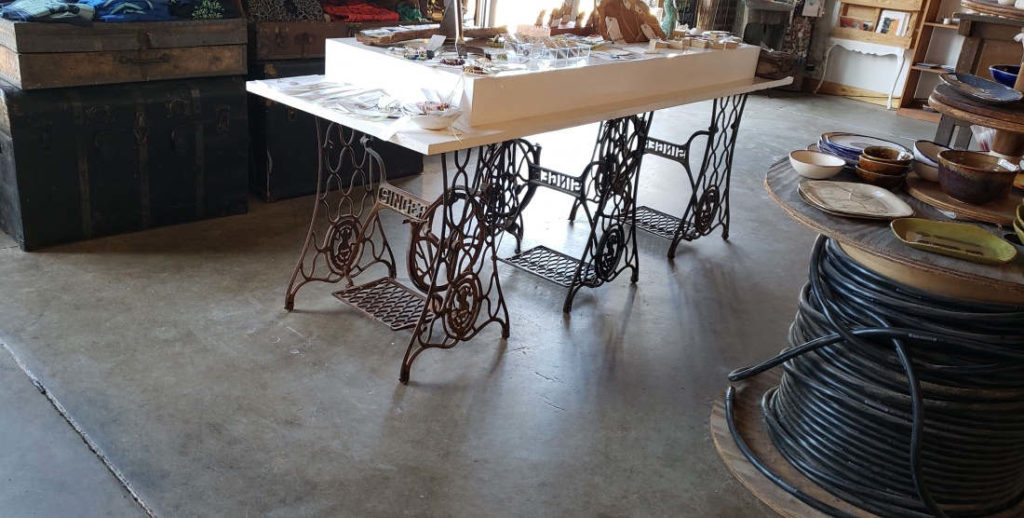 There is as much to see up above as there is below. Look at this cool chandelier made out of living plants.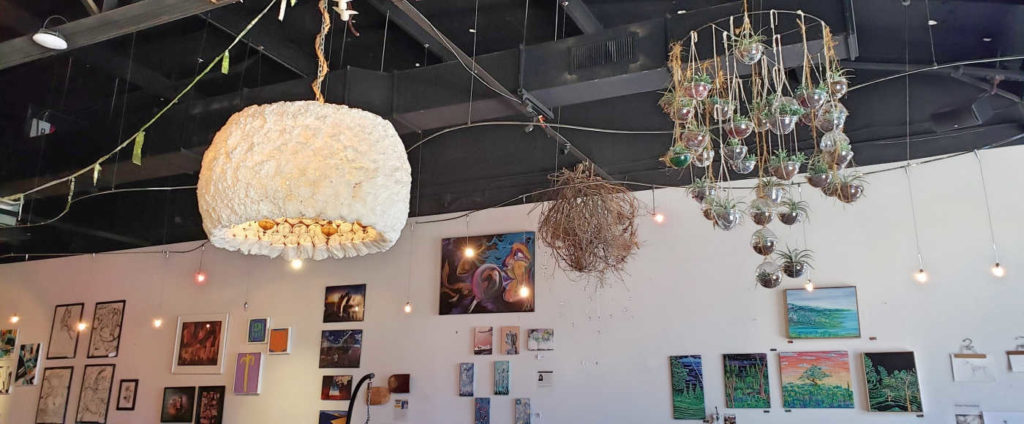 There apparently is music that happens here too! Every second and fourth Monday there is an open mic night. On Jan 31st there is a show planned called Hopeless Romantic by Lenci, a collection of love songs that explore pride and infatuations.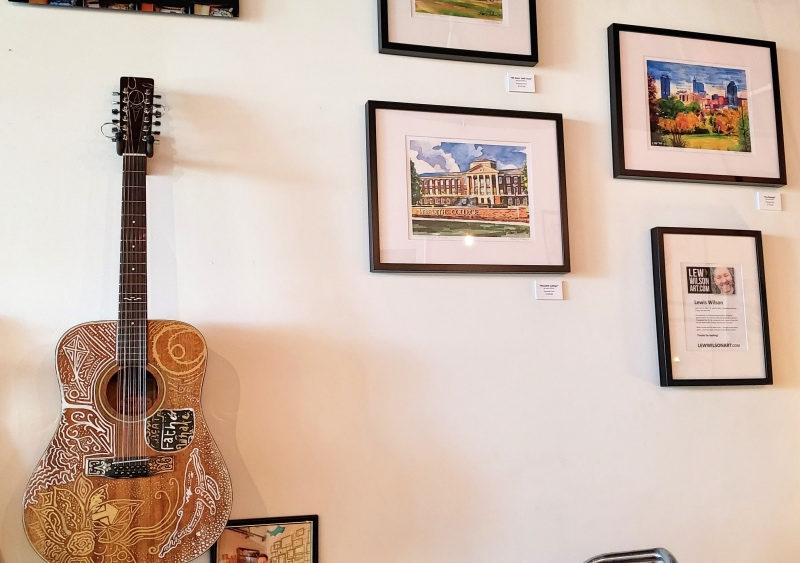 Yes, there is wine served in addition to coffee. Cloer wine is out of Apex North Carolina and Honey Girl Mead, as well as Starlight, are also local to NC. Not sure what that Fiji Water is all about.
On to the question you have been waiting for, how was the coffee? True to form it is purchased from a local Durham, NC coffee roaster and served with local cream from NC State's Howling Cow Creamery. What is not to like?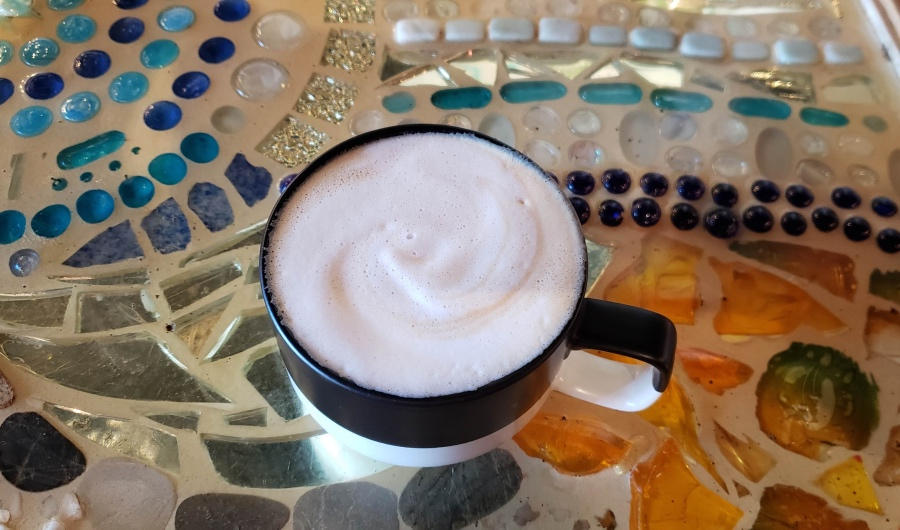 We will be back to sip, shop, and nibble soon. If you are thinking of visiting, they are located at 3801 Hillsborough St, in Raleigh