Part 2 of 5 in a series Food Among Art- A Love Story
Fera'wyn's Chocolate Cafe was founded by David and Joana Whittingham in late 2012. David, a graduate of Ecole Chocolate, and Joana, a self-taught artisan, work together to create truffles that are both beautiful and flavorful. They have been open in Holly Springs, NC since December 2018. The flavors often reflect what is regionally available at farmer's markets – such as the raspberry-lime Chambord and the medal-winning Limoncello. Three years running, they have received the highest award of six stars (Master Chocolatiers) from Taste TV based in San Francisco.
Fera'wyn's Artisan Chocolates in Holly Springs came to our attention when we heard they had just won yet again, this time two of their confectionary delights took home accolades from the Good Food Awards for North Carolina. They are joined by some other local names we have come to know and love such as French Broad Chocolates in Asheville, NC, Full Steam Brewery in Durham, NC, Miss Ruth's Jams, Fiddlehead Farm, Vidieri, and Escazu.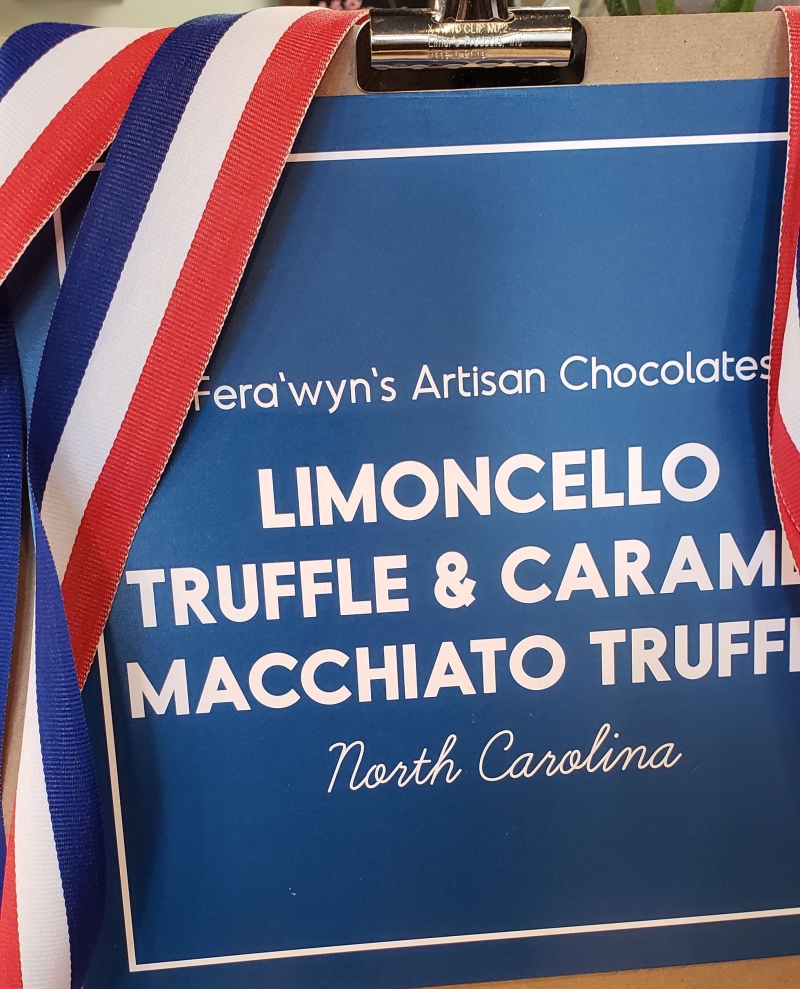 According to the folks at the Good Food Foundation they receive over 2,000 entries each year. The competition is fierce for a Good Food Award. In each category, three food crafters from each region – North, South, East, West, and Central – receive the honor each year. All companies that score well on taste, undergo a rigorous vetting process to ensure they meet the Good Food Awards Standards before being named Finalists or Winners.
The standards of the Good Food Guild are strict
Made in the USA or US territories.
Free of artificial ingredients including colors, flavors, and preservatives.
Free of genetically modified ingredients.
Free of high fructose corn syrup.
If made with chocolate, it must be premium couverture and may not be made with substitute fats as alternatives to cocoa butter. Additionally, this chocolate cannot be made with GM sugar, GM lecithin or alternatives to real vanilla (.i.e flavoring).
If made with dairy and other animal-derived ingredients, these are locally sourced and/or certified organic; free-range; hormone-free, and from animals raised using good animal husbandry.*
If made with inclusions and flavorings that are grown domestically, they are locally sourced wherever possible; traceable; and grown without the use of synthetic herbicides, pesticides, fungicides or fertilizers.**
If made with inclusions and flavorings that are not grown domestically on a commercial scale, they are farm-direct, certified organic or Fair Trade certified.**
Made by a crafter that is an upstanding member of the good food community, oriented toward growing their business in harmony with a better food system.
On this day we were fortunate to be able to taste not just the two award winners, the Caramel Macchiato and the Limoncello. We also tried the Naga Chili which is a blend of 3 peppers. Watch the video below where David explains the awards and describes what we are about to taste in these three amazing flavors of confectionery delight.
Fera'Wyn's Gluten-Free, Scratch-Made Snacks
If the chocolate candies and truffles were not enough to make you fall in love with Fera'Wyn's. You only need to look into the beautiful refrigerator cases to see there is more to adore. Everything in the entire shop is gluten-free. Yes, the chocolate eclairs, the cake pops, the cupcakes, and even the cookies.
When children visit the shop who are gluten intolerant or who have celiacs they ask which treat they are allowed to have, David and Joana, get to reply "any of them". They love seeing the children's eyes get wide with excitement as they look through the entire case. This wide variety is rare for anyone who can't have gluten.
David explained to us why they chose to offer only 100% gluten-free to eliminate any chance of cross-contamination. Joana enjoys having people who normally can tolerate wheat, try her gluten-free, baked goods, and fall in love with them.
Joana's Story and How The Shop Got Started
When we arrived unannounced in Holly Springs, as we usually do. We found Joana in the back, working hard to put finishing touches on two cakes for an Eagle Scout celebration. The life of a baker always on a time crunch! But being under pressure to meet a deadline is something I am sure she dealt with in her previous career as a property manager. She told us she had no idea she would become a chocolatier in a later career.
As fate would have it, she met David while he was still living in Australia and they grew to know each other playing a video game. That is where the name of their business comes from, apparently, this was Joana's character in the game. She shares her journey with us on camera, speaking candidly about being diagnosed with Celiac's and about opening the business. Watch the interview below.
David and Joana are very involved in the community. After all, that is one of the reasons they moved here. You can see David sporting his Chamber of Commerce Ambassador pin on his chef shirt. I witnessed their networking efforts paying off first-hand when a local business came in to order boxes of chocolates for their staff and clients for Valentine's Day.
While they admit a small business is a work in progress and they are still are in the process of decorating the shop, updating their website and I am sure many other things. One thing is for sure is their commitment to a quality product! We enjoyed meeting them, experiencing their confections, and look forward to hearing more about their future awards.
Fera'Wyn's Artisan Chocolates is located at 652 Holly Springs Road, Holly Springs, NC
Connect with them on Facebook @FerawynsArtisanChocolates