According to the folks who own the Miracle franchise "Miracle is a Christmas-themed pop-up cocktail bar that serves holiday cocktails in a festive setting. With kitschy holiday décor, professionally-developed cocktails and the nostalgic energy of the best office party you've ever been to, Miracle is sure to get even the grouchiest grinch in the holiday spirit."
The Miracle concept was developed by a successful entrepreneur, Greg Boehm. He is the owner of the Cocktail Kingdom a successful bar supply company based in New York. Greg's story alone is quite interesting. He came from a publishing family where he found a passion for and collected cocktail books.
Greg is respected by his peers as a collector, an authority and as a businessman. His peers have been quoted to say that he played a major role in reviving the cocktail movement. The world's foremost authority on cocktails and their history, David Wondrich has been quoted to say "if a century from now, someone were to look back and consider Boehm's role, it would be like, this person really defined an era."
How did this book collector, cocktail enthusiast come to own a holiday-themed franchise?
In 2014 Greg was under construction on one of his ventures, a New York City cocktail bar. What does a successful entrepreneur do when an asset is sitting and not generating revenue? You find a way to turn the asset into a money-maker. The story goes, he consulted with his mother and they decided to halt construction and transform the unfinished space into a pop-up bar decked out in holiday decor and serve up holiday-themed cocktails.
New Yorkers loved the concept and they came in droves to be part of the "Holiday Cocktail Movement". Two years later the concept had become so sought after that it went worldwide.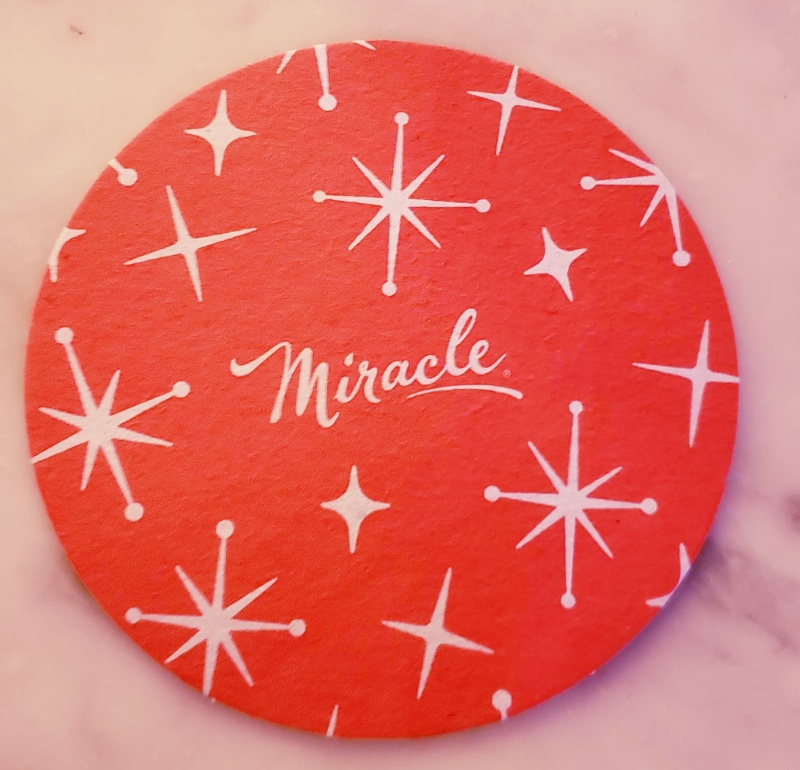 Why Raleigh, North Carolina?
2006 and in entered one of the most well-known local entrepreneurs in the food and beverage space, Gaurav Patel or G as he is known to many. His story is similar to Greg's as he learned to become a business person at a very young age. As a small child, Gaurav was given a small plot of land where he grew crops in order to pay for his school supplies. After graduating from NC State Business School he began his company Eschelon Experiences.
G is well respected in the community. His venture provides support to many local charities such as The Tammy Lynn Center, The Interfaith Food Shuttle, Raleigh City Farm, and Band Together. The food and beverage industry is a difficult industry and historically has one of the highest turnover rates. According to Restaurant.org, in 2018 the turn over rate averaged at almost 75%. G must be doing something right, many of his staff have stayed employed by him long-term. The two employees we met with had been with Eschelon Experiences for a combined total of four years. Christian told us he has worked at the Haymaker for two and a half years and Mark for a year and a half.
What is notable at every one of their food and drink concepts is this statement from the Eschelon Experiences website, " Although we come from different backgrounds, we're all passionate about our food, our service and making your experience at Eschelon one you'll never forget."
This statement of promise held true on our recent visit to the Haymaker to experience The Holiday Pop-Up Miracle. We were greeted by two smiling bartenders sporting whimsical Christmas sweaters. Mark sported a red, yellow, green and blue T-Rex Santa with Christmas gifts wrapped in glitzy paper and bows. Christian wore black, red and green BTBAM inspired attire with gargoyles who had antlers and in the center of his sweater was a little creature wearing a Santa hat sitting stoically in front of a keyboard.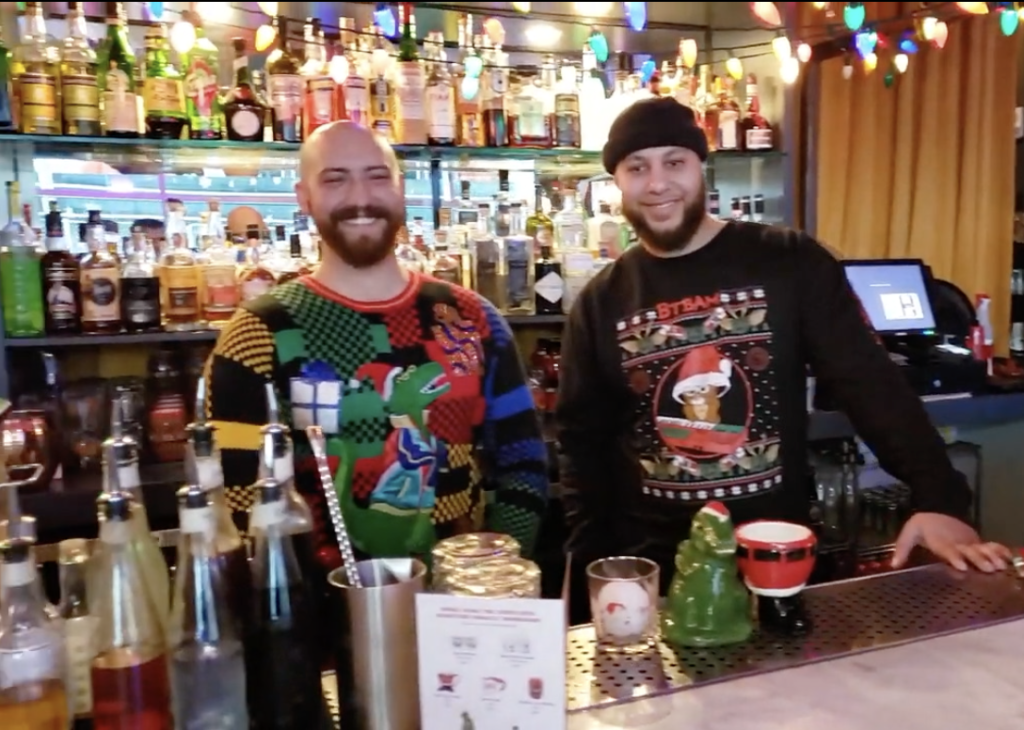 Both these gentlemen had an apparent passion for mixology and took great pride in the product they served up at The Haymaker. Both were extremely knowledgeable in their craft and excited to share the experience with us. Christian told us his favorite Christmas cocktail is actually the most complex. It is called the Gingerbread Flip and it is made with an actual fresh egg. To understand just how skilled these mixologists are, Mark is a Johnson and Wales trained chef. Side note: Our own Nicole from LoveofFood also attended this amazing culinary school.
There are a mere two locations selected in North Carolina for The Miracle franchise and according to Mark and Christian, the Haymaker considers themselves honored to be selected. The other location is in Asheville.
What does the Miracle Pop-up look like at The Haymaker?
As we entered the Haymaker, I noticed an antique hutch decorated in Christmas houses, holiday carolers, and a ceramic Christmas Tree. The top of the hutch was strung with garland and tinsel over a portrait of a young boy that appears to date back to the 1700-1800's time period. Above that is lots of cotton snow and wrapped packages in striped colors of red, yellow and green, boxes of red plaid and some ho, ho, ho's!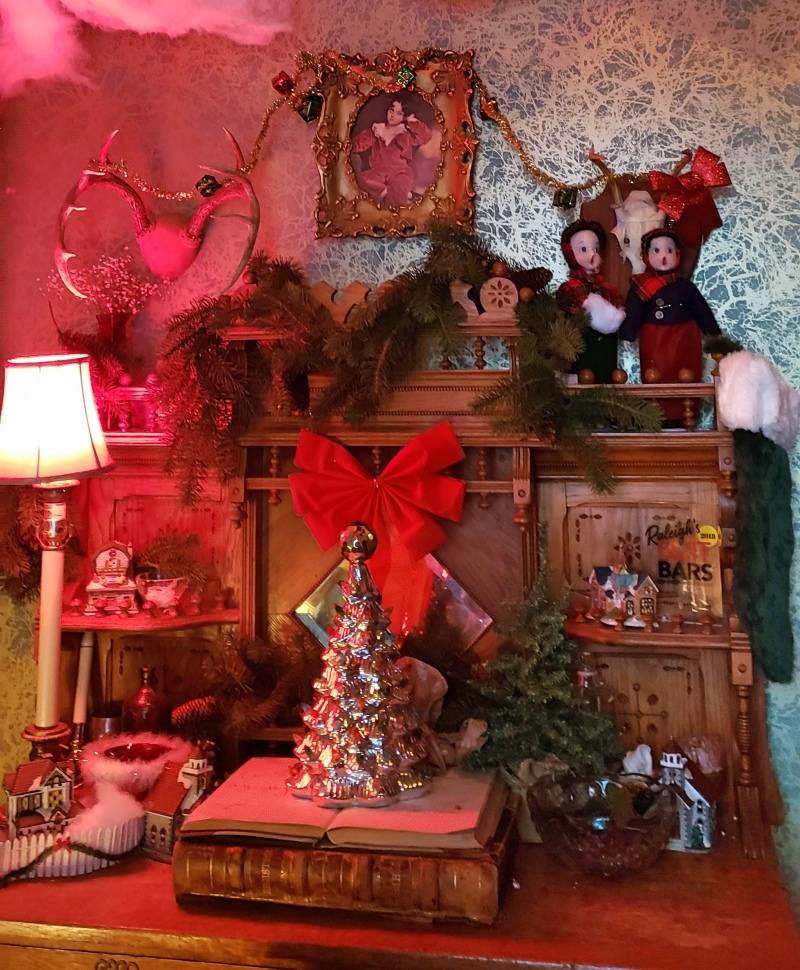 Inside the establishment is furnished with antique-style tufted-couches covered in soft velvety fabric and oversized chairs wearing distressed-leather that call to you to sit and relax. A big blown up doorway Santa holding a cocktail in each hand watches over you inside. Garland, icicles, and ornaments are strung along all the tops of the walls with twinkling lights hanging just in front. On top of the bar, there is a nutcracker standing watch over many more gifts wrapped in decorative paper and tied up with bows. From the ceiling hang hundreds of colorful lights along with balloons designed to look like Christmas ornaments. Candy canes, lanterns and whimsical renditions of hot air balloons with upside-down elves riding in them are all part of the kitchy-theme along with a moose-head trophy who wears a Sammy the Bull gold chain and is adorned in a wreath aglow in white lights. We asked how long it took to decorate all of this? The folks at the Haymaker told us the good part of two days.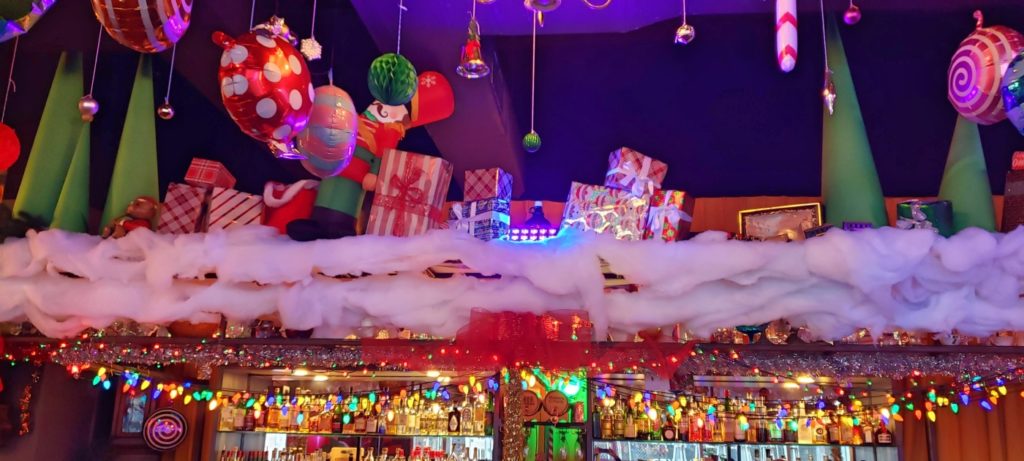 What does The Miracle Pop-up at the Haymaker sound like?
You can expect to hear all your favorite Christmas music during the Pop-up event which runs from November 29th through December 31st.
In addition, they offer some themed music happenings on their Event Calendar such as DJ Deluxe with Holiday Tunes and Throwback Hip Hop, Even Holiday Karaoke happens multiple times in the month of December.
What does The Miracle Pop-up at the Haymaker taste like?
Being a self-professed foodie, the complexity of the Miracle cocktails drew me right in. The Christmapolitain is a vodka-based drink, served with a rosemary sprig. What makes this cocktail special is a blend of other delish ingredients including a proprietary house-made cranberry sauce syrup. Yes, I said house-made. That is what really blew my mind about the level of the sophistication of these cocktails.
How they prepare the ice cubes is even cool. No worry about getting ice served to you from a dirty moldy ice machine here. All the ice at the Haymaker is chipped off from a large freshly-made block that has been shaken to release air and produce the clearest cubes possible. That is representative of the type of quality and care that goes into your cocktail experience. Speaking of Ice, while visiting we tasted an amazing old fashioned made with house-infused, caramelized pecan bourbon that is served with a snowball.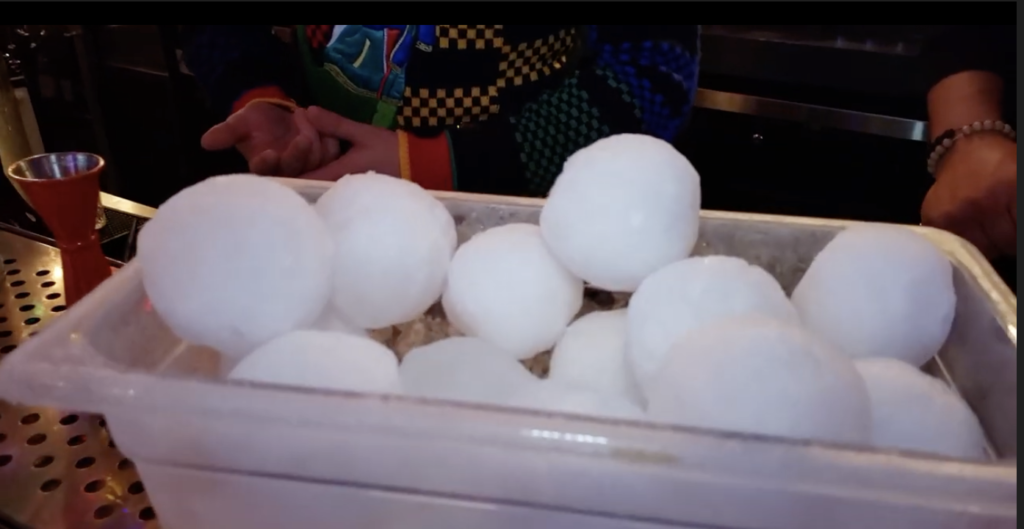 We also tasted a drink called the Yippie Ki Ya (there is more to the official name but I will let you ferret that out on your own.) It was a rum-based drink made with a purple yam orgeat. This is pronounced OHR-ZHAT but more importantly, is what it is. According to Wikipedia: Orgeat syrup is a sweet syrup made from almonds, sugar, and rose water or orange flower water. It was originally made with a barley-almond blend. It has a pronounced almond taste and is used to flavor many cocktails.
I mentioned earlier that Christain, one of the fun bartenders, told us his favorite cocktail on the Miracle list had a fresh egg in it, called the Gingerbread Flip. It is a Whiskey drink with sprinkled gingerbread cookies on top.
If you want fun and like the taste of Gin then the Koala la la la la la la la is for you! It is served with a cute little Christmas Koala bear holding on to your glass!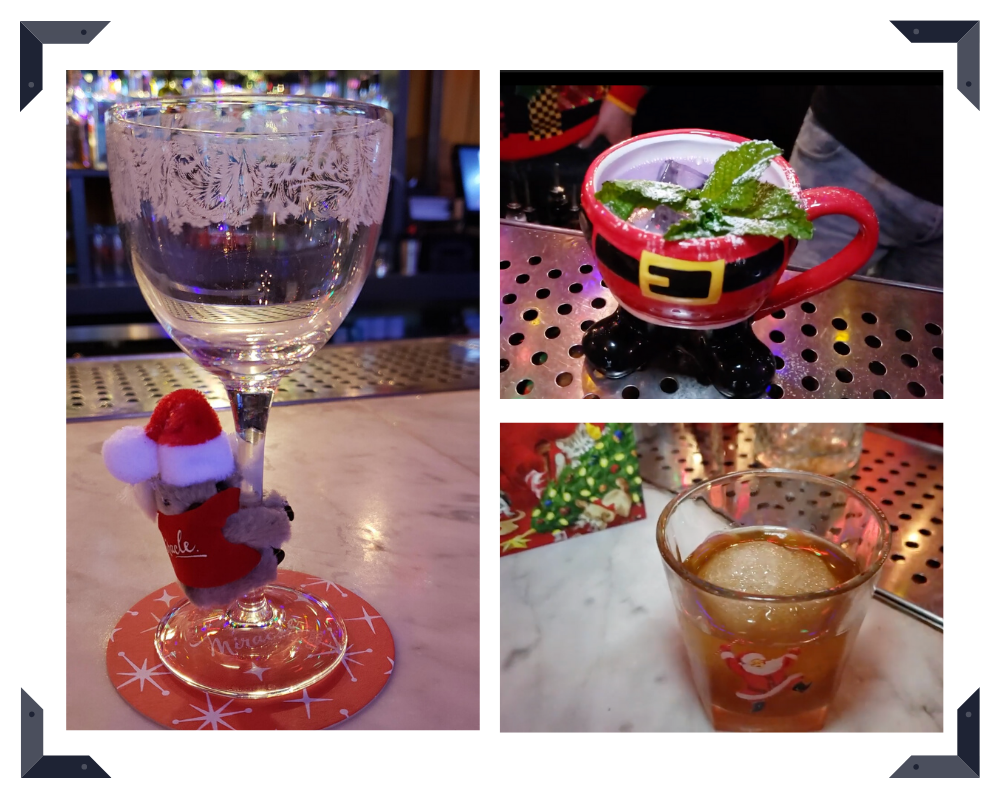 If you want something less cocktail-like but still sophisticated, the Haymaker also has champagne on tap! Who does that?
Watch the Video of Our Haymaker Experience
Who goes to The Miracle Pop-up at the Haymaker?
The crowd is eclectic from business folks after work to a more party atmosphere on Friday and Saturday nights. We visited on a late Sunday afternoon and it was small groups and couples mostly. I have heard it described as an adult cocktail bar. When you come here it is for the vibe. It's no wonder the Haymaker attracts lots of celebrities when they are in town. Rumor has it that Ja-rule stopped in a couple of weeks ago after his appearance at the 2019 Internet Summit.
The cost of the drinks was comparable to what other downtown venues charge, but the value here is in the complexity, homemade flavors, and ambiance. If you are looking for a little holiday cheer, maybe attend the "All The Jingle Ladies" event on a Tuesday night. Holiday karaoke most Sunday nights or on Dec 7th they will open during the day to host Happy Howlidays where you can even celebrate with your pup!
Hope to see you there! 555 Fayetteville St Ste 115 Raleigh, NC
Tell G or the bartenders, Christian and Mark, that you read about them in Love of Food Magazine and you will bring them some personal holiday cheer, watch them smile!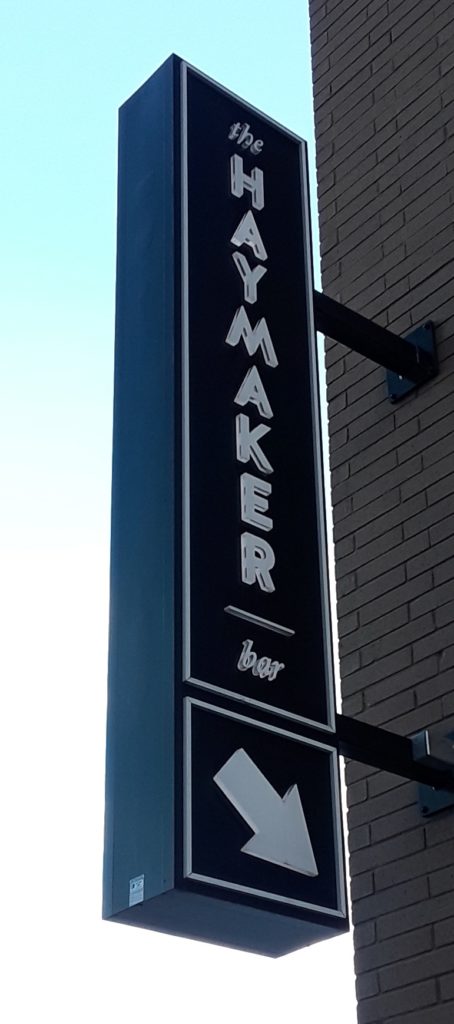 Merry Christmas, Happy Holidays to all!