Five years ago we moved from the hustle and bustle of Raleigh's burgeoning mid-town area. We relocated thirty minutes north to Franklin County, Founded in 1779 and named after Benjamin Franklin, it is home to over 70,000 residents.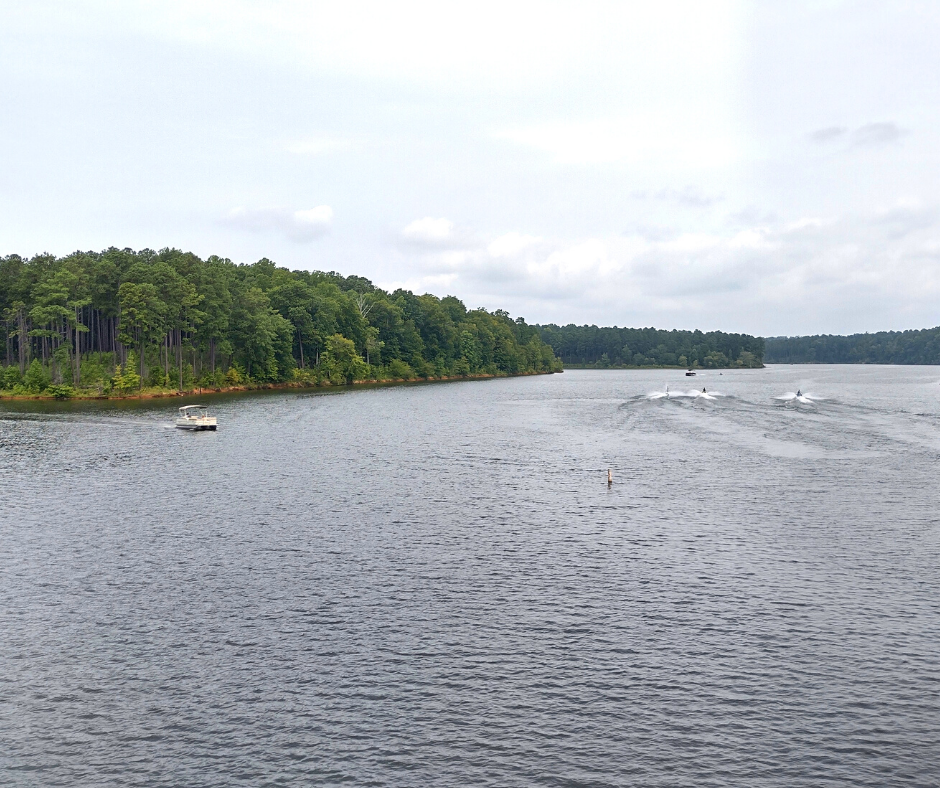 What draws people to this bedroom community is its topography of wooded lots, farms, lakes, and rolling hills. There is a quieter pace to living here.
Driving home from jobs in the city as you pass over Falls Lake you can feel the cool breeze from the dense trees in the surrounding forest. As you get closer to home, you'll pass by pastures and horse farms. I swear you can feel your blood pressure lower the nearer you get to Franklin County.
Once you are at home you can sit on your back deck and watch the fireflies twinkle and listen to the sound of the tree frog's chirp on summer evenings.
As you can imagine, back then, moving to a more rural setting came along with some sacrifices. Especially when it came to amenities such as dining out. During our time in Raleigh, we had become quite accustomed to having amazing world cuisine ready at our disposal.
Five years ago eating out for Franklin County residents meant going to a fast-food chain. Therefore we found ourselves sourcing, cooking, and grilling out at home more often.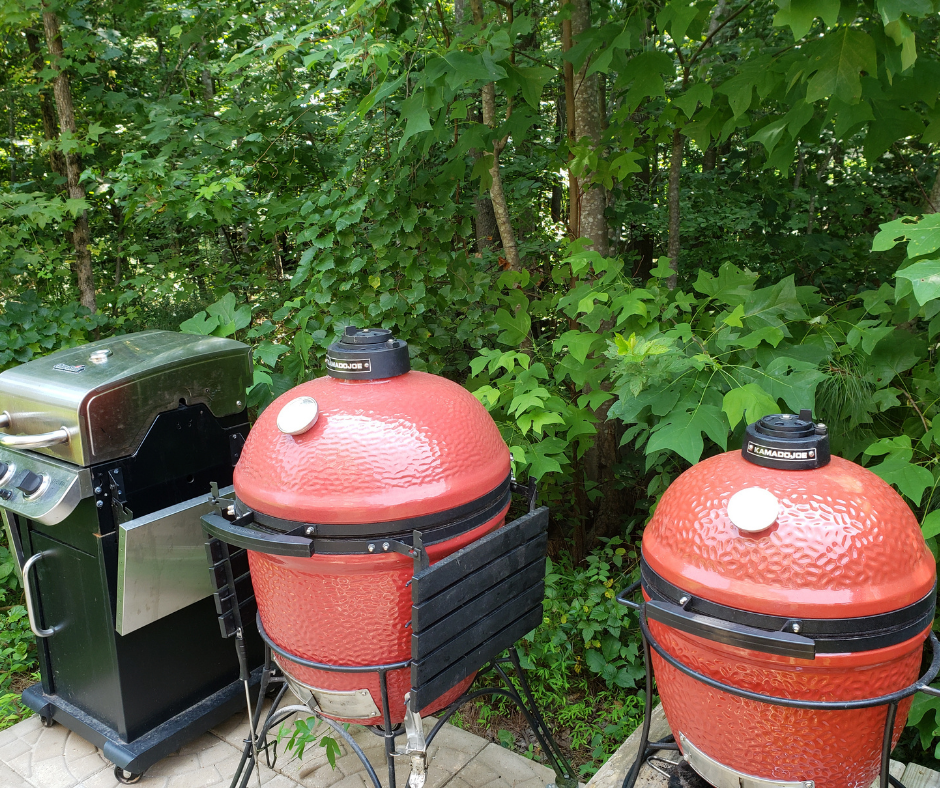 You may love to cook, but every now and then you crave food that is made by someone else. You long to be served a tall martini that you can hear someone else shake for you as you nibble on an appetizer and peruse a list of wonderful main courses.
Thankfully over the past several years, the food and beverage scene started growing all around us. We also ventured out to try some of the local's favorite spots. We think the timing is perfect to share what we have discovered in Franklin County.
Read on to learn about our favorite food and beverage establishments located in Franklin County starting with the town where it all began.
Louisburg, NC
In 1779, the North Carolina General Assembly enacted a law that divided Bute County into Franklin and Warren counties and Louisburg become the county seat of Franklin County. As of 2019 Louisburg is home to approximately 3500 residents. It is also home to the oldest two-year college in the Nation. But what is the food and beverage scene like in Louisburg?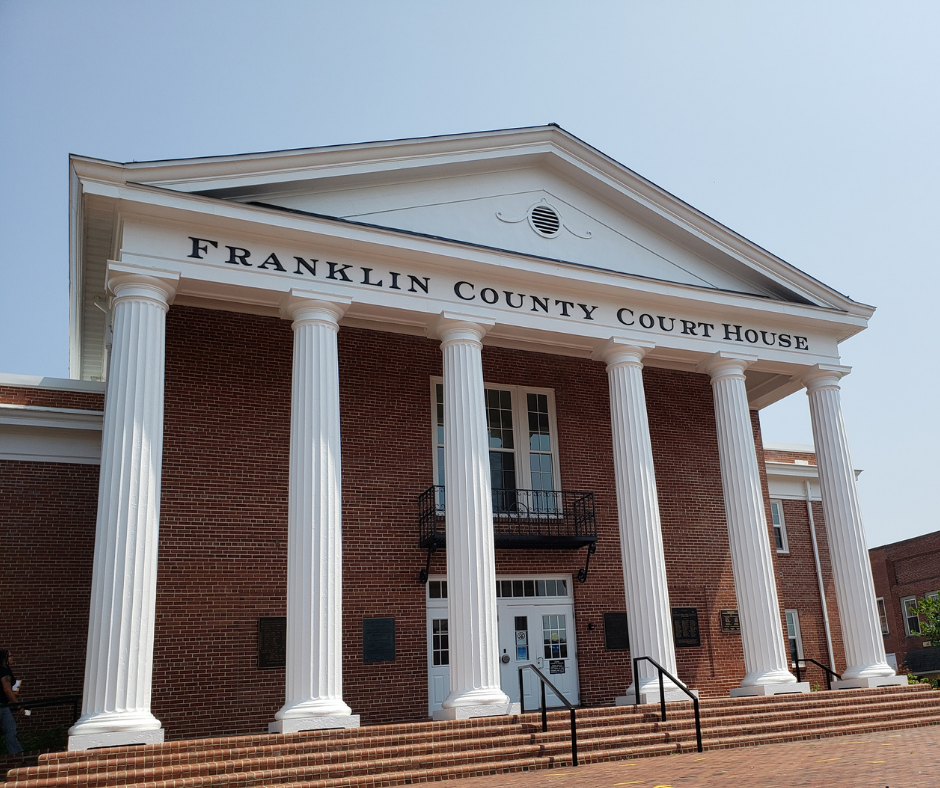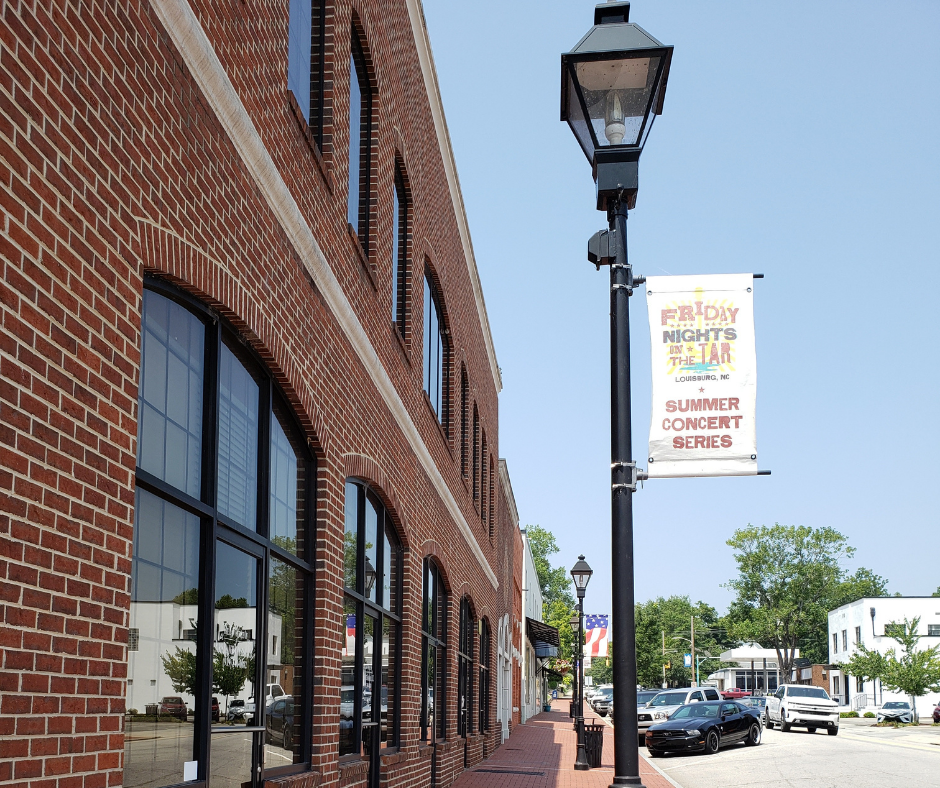 If a great cocktail is important to you look no further than Tonic Bar and Social Club.
Bill Opal opened his original Tonic Bar and Social Club in the summer of 2018, in Wake County, NC. His second top-shelf neighborhood bar launched in 2020 in the heart of downtown Louisburg.
The Louisburg Tonic location serves appetizers, burgers, and sandwiches alongside their top-shelf signature cocktails like the Sexy Dog-Walker, or the Charleston Garden.
The atmosphere inside and out is charming. Their rooftop lounge sits directly across from the amphitheater. Under that rooftop is a little shaded hideaway called the Swans Nest at Tonic where you can relax in rocking chairs or sway back and forth on a two-seated swing.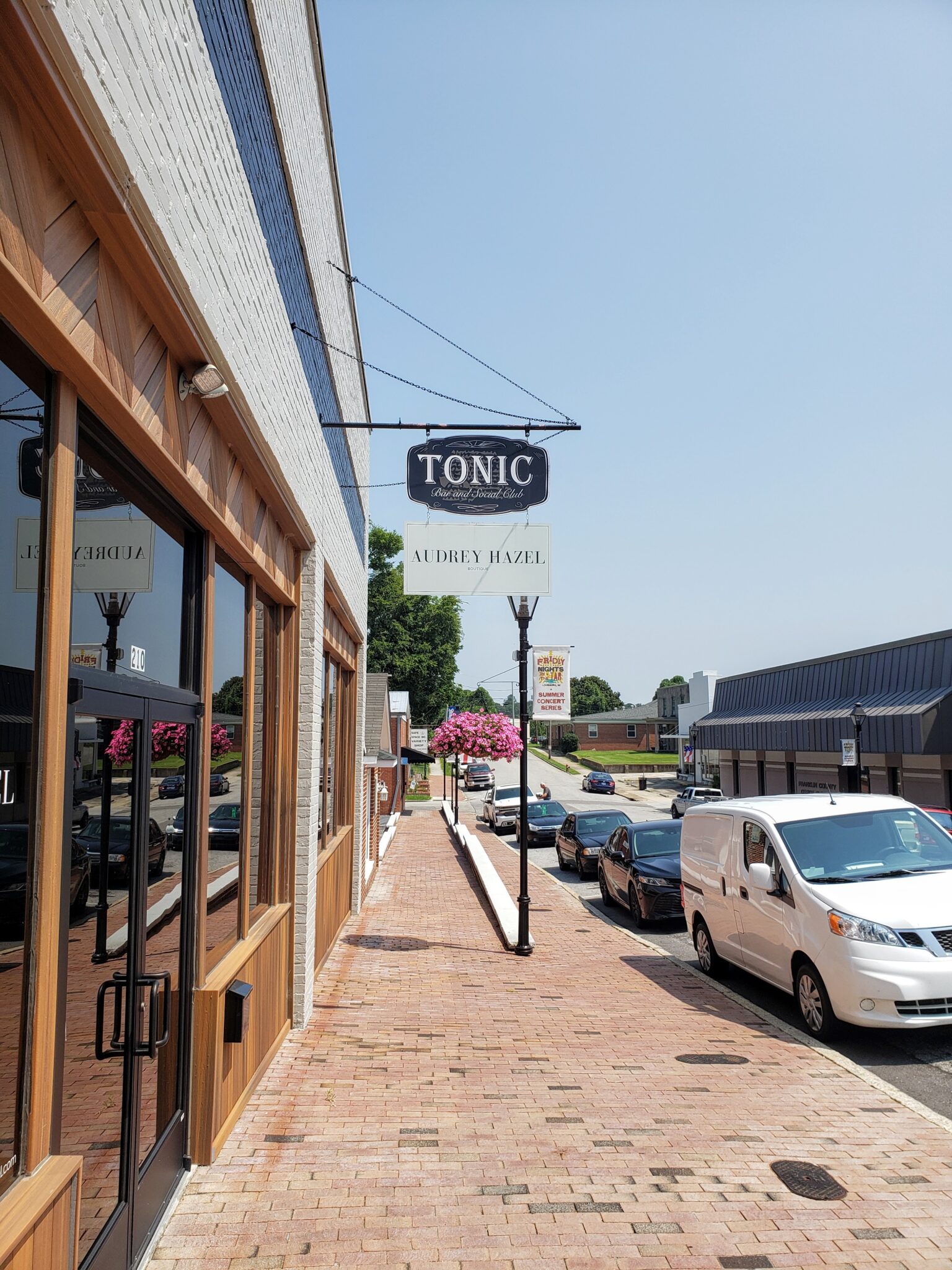 If you are looking for something a little less high-brow and just want some good sweet tea and a hearty county meal this next place is for you.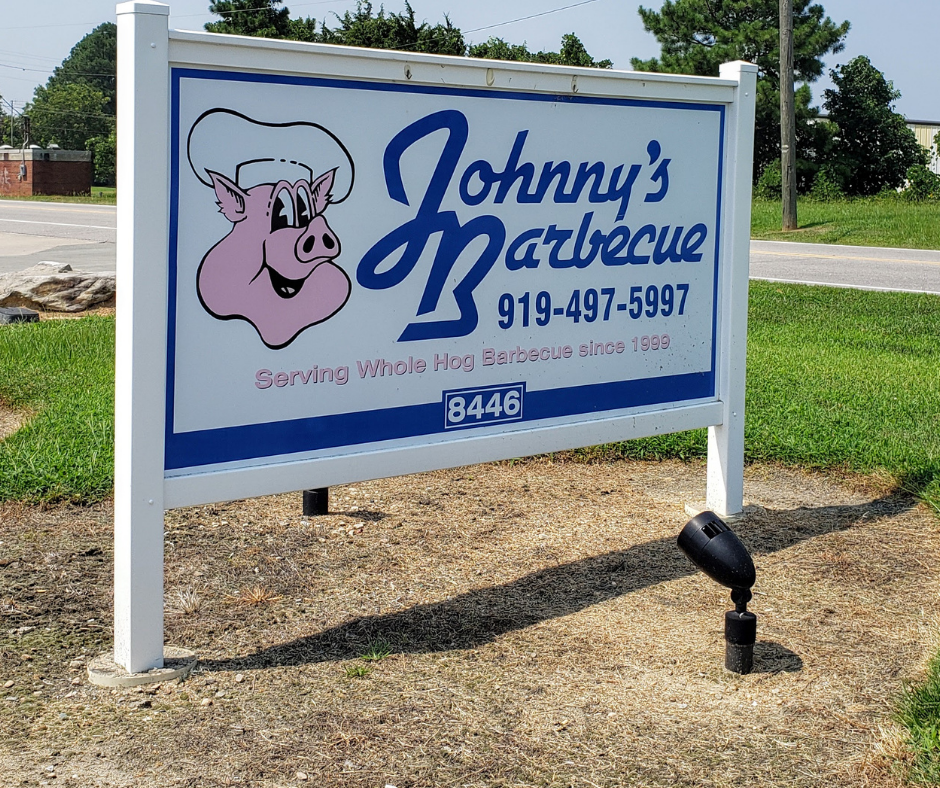 Johnny and Lydia Gardner opened Johnny's Barbecue in 1999. This is a southern, country restaurant that will take you back to grandma's cooking. Order a plate of shredded whole-hog barbecue, fried chicken, or one of the daily specials. such as the chicken pastry, or country-style steak. They cater and sell family packs for nights that you need to pick up a meal to bring home.
If you want your steak grilled instead of country-fried you can check out the other Johnny's in town.
Not owned by the same Johnny who owns the barbecue place, this steakhouse is owned by Johnny King. They mix traditional steakhouse options with a rural flair for an experience that is as unique as Louisburg.
People rave about the quality of the steaks and prime rib. The salad bar is also popular.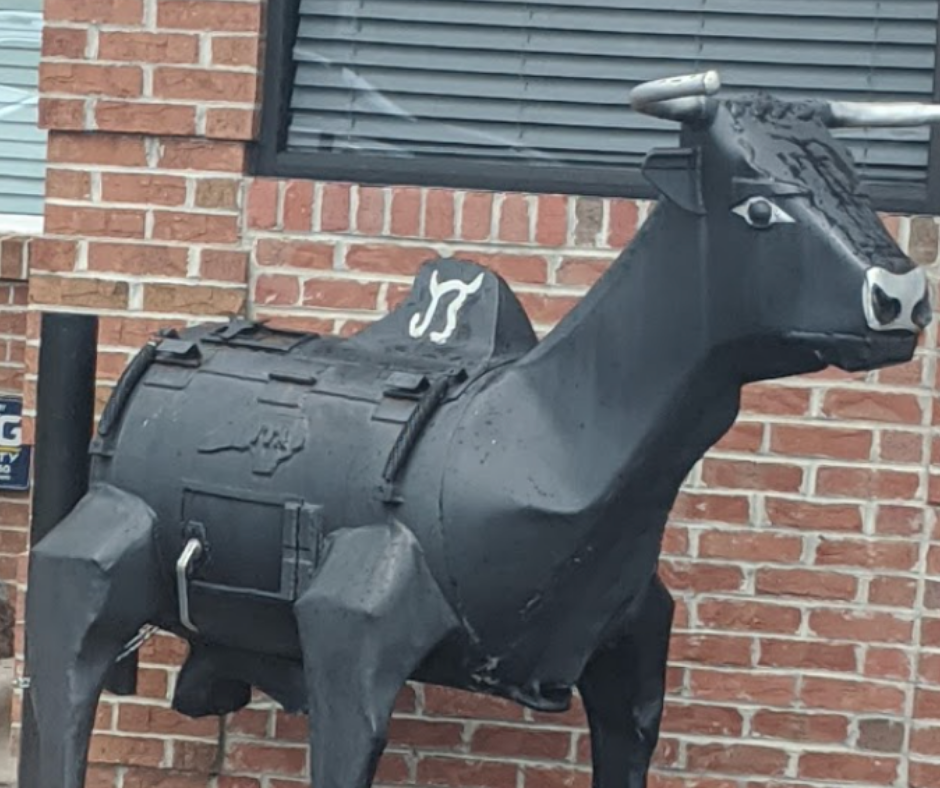 If all that country cooking is making you thirsty, wet your whistle at Tar Banks Brewing.
This brewery is in the heart of downtown Louisburg, NC. It has a great vibe and its renovated decor fits into the style of a town that has been around since the late seventeenth century. The beer is cold, fresh brewed and the staff is friendly. They have dart leagues, game nights and on the weekends you can find food trucks on site.
Discover another Franklin County town that has gotten a lot of attention these past couple of years.
---
Youngsville, NC
You may have heard about Youngsville just north of Wake Forest, NC. It is called the gateway to Franklin County. The town of Youngsville has had quite a building boom over the past several years. According to city-data.com it has grown 111 .2 % since the year 2000.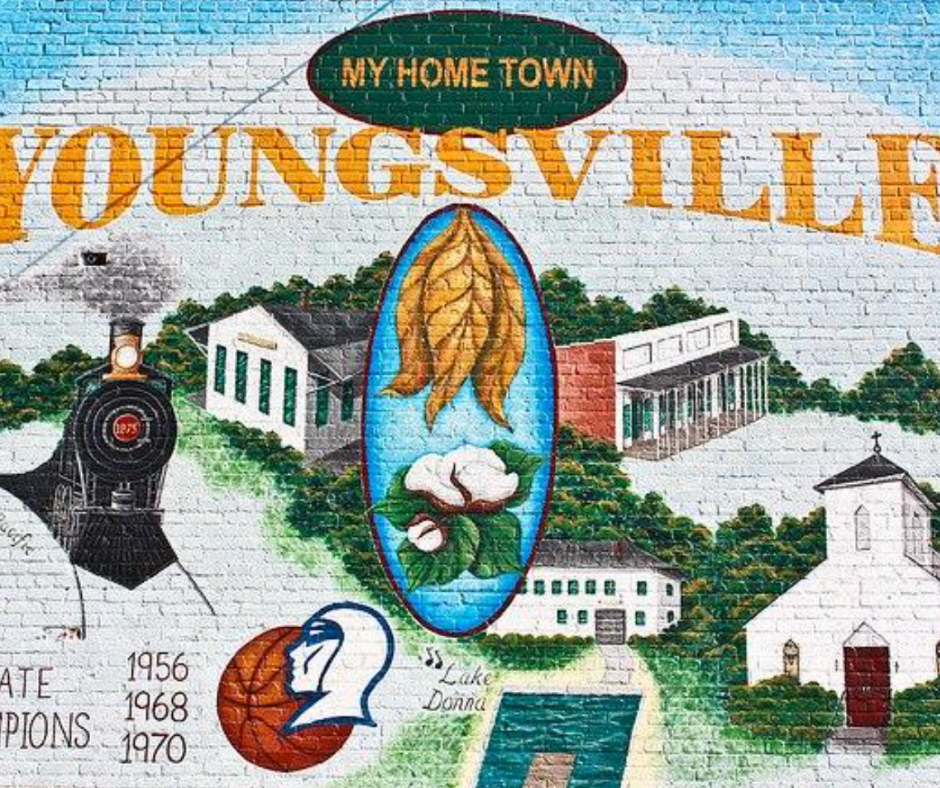 The little downtown area is home to two wedding venues, Cross and Main as well as The Victorian. It also supports two local drinking establishments. Burnt Barrel is a wine bar with craft beer and Yacht Club Beverage house which is a craft beer emporium that has a small selection of wine. Locals love them both!
Yacht Club Beverage House describes itself as a taproom. beverage house. beer garden. and beach bar 2 hours from the beach. They have twenty beers on tap as well as other fizzy options from the cooler. It is run by Brandon and Stephanie Schenck who along with their families have deep ties in the local food and beverage industry.
On special occasions and during events, Yacht Club brings out popular food trucks like Hale Yeah Kitchen, Smoking Souls BBQ, Pick and Pull BBQ Barone Meatball Company, and even some breakfast food trucks.
What goes hand and hand with eating and drinking? Music of course. Yacht Club Beverage House has an outside beer garden venue for hearing your favorite live music. Little Red Birds are regulars at Yacht Club where you can watch Amanda Wilson paint live while listening to the tunes of Dave Devlin Music.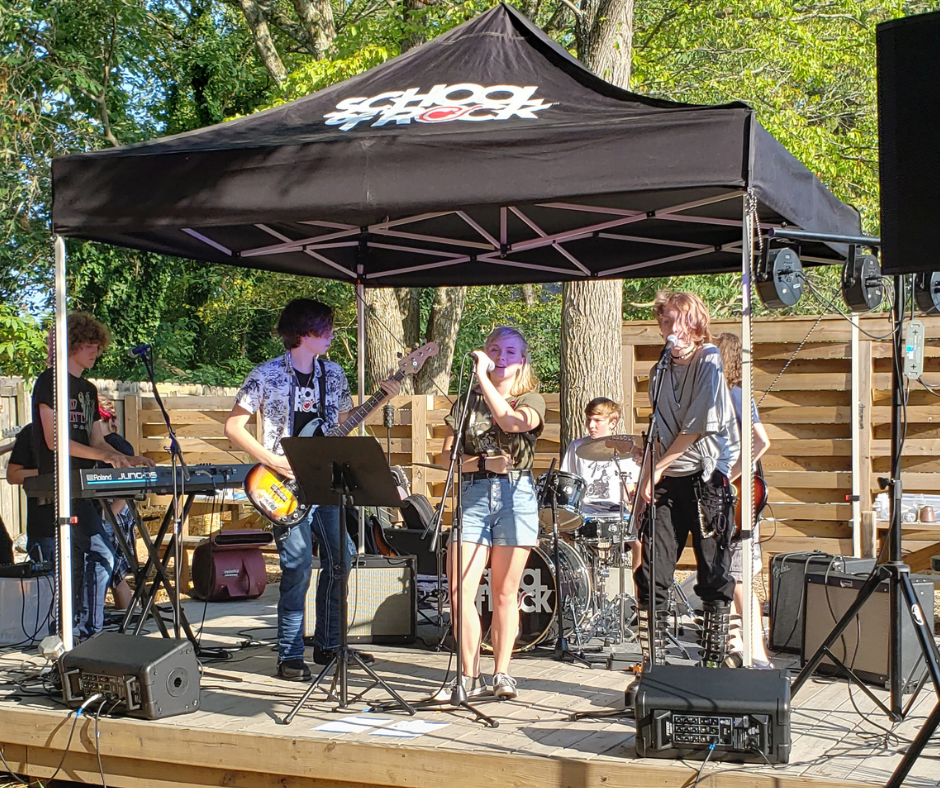 Just a stone's throw down the road is another local hangout called Burnt Barrell.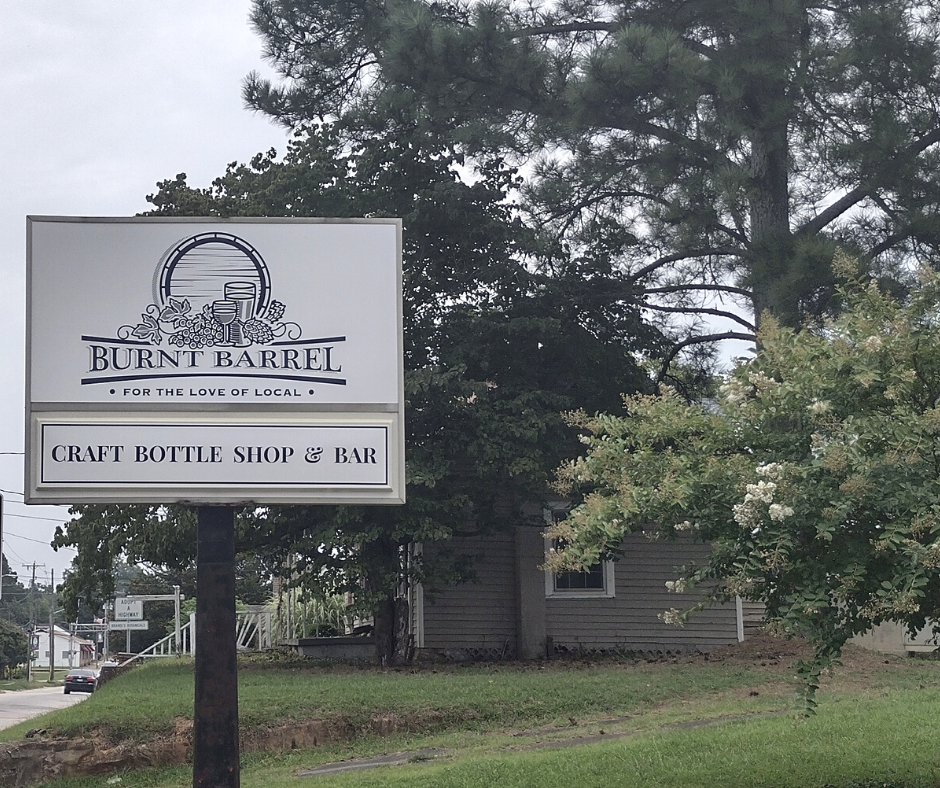 Burnt Barrel is a bottle shop/wine bar with indoor and outdoor seating. They are big proponents of using and showcasing local food, beer, and wine. Burnt Barrel is renowned for its refreshing wine slushies that are a big hit on a hot summer day. For those picky wine and craft beer connoisseurs who may be reading this, do not let that pink, frosty drink fool you. This staff knows its stuff. It is owned and operated by Amy Karlgut who is Cicerone Certified, In 2018 Amy had her entire staff go through the certification process.
In the past, Burnt Barrel has offered classes on everything from wine tasting to cigar rolling. She told the world in April of 2020 that she was a newly single mom with her first solo mortgage. She needed some help and she got it! We are glad too. She brings great style and sophistication to this downtown. You can find food trucks in her parking lot most weekends and some weekdays too.
You don't have to rely just on food trucks for great eats in Youngsville. There is another solid option, the deli.
The best food option in downtown Youngsville is the family-owned local café called Charron's Deli. The food there is very good, My favorite is the Rachael sandwich. For those that are not familiar with the Rachael sandwich,
it is grilled on rye like a Ruben, doused with Thousand Island dressing. However, it is filled with pastrami and coleslaw instead of corned beef and sauerkraut. It is delicious!
Sometimes you want a burger and a cold brew along with a friendly game of pool. If that is the case, Youngsville has you covered.
Bud's Tavern is just over the Wake County line in Youngsville and that makes it officially Franklin County. This tavern, which is built into a doublewide trailer, has always been a magnet for local motorcycle clubs. It has gained popularity with the new locals and is now considered mainstream, Kind of red neck meets biker, and banker and everyone is welcome!
You can have a Budwiser, a glass of wine, or even craft beer like Wicked Weed Pernicious. Bud's Tavern does serve a good burger, fries, and I especially like their onion rings.. There are daily specials too including Wing Night Monday and Taco Tuesdays.
It is set on a beautiful piece of land and had a big deck built onto the front of it with benches and high tops tables. At the bottom of the deck are tables set up with umbrellas. On the other side of the parking lot, there is even more seating available. A husband and wife team owns this place and both are well-loved by their patrons. If you read the reviews on their Facebook page, it is apparent that they have a loyal following.
People say the same thing over and over that Buck and his wife are amazing and the service is fantastic. We have to agree. Our bartenders have been attentive and accommodating, They host tons of events to keep their patrons returning. Events such as live bands, BBQ competitions, and even Sunday church service.
If you want to take a detour from the laid-back country lifestyle, Fiesta Mexicana located in the Food Lion parking lot can transport you to a more exotic experience without traveling south of the border.
This Mexican restaurant called Fiesta Mexicana in Youngsville is just off Route 1 in a shopping plaza. The service is top-notch, the food is delicious and the prices are low. You can enjoy everything from a simple taco to the molcajete. The margaritas are also exceptional. If you are in the area check them out.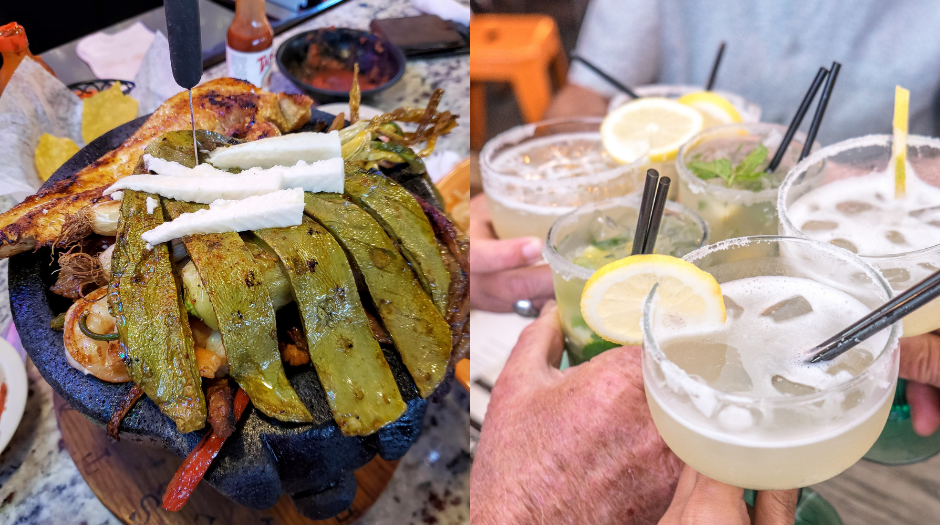 This next town in Franklin County gets a lot less attention. Its quiet downtown area supports its residents with the main necessities. A hardware store, a post office, etc. but what about food?
---
Bunn, NC
Bunn is a small agricultural town with fewer than 400 residents. The town's Website boasts that Bunn is where "descendants of Green Walker Bunn still walk down Main Street," They host a Town of Bunn, Fun Day each year where all its residents can come together to celebrate all things Bunn.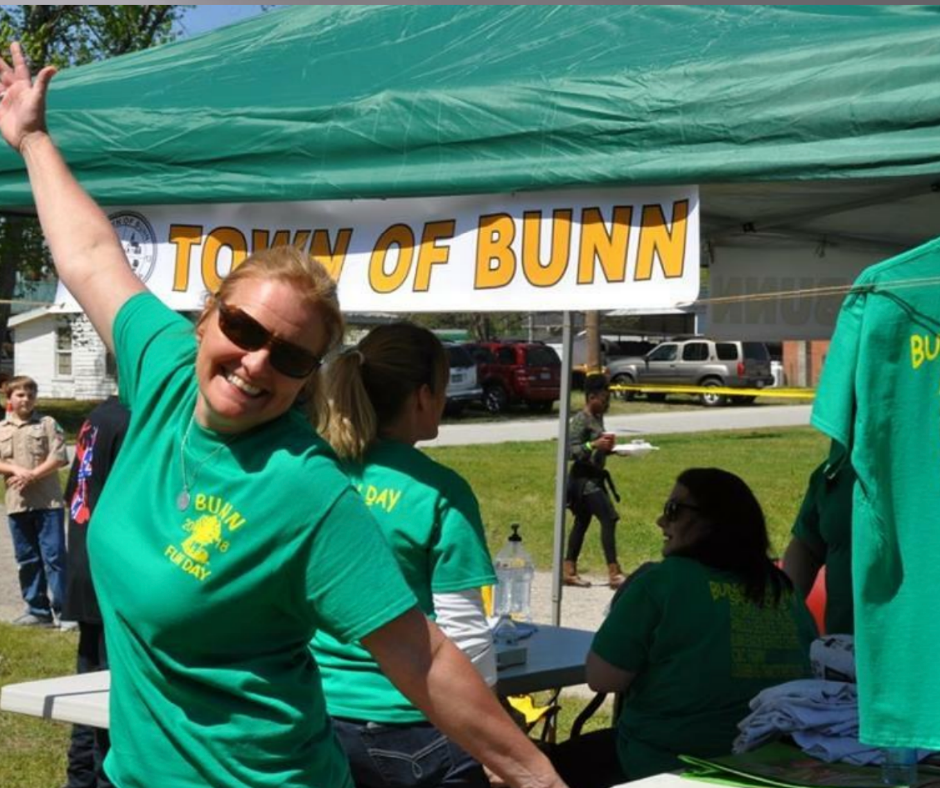 Rustic Roots in Bunn opened in the midst of the Pandemic, They had no choice. Their build-out and permits were all underway when the mandatory shutdowns and mask mandates went into place. Russ and Vanessa Vollmer were the former owners of Vollmer Farm who decided to live out a dream they had always shared. They wanted to open up a restaurant that would offer their community seasonal sustainable local food options. In other words, real farm-to-table homemade food. Vanessa who has restaurant experience and Russ a who is a lifelong farmer, are a foodie match made in heaven. You could not meet nicer folks.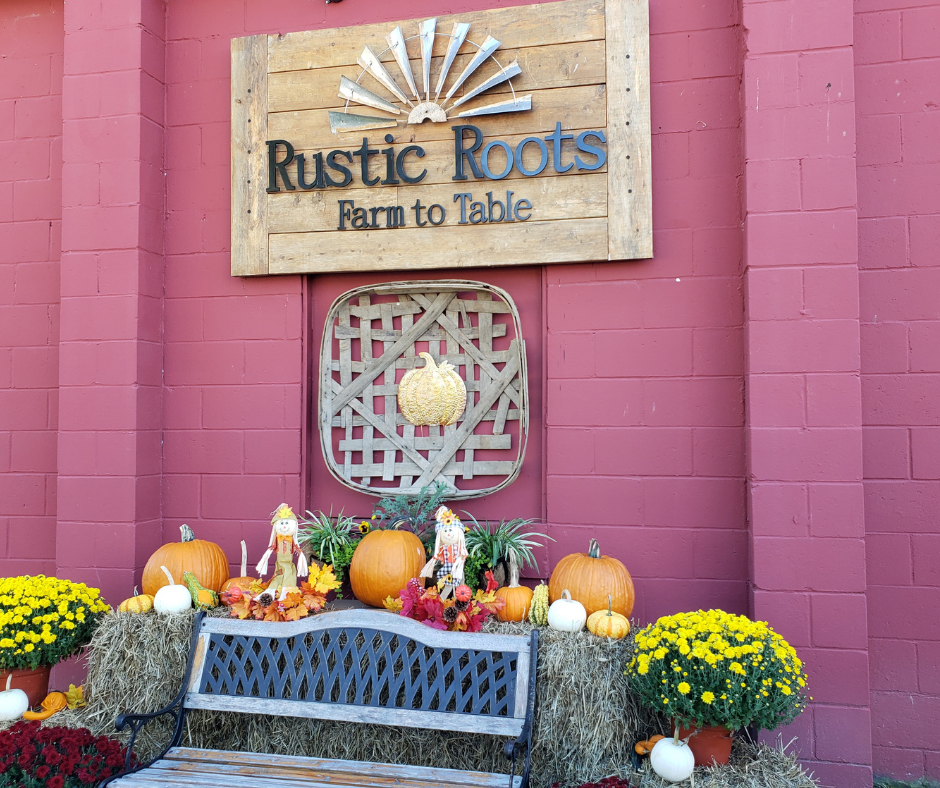 But nice aside, the food is as good as it gets. On our first visit, we tried the charcuterie, I always judge a new restaurant by its appetizers, (it's just my way). The presentation was beautiful and the cheese was on point. We moved on to salads, Russ stopped by to let us know our greens in the salad were picked that day and you could tell by the full garden taste and the snap of the lettuce's freshness. Our steaks arrived and in the first bite, my husband and I looked at each other said "oh yes, this is fantastic!"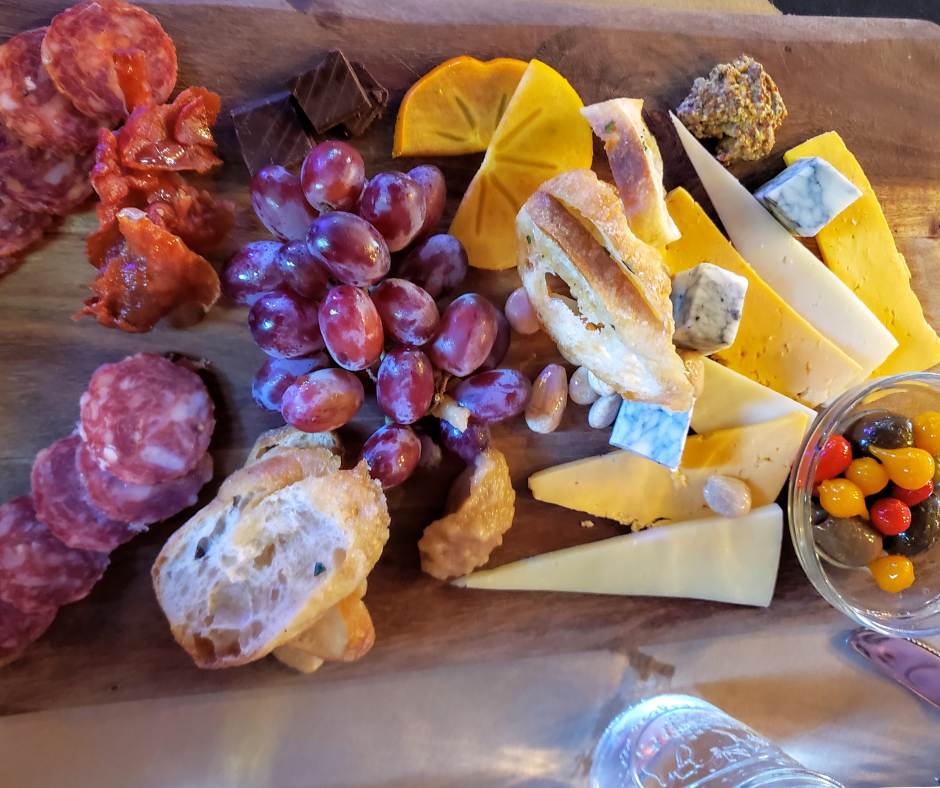 The pub food is good, however, the desserts are to die for! Pictured above is just one of the amazing desserts Vanessa makes. She does a banana pudding that is unlike all the banana puddings. This one comes out warm, it is like a bread pudding meets up with a Crème Brule! You have got to try Rustic Roots! They are only open for dinner and reservations are suggested.
Next up, learn about the town with the best-kept secrets in Franklin County.
---
Franklinton, NC
Franklinton used to be a thriving textile community according to The Jim Allen Group, the #1 real state team in the nation. This little town was the home of the popular textile manufacturer, Burlington Industries which has been in business for nearly 100 years.
The restored mill on East Green St. is called The Lofts at Sterling Mill. It leases its 2-bedroom units starting at under $1000 per month. That is quite attractive to live in a historical structure with an up-and-coming downtown within walking distance.
For a couple of years, we drove through downtown Franklinton in the hope that someone would wake this little downtown area up, revitalize it from its current dilapidated state. It appears in 2019 some good folks from the North Carolina Department of Commerce Rural Economic Division NC, Main Street & Rural Planning Center started a plan. Here are a few of their own photos showing the state of the town of Franklinton at the time of the study along with some of their plans to make it look better. As you can see the buildings were in rough shape. According to the surveys done at the time, people were concerned about drugs and crime in the little city of fewer than 2000 residents.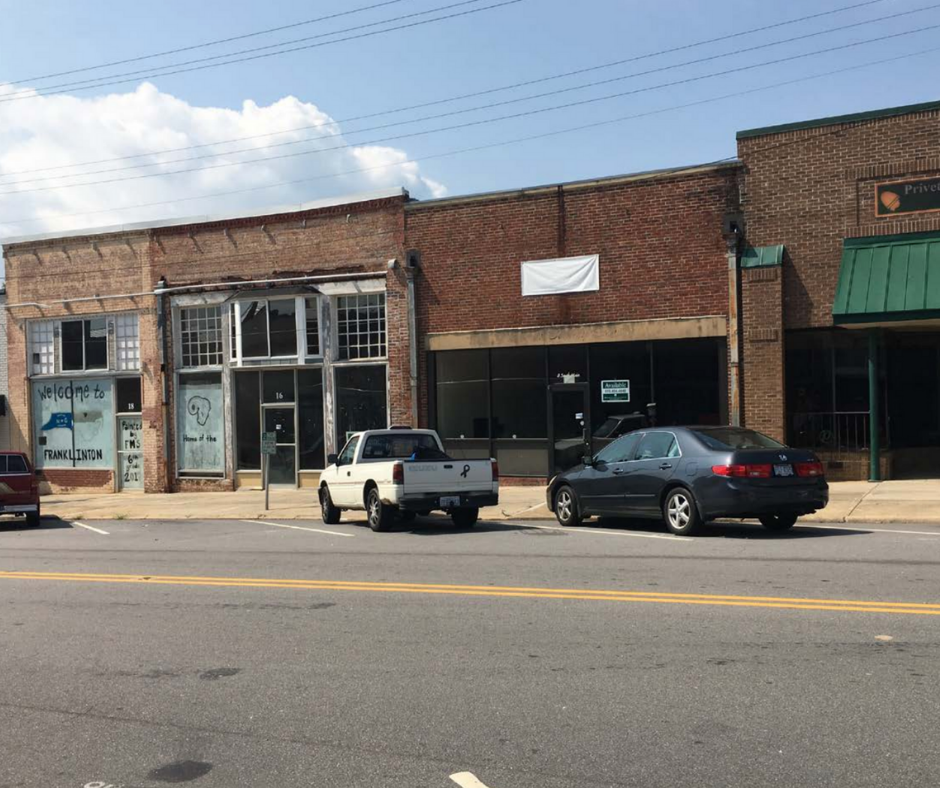 Fast forward to the summer of 2021. My heart skipped a beat when I recognized the signs of renovations actually happening on some of those retail facades. I was feeling hopeful about a new life for this quaint little southern town. Here is what we discovered in downtown Franklinton.
Mason & Main is named after the intersecting streets where the building is located. It is more than a coffee shop. It is a café with fantastic sandwiches along with a wine and beer selection. Kyle Williams the owner, a father, and self-professed foodie is always testing new ways to perfect his recipes.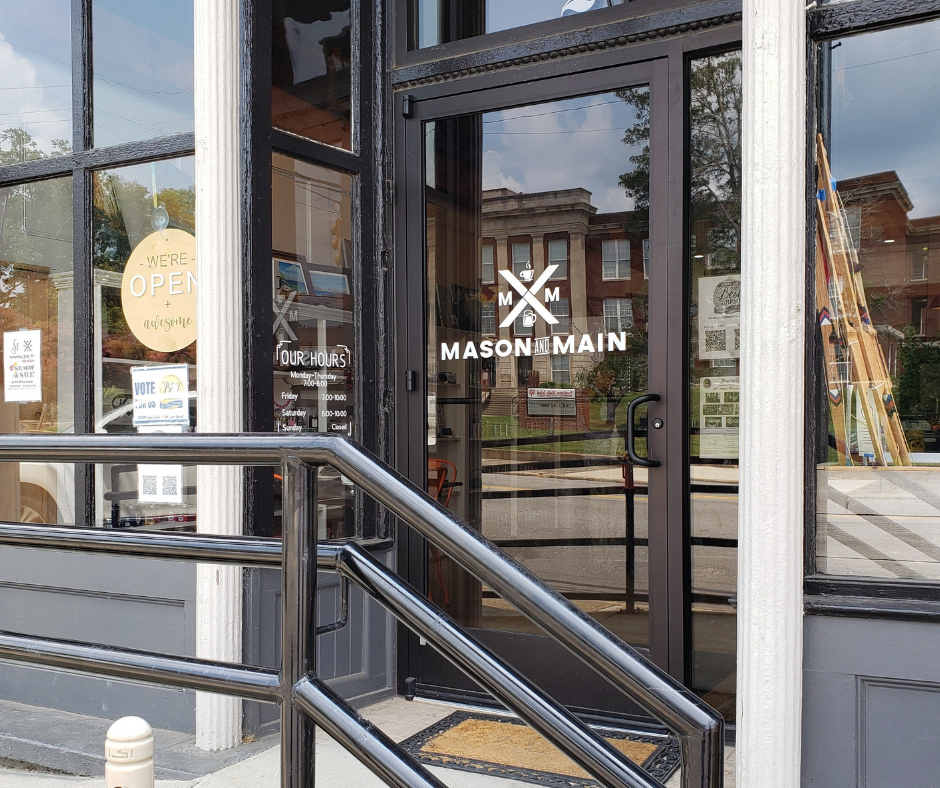 They offer BBQ on Friday nights outside along with live music! Mason & Main hosts fun and unique events such as their wine and paint night with Amanda Wilson Art, She is the same artist that paints with Little Red Birds.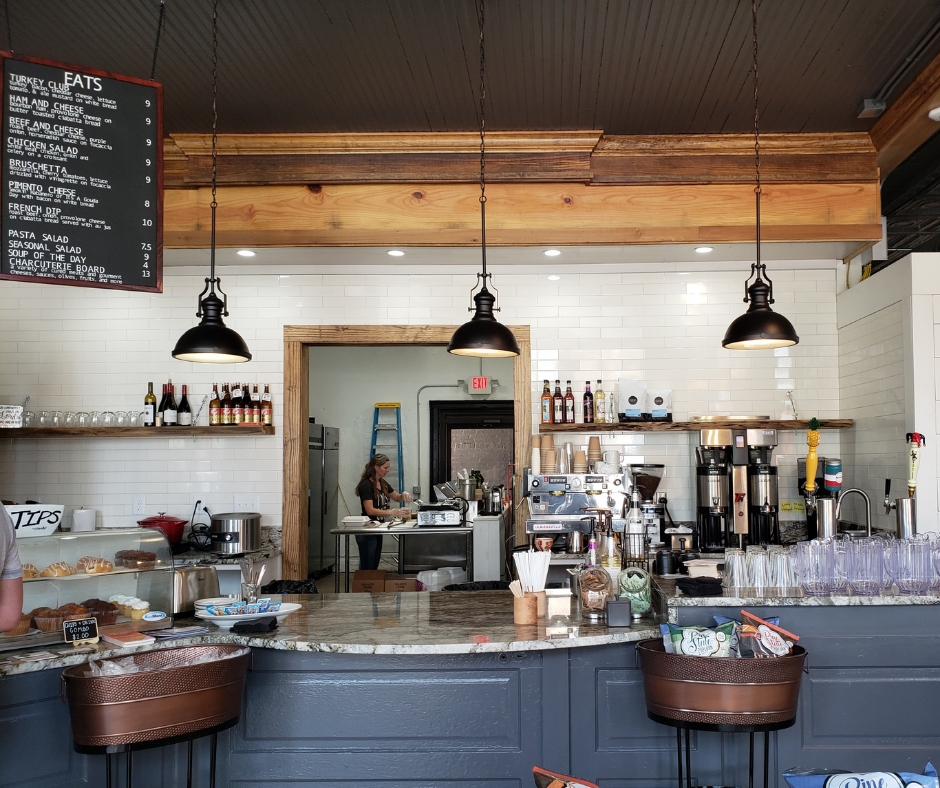 When it comes to showcasing the origins of these downtown Franklinton buildings no one has done it better than Owl's Roost Brewing.
Owl's Roost Brewing is a dream come true for owners Jim and Tracey Kelley. and for many of the residents in the Franklinton area. This brewery in downtown Franklinton will be serving a full selection of adult beverages and food. We were recently invited in for a tour during the final construction phase. We can attest that this is not just your average brewery. It is so much more – this place is amazing! Owl's Roost Brewing is scheduled to open on August 14th, 2021.
Owl's Roost Brewery has 16 taps in total! Our fellow craft beer enthusiasts know that means the opportunity for variety. Jim apparently has been a competition brewer for quite some time and knows his stuff. Tracey plans to have mimosas on tap, as well as a fully stocked bar. From the entrance, you can see some of the brewing equipment in addition there is an entire separate dedicated brewing room.
Owl's Roost Brewing has a brand new commercial kitchen complete with a double pizza oven. They have hired a chef and they will be testing out the recipes over the next few weeks as they prepare for opening. We heard from a good source that the pizza is delicious and the flavors that were being tested ranged from classic to creative.
They spared no detail or dollars for that matter in creating a unique high-end but comfortable space. Everywhere you look from the building materials that were used right down to the furniture, Tracy's flair for art and design is apparent. Look behind her in the photo and you will see that cool acid-washed metal wall covering not to mention the tiled tap wall and custom inlay wooden bar.
Tracey and Jim bought the building which was formerly the old movie theater. Ascending the stairs to the second floor you'll pass a landing where a skeleton sits on one of the original movie theater seats. He will be watching the black and white movies that will continuously loop. What a fun way to honor the building's former purpose!
Upstairs is a great place to play darts, video games, and watch sports. Those big garage doors let in light and double as windows that open up for a cool breeze with the ability to hear bands playing in the courtyard below. Check out those stools that were made out of pallet wood and other materials by a local artist Brian Monteleon of Artful Pallet, Asheville, NC.
Owl's Roost has a large outdoor space with a covered veranda and outdoor bar. The brewery is dog-friendly outdoors! They will have water bowls out back complete with running water for your four-legged fur children. Like the rest of the character that has been infused into this space, these drinking vessels for the dogs will be no exception. They are made from some bathroom fixtures that are repurposed from the old jail. The big dogs will drink from a clean toilet bowl and the little dogs a sink. How cool is that? Our friends over at TripswithPets should love this one!
For a glimpse of the outdoor space, take 30 seconds to watch and enjoy the Owl Brewing Mural being painted on the outside of the building by TonyRamsi Art. To find out more about the opening and to see just how this brewery came to be, follow Owl's Roost Brewery on their Facebook page which has photos of the entire renovation project.
If you are in the mood for something sweet, look no further than across the street from Owl's Roost Brewing where you can indulge in cakes and cream.
Stepping inside Sugar Grinders Creamery and Bakery takes you back to your grandmother's kitchen. Wafting through the air is the sweet smell of sugar magic being transformed into warm gooey desserts.
Meet Miss Charlena Lee, owner of Sugar Grinders Creamery and Bakery. On the day we popped in she was busy making cheesecakes but was welcoming and friendly. Miss Chalena has been baking her entire life with her own mother and grandmother they have made the recipes that were passed down from her great grandmother. Miss Charlena has continued the family tradition of grinding sugar into sweet indulgent treats with her own daughter who manages their Triangle Town Center location of Sugar Grinders Creamery & Bakery.
Miss Charlena the consummate lifelong learner even went back to school in 2020 at "Auguste Escoffier School of Culinary Arts" to become a Professional Culinary Pastry Chef. If you get the hankering for something sweet or have a special event coming up. Look no further than downtown Franklinton at Sugar Grinders.
I can assure you we will be coming back!
Speaking of coming back. Just down the road from Sugar Grinders is a building that many people entered over the decades and some that went in have never returned.
What makes this place unique is that it's a former funeral home. Now you will understand its name, The After Life! The seasoned husband and wife entrepreneurs taking on this endeavor are Patti and Bassam Danfora who also own the Creedmoor Market & Wine Shop on Bruce Garner Road in Creedmoor. Patti told us they have also owned and operated restaurants in Florida.
They envisioned this funeral home to be a great location for dinner and cocktails. After eyeing this building for quite some time they jumped at the chance to purchase it.
In order to access this building, one must grab a hold of a unique door handle made out of a single shotgun. This door handle may have been the instrument of someone's demise or simply signifies how the old speakeasy owners may have defended their establishments.
Once inside you are drawn further in by an eery sense of something adventurous. The floor-to-ceiling portraits of people in a speakeasy from the 1920s hang on the walls in a grandiose fashion. While a single chandelier dangles over an antique upright piano.
The Afterlife is a fun place with a dark vibe to hang out for dinner, or just spirits. They are open on Thursday, Friday, and Saturday evenings.
For a lighter vibe "let's get together and feel alright" at the Jamaican Patty Shack directly across the road from the Afterlife.
Folks line up outside waiting for the authentic Caribbean food that is served here. Meat pies, jerk chicken, plantains, and oxtails are on the menu and we are told it is worth waiting for. We promise to go back and try it for ourselves, when we do we will share all our amazing photos with you on social media at LoveofFoodNC
Going back is easy but going back in time can only be achieved by stepping foot into the City Lunch aka The Hot Dog Stand.
We would be remiss to not mention a staple in Downtown Franklinton. The City Lunch also known as The Hot Dog Stand. This place has been operated by the same family since 1949, the Waiden family. Mr. Waiden is a pastor at a local church. They were closed the day we visited but we could not help but peek in the window. What we saw was a step back in time.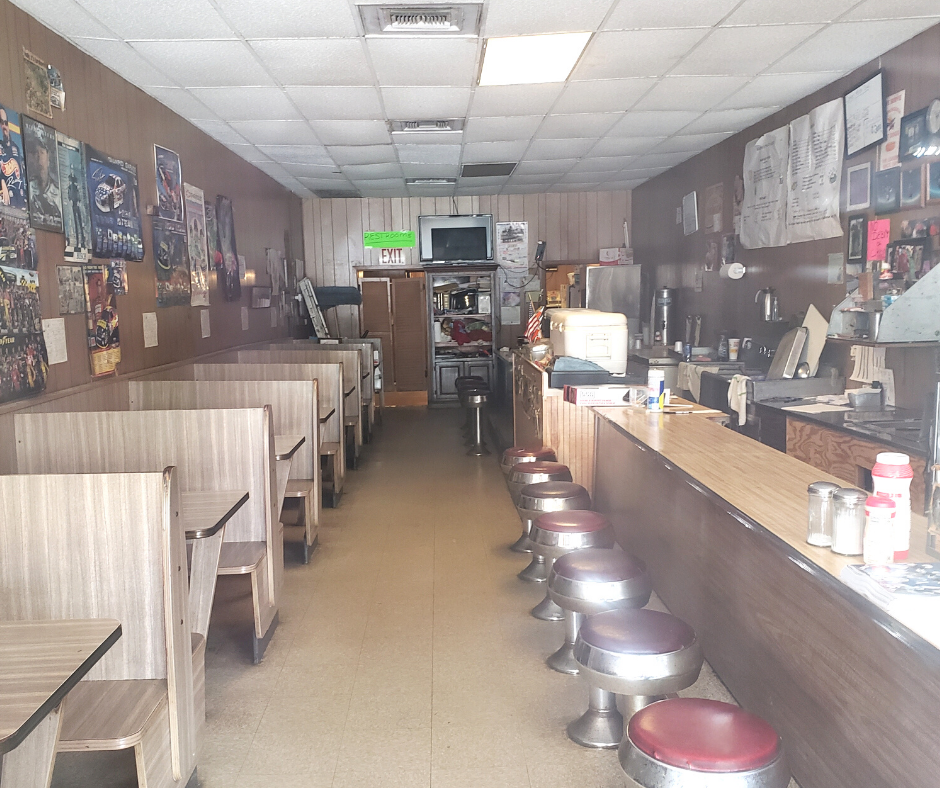 We found their menu online and can you believe that you can get a Hot dog for $1.50 a cheeseburger for under $2.70 and a slice of homemade pie for $2.50. We are going back to give it a try! We will post our pictures on Facebook and Instagram for you.
From the oldest to the newest restaurant in town.
Mexican Restaurant Coming Soon
Last but not least there is another restaurant coming to downtown Franklinton and is sure to be caliente'. We don't know its name yet. It is going to be a Mexican restaurant according to this sign posted next to Owl's Roost Brewery.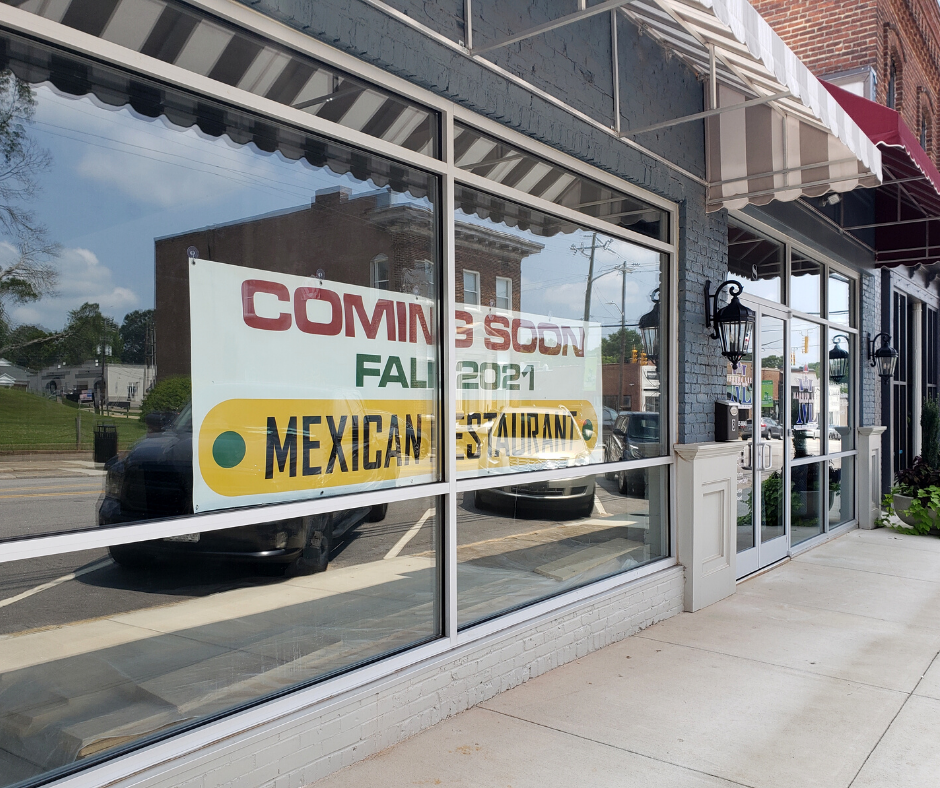 At this rate, it will be hard to keep people away from the once-abandoned downtown of Franklinton, NC.
Make sure you get out to visit these Franklin County food and beverage venues and mention you heard about them from Love of Food Magazine. Post your photos on our Facebook group or tag us @Loveoffoodnc. Share this article on your newsfeed and show the food and beverage scene in Franklin County some love!