For many, the mere thought of Christmas conjures up sweet memories of childhood innocence. A period in our early lives where we would blindly trust the process. The Christmas season seemed to last forever and once the town square was officially decorated, the entire community, as well as our families, would begin all of their Christmas rituals. Fresh cut spruce trees would fill a once-empty lot, their sweet-balsam scents would tantalize our nose as we walked past. All the most popular toys filled the store windows and at the mall, everyone waited in candy cane lined aisles for pictures with Santa.
The sights and sounds of happiness were all around us. We were delighted with the colorful, twinkling lights above the city square and on the homes all over town. We could hear the distant dull sound of the Salvation Army bell ringers and the clinking of the coins in their kettles. Every store we visited played those holiday tunes reminiscing about holidays past and the good ole days. We heard our favorite traditional Christmas Carols such as Frosty the Snowman, Oh Come All Ye Faithful, and yes, who could forget the crooning of Bing Crosby singing "I'm dreaming of a white Christmas." According to the Guinness Book of World Records, "White Christmas" by Bing Crosby is the best-selling Christmas/Holiday single in the United States, with estimated sales in excess of 50 million copies worldwide.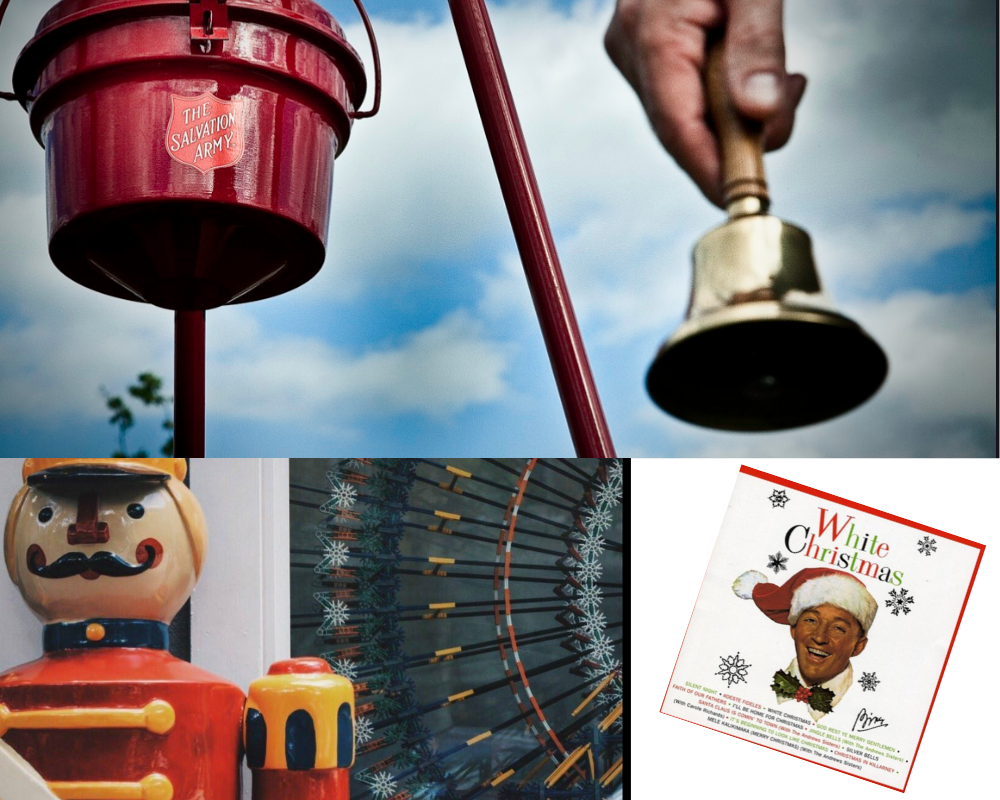 Back at home, the family tradition of baking began so that every neighbor, postman, and teacher could be shown how much we appreciated them with little sugary shapes of holiday flavors. We delighted in taste testing every batch of these lovely Christmas goodies. We pressed out little hands into the sweet, rolled-out dough and sprinkled sugar on little shapes of bells, trees and gingerbread men. From the comfort of our warm homes, we built miniature gingerbread houses like carefully skilled carpenters. We mixed eggnog, sipped on hot mulled cider and we strung fresh-popped popcorn onto long pieces of thread that would eventually adorn the Christmas tree.
These traditions were pretty universal around the United States, however if you are from North Carolina you know about some very local traditions. starting with Moravian cookies. These cookies are a German recipe that was brought by the early settlers of Winston-Salem.
One of the most famous cookie producers is Mrs. Hanes from Clemmons. She is a seventh-generation Moravian cookie maker and still makes her 10,000,000 cookies by hand. If you want to tour the facility you can, however, you will have to wait until January to visit since November and December are her busy season and she can not accept tours during the holiday months. You can purchase her cookies here.
Perhaps you remember as a child visiting The Winkler Bakery at Old Salem Museum & Gardens and tasting those lovely wafer thin Moravian cookies. Watch this short clip of one of our favorite, local, celebrity-chefs, Vivian Howard as she tells "Visit NC.com" about how she remembers the smell of those lovely cookies.

Another North Carolina Christmas tradition is to head North to Asheville to visit the majestic Biltmore Estate to take in all the opulence that once indulged the most prominent family of the gilded-age, the Vanderbilt family. Many families make the trek here during the holidays to see the home's extravagant decor. You may have made memories attending the annual Gingerbread House Tea that is held at the Inn. This fun-family event is lead by one the Inn's pastry Chefs who will help guide you in constructing your own little mansion, made out of gingerbread of course. Build away as you nibble on finger sandwiches, just like the Vanderbilt family did in the 1800's.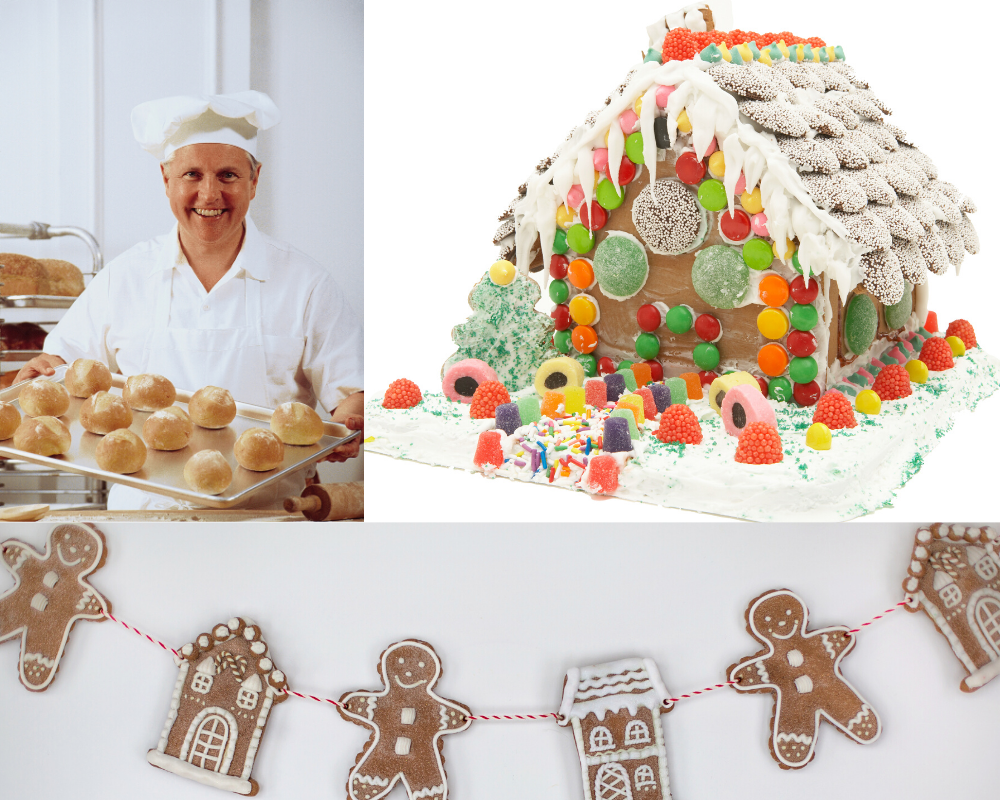 If the mountains are not your thing then perhaps the ocean has called you to Wilmington, NC for the Annual Holiday Flotilla. This tradition of decorating boats with bright lights and holiday cheer has been held for the past 36 years.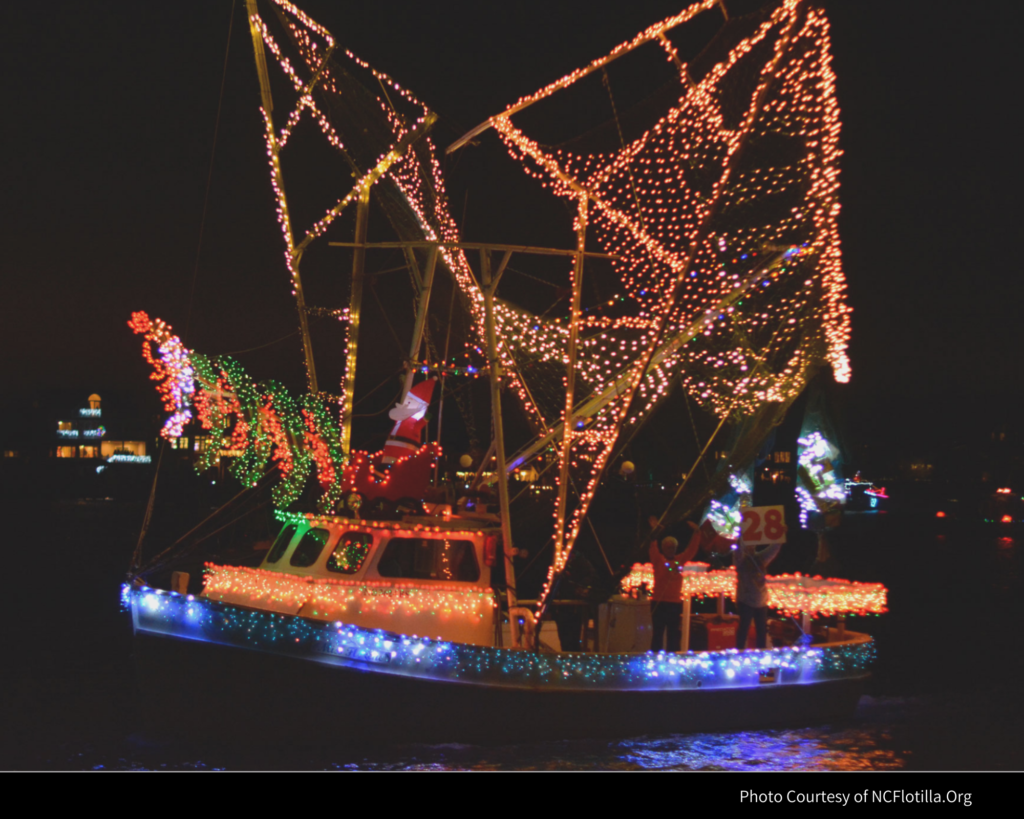 The Wilmington area has a rich and lively food scene that welcomes all seafood and non-seafood lovers alike. Restaurants like Catch with its modern seafood dishes and Manna with its take on all that local has to offer with menu options whimsically named "Lamb Shank Redemption" and "Iron Chef Bobby Fillet" plus many more. Just reading the menu is fun, but the food is even better. If you are making new memories in a more casual family atmosphere we would be remiss not to mention Vivian and Ben Howard's latest Wilmington gem, Benny's Big Time Pizzeria. But don't think this is your typical take out pizza joint. It has all the complexity and downhome flavors that we have come to expect from these amazing restaurateurs. If you have eaten at The Chef and the Farmer or The Boiler Room, apply that similar style to Italian pie and now you have Benny's Big Time. Think hot honey drizzle and autumn squash on pizza. For dessert think this Spumoni Surprise.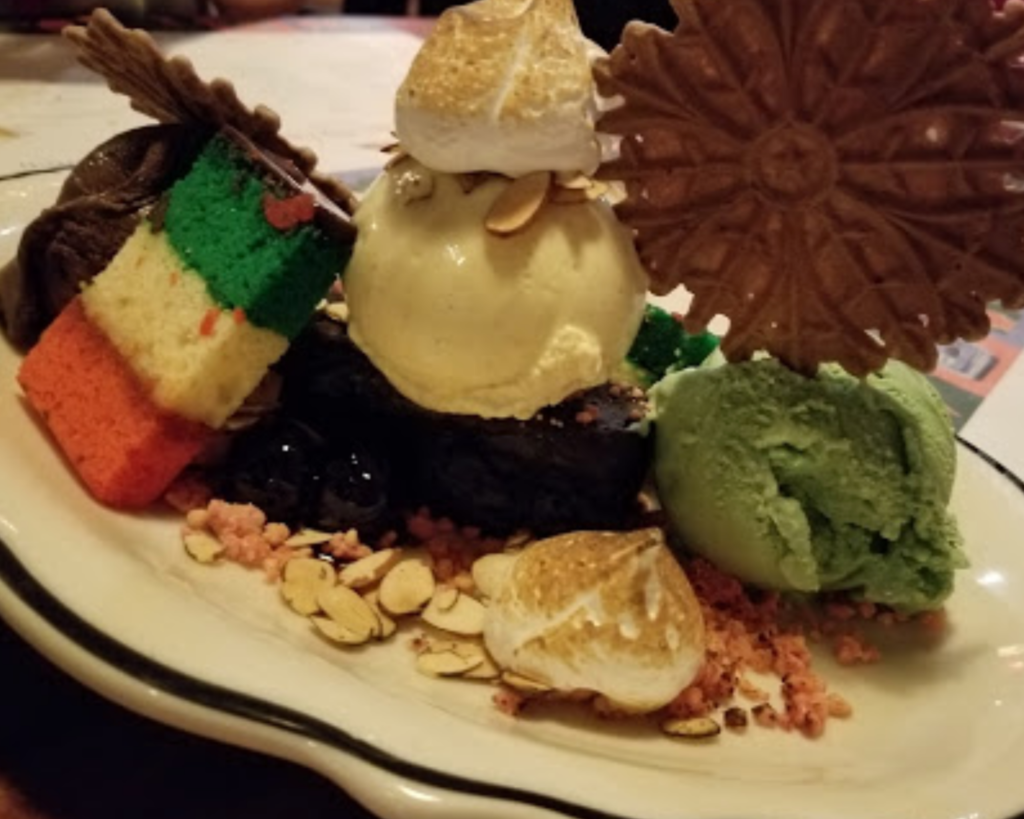 Raleigh and its surrounding towns have a wide variety of holiday traditions and events for everyone to take in from the opening of the Governor's Mansion to the Annual Christmas parade which happens in November, before Thanksgiving. With Raleigh having such a vibrant and entrepreneurial scene, one of our latest obsessions is the pop-up. From holiday markets where crafters show off their wares to brunches where chefs can spotlight their culinary talents, these fun events are helping to drive the economy and kick start many a small business owner's dreams of owning their own brick and mortar establishments. It's great for the consumer too as it takes us out of the ordinary and allows us to explore new possibilities.
Some holiday pop-ups do appear annually. An adult favorite is Miracle at Haymaker. Each year one of Raleigh's Street's chic, cozy craft cocktail spots turns itself into a Holiday haven. All things merry and bright are front and center for celebrating from Christmas tunes to holiday libations. One can even be served with a real snowball. Located at 555 -115 Fayetteville Street and is open Mon-Sat from 4 PM. LoveofFood Magazine will be there to do a feature video with them, so watch for it soon.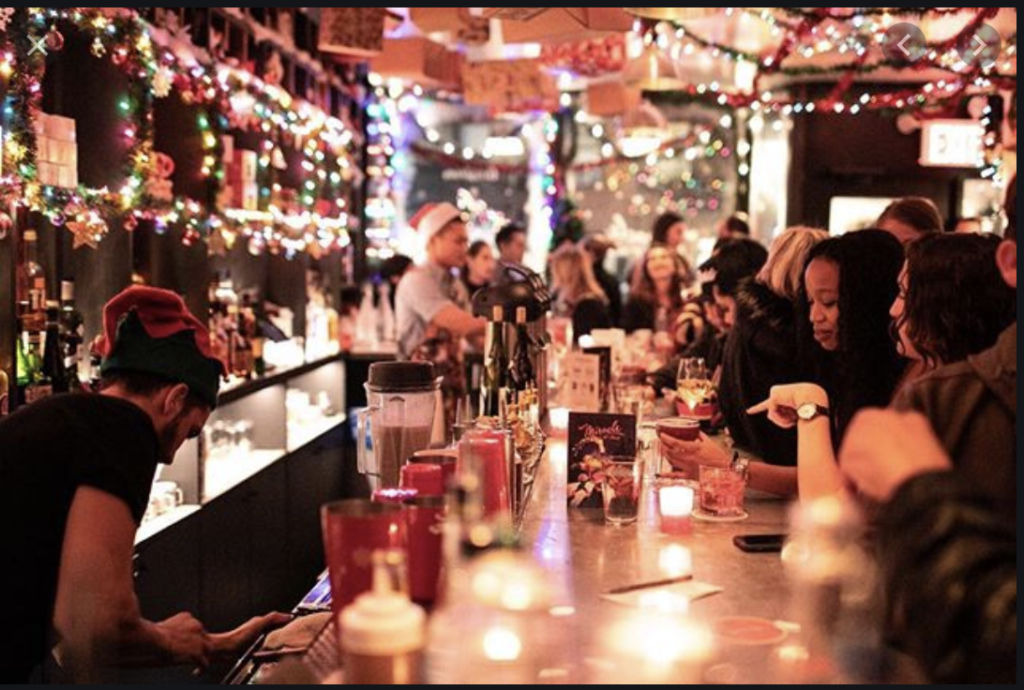 Raleigh's surrounding cities and towns offer much in the way of reliving or making new holiday traditions. Taking the family to Boyett's Farm in Clayton for their Lights on the Neuse event. You can enjoy a hayride through a mile of Christmas lights, Visit Santa's workshop to purchase s'more-making supplies then cook over an open flame and eat them right there. If seeing Christmas lights is your jam then north of Raleigh you can drive through Piper Lights in Wake Forest, where you can then park to visit the candy store for all your favorite holiday sweets.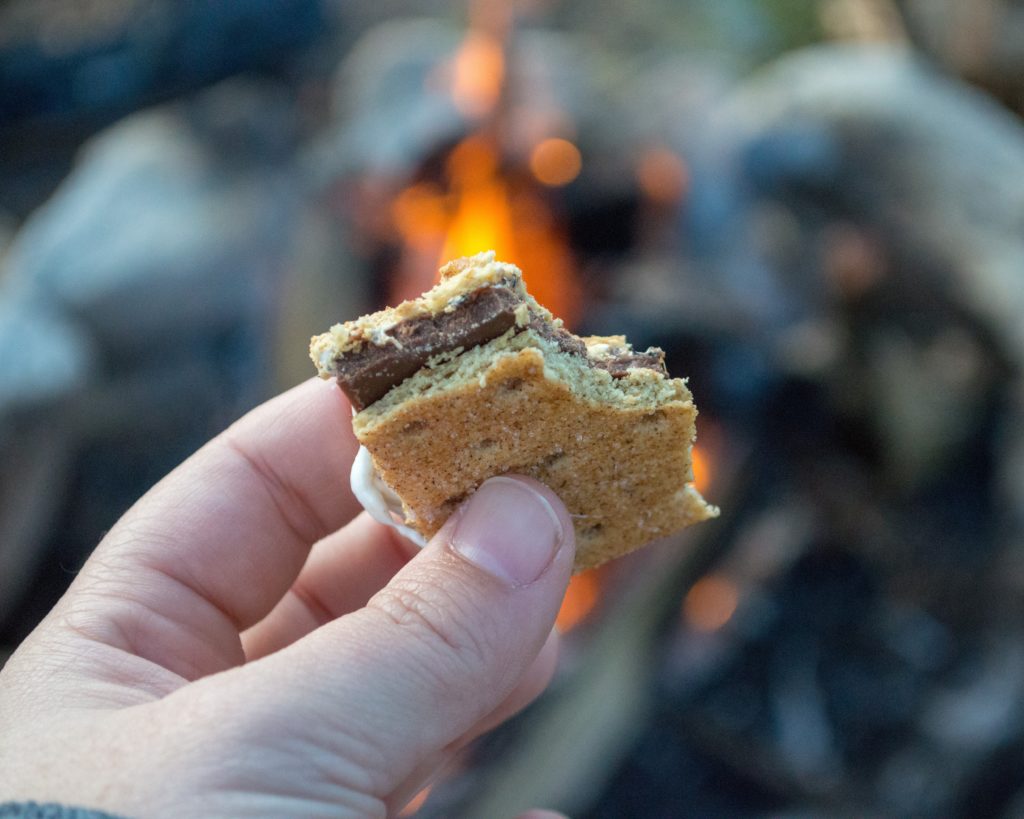 Durham Performing Arts Center will present A Christmas Carol with Ira David Wood. If you have experienced this show at least once, making it a tradition is a perfect idea as you may already know Ira David Wood infuses the classic story with our current state of affairs. Much of it alludes to local, national politics and news in a fun and light way woven into the tale. Grab a bite to eat at one of Durham's hot spots like Pizzeria Toro for brick oven pizza and/or an appetizer of ricotta dumplings or polenta fries. If you love Asian style, head over to M Sushi for Grilled Octopus, Crudo, or traditional sushi. Having tapas at Mateo is an amazing way to satisfy your palette before or after the show. How about Chicarrones, Albondigas or Bistec de Carne if you want something more filling? I would be remiss to not mention COPA who Greg Cox from The News and Observer named "One of the Best New Restaurants in the Triangle and Best in Class (Cuban)."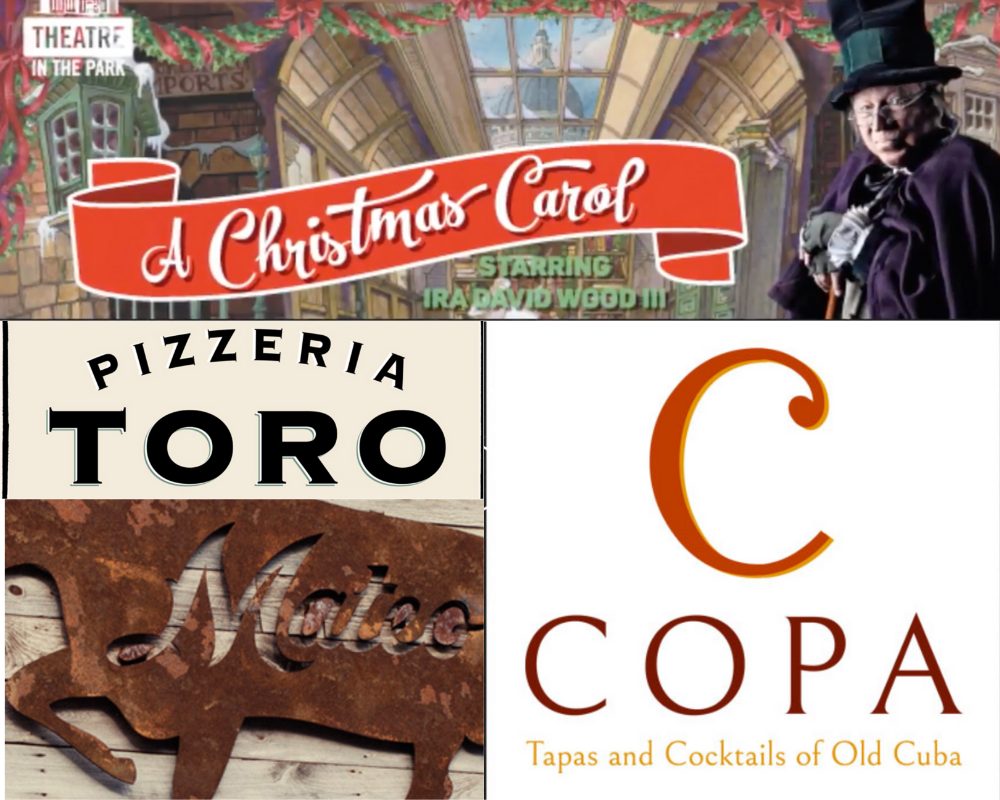 One thing is for sure, wherever you go to celebrate, reminisce, or discover North Carolina's festive Holiday spirit. Its burgeoning food scene will leave you smiling like Jolly Ole Saint Nick with a full belly.
As children, when Christmas Eve would finally arrive we would head off to bed early with our visions of sugar plums dancing in our heads and awake the next morning to learn that Santa Claus had indeed visited and filled our Christmas wish list.
Here is hoping your Christmas Holiday is filled with love, joy, and peace!