When I was in the workforce and we had celebrations, it was my responsibility to make the salads. These meals were usually around a certain theme or cuisine. I would create salads to match the desired cuisine. I used no recipes, but ingredients which came to mind as associated with certain nationalities.
One of the most popular themes was Mexican food. This was easy, but with some creative twists I could come up with a variety. Although I did not use a chart, I will show how various foods could come together to make delicious Mexican themed salads. Keep in mind, there are other food items you could add, these are just what I worked with.
The base of a Mexican salad could be any lettuce and/or chopped cabbage. Protein could be chicken, steak, shrimp, beans, garbanzos, cheeses, and tofu. Vegetables could be bell pepper slices, jalapenos, carrots, tomatoes, black olives, onions, cilantro, and corn. Fruits typically would be mango, pineapple, papaya, melon, avocados, and coconut. Toppings or what I call the "crunch" could be tortilla chips, sunflower seeds, and pumpkin seeds. Dressings can be anything from my personal choice of any kind of salsa with sour cream to vinaigrettes such as cilantro lime to ranch types dressings to taco sauce. It is all about your own personal palate. You could even use bottled dressings when there are so many varieties from which to choose.
Preparing these salads could mean building them in one big bowl and distributing to serving dishes or salad bar style, so people can pick (this is often a big waste preventer).
Another popular salad theme was Asian salads. I borrowed the idea from a local restaurant and changed it up. Some typical, but not exclusive bases could be any lettuces, cruciferous blends (sliced Brussels sprouts, shredded cabbage, chopped broccoli), and a variety of cabbages. Protein would be any chicken, steak, tofu, edamame, and shrimp. Vegetables could be bell pepper slices, celery, green onions, carrots, radishes, bean sprouts, water chestnuts, mushrooms, and chopped kale. Fruit could be oranges, melon, peaches, plums, apricots, strawberries, and kiwi. Crunch would be chow mein noodles, fried wonton, sesame seeds, sliced almonds, and other nuts. Dressings may be ginger honey, sesame vinaigrette, or any dressing of preference. Sometimes a squeeze of citrus does the trick.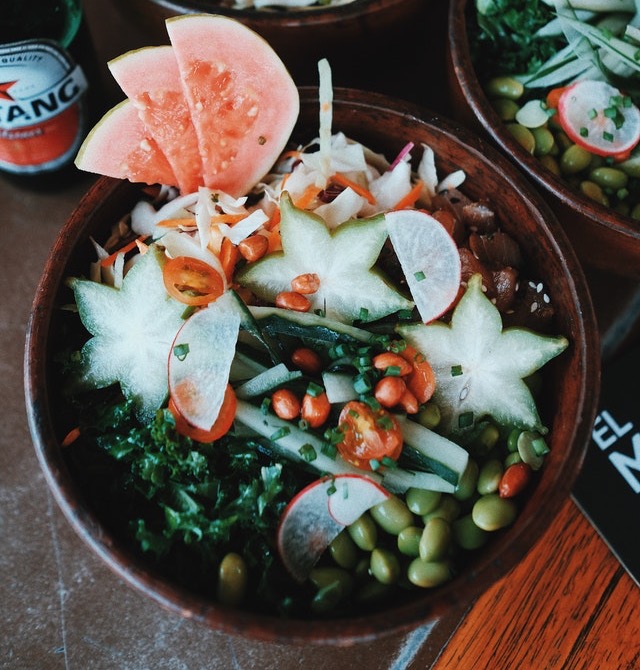 Taking these two themes, think of what you can do with various cuisines. French cuisine may call for bleu cheese, greens, walnuts, mushrooms, ham, and the list goes on. A fun challenge would be to search for salads from different countries and start your own salad samplings. It will be fun to see what you come up with.