Hosting on Thanksgiving Day is no easy feat. Sure, your mom and grandmother made it look easy, however, it's those years of trial and error that allowed them to pull it off like an expert. Remember that old saying "practice makes perfect". From planning a guest list to storing the fine china for the next holiday and everything in between these wise and experienced folks will guide us through how they make their Thanksgiving Day celebration a success.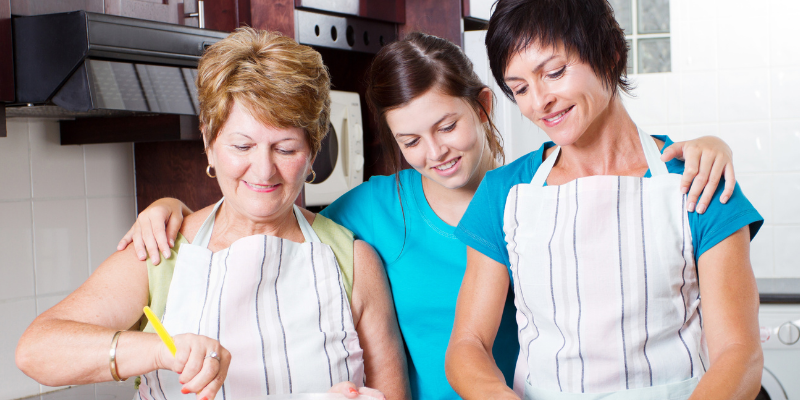 Plan Your Events Ahead Of Time
There is no such thing as an impromptu Thanksgiving meal. If you plan to host a Thanksgiving gathering you should be thinking about things such as your guest list, budget, menu, and space at least a month ahead of time. If you are reading this article and it is a week before Thanksgiving don't worry there will still be some tips provided throughout the article that will allow you to pull off a gathering in the short term. Just be aware you will have to work a bit harder, spend more than you should have to, and you will likely have to sacrifice formality and elegance.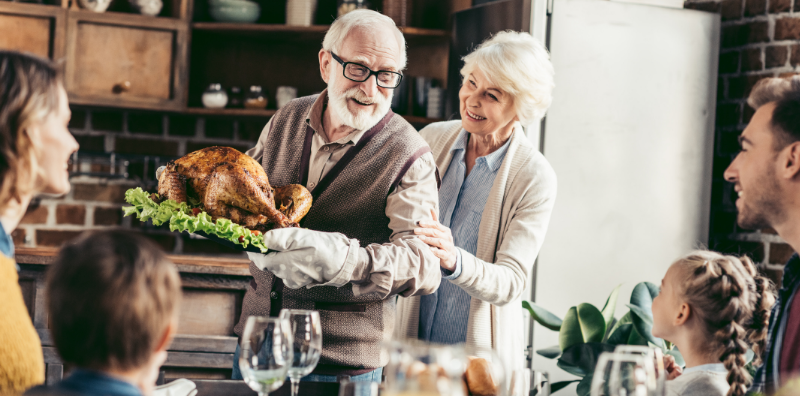 Think about who will be at your gathering, it is okay to have an eclectic crowd, it often makes for the most memorable Thanksgivings and sets this gathering apart from others in our memories. Think about what you learned sitting around the table as a child. Likely there were lessons about family dynamics, patience, and civility. Perhaps you heard differing views on current topics or stories about your parents when they were growing up. Just keep in mind where you seat people, placing two people next to each other who do not agree on most issues and do not get along is a bit risky. When planning your guest list you also must think about how many people you can comfortably entertain in your space.
Consider Your Entertaining Space
What we did after we moved all the couches to one wall and move the coffee table out of the room is set up two folding tables to make a long and wide table. The idea was to have lots of room for the tablescape in the center and comfortably seat my 10 guests.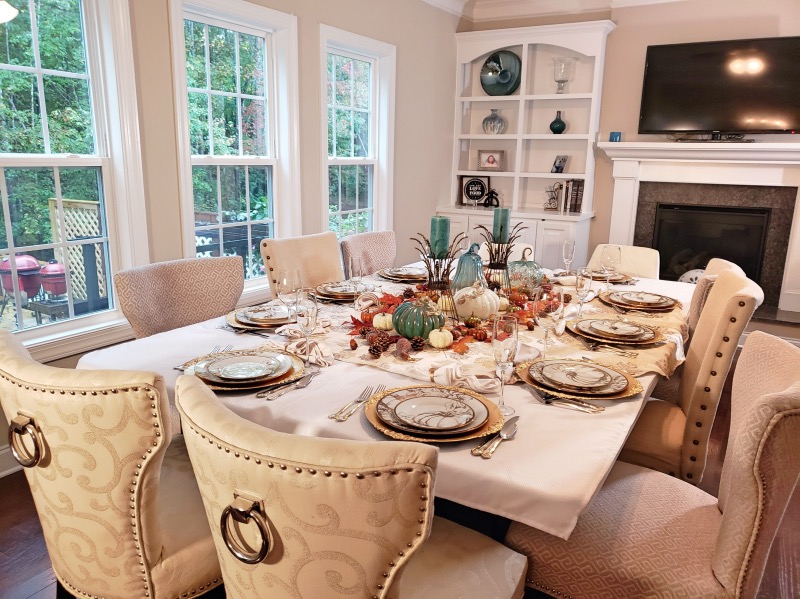 Whether you have a small apartment or a large home, space is a crucial element in making your guests feel comfortable. Make sure there is enough room for people to mix and mingle before being seated. For example, if you live in a small apartment with a balcony why not serve appetizers and a welcome cocktail or mocktail on the balcony? Have a rain plan ready like a small tent if the patio is not covered.
If you live in a very large space it would be best to create cozy areas for people to gather in just 1 or two rooms. You can even block off areas of the homes by making them less inviting. Try simply turning off a light in that room or by placing couches or other pieces of furniture at the opening of the room facing backward. This sends an underlying message that the room is off-limits. Plan for a place for your guests to put their purses, shoes, and coats, this will help contain clutter.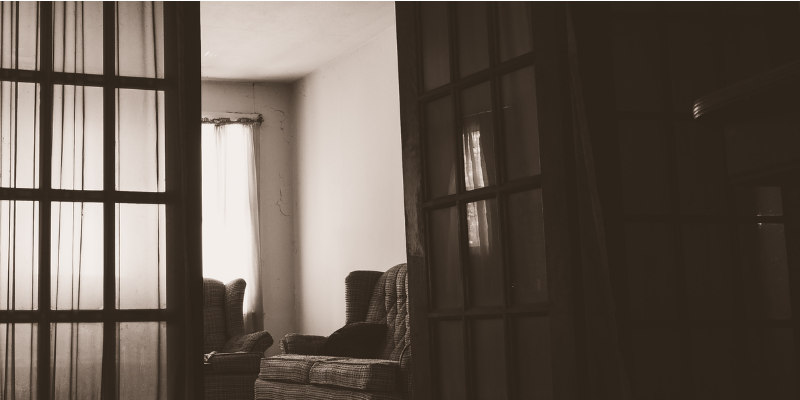 Set Up The Seating
Plan your table seating, always take into consideration the extra people who may get added to the list at the last minute. Make sure you have enough chairs and room for these folks. I think in my parent's house this is how the children's table evolved. You can get creative by adding in a table in the kitchen and calling it the chef's table. One friend who had a small dining room and a small living room used to place a table in each room, however, she made sure that she sat at one table with her guests and her husband sat at the other to ensure everyone felt special and cared for.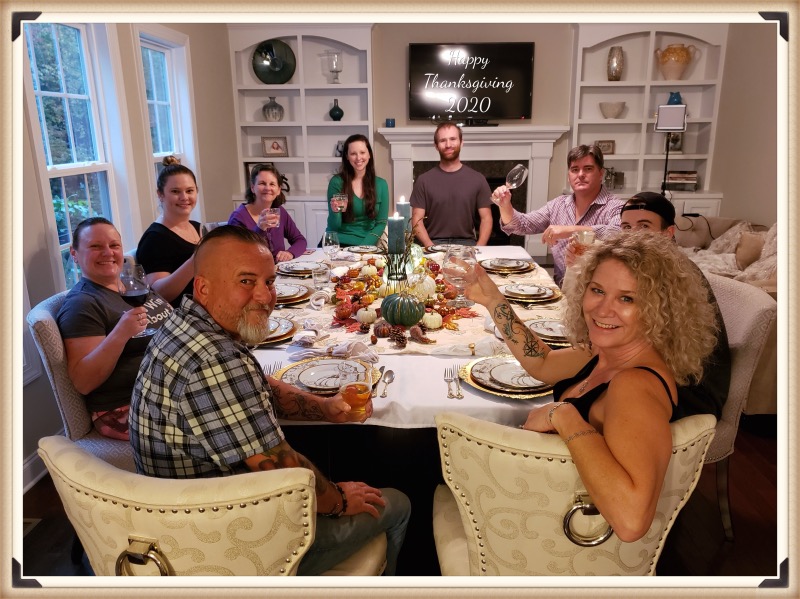 Have A Plan For The Food
We all live with a budget, whether it is a strict rule or more of a flexible set of limitations. Restaurants must watch food costs closely in order to be profitable so why not take a cue from the pros. When hosting a Thanksgiving meal in your home, food costs can run amuck if you do not plan. This is because we strive to fulfill memories of our favorite flavors, treat ourselves to food we do not always have on hand, and have to accommodate the various dietary needs of our guests.
The very first step in your menu planning is to create a spreadsheet of your guestlist and placing any food allergies, sensitivities, or preferences next to their names.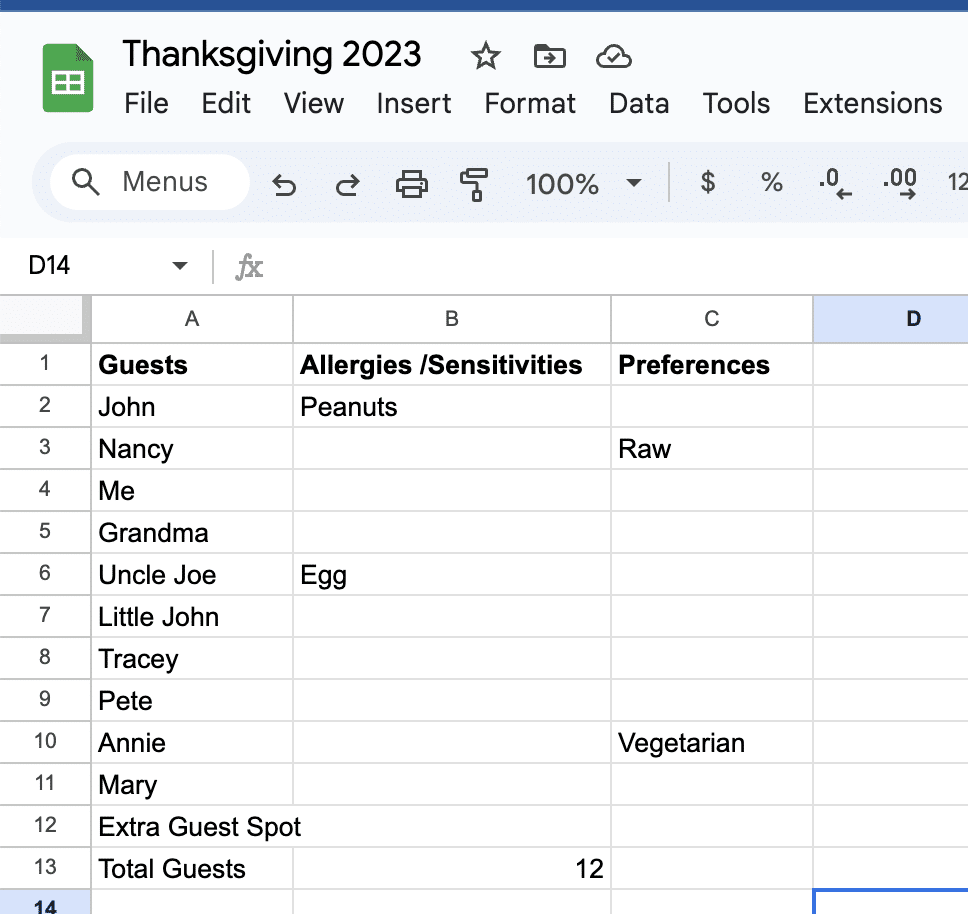 Plan for foods that can be made in advance, somethings like homemade cranberry sauce or cranberry relish can be made two days ahead and still taste like you just whipped it up. You will be surprised at how much can and should be made ahead of time. This will save you time on Thanksgiving day so you can spend time with your guests and it will save you money. For example, biscuits and rolls cost cents to make as do pies and other baked goods. Making items on your menu in advance will allow you to serve more scratch-made foods. Food that is not mass produced always tastes better and homemade dishes are what make your Thanksgiving meals more intimate.
A good tip is to try your recipes in advance, Thanksgiving is not the time for a trial run. I try out new dishes at potluck events or just invite a few neighbors over to try it to see if it goes over well. If it passes the taste-test, the dish makes its' way onto my Thanksgiving menu. This year a new Sweet Potato Casserole with Bourbon, Bacon, and Pecans was tested three times and perfected prior to Thanksgiving. I also made a Kale and Spinach Au Gratin dish twice before Thanksgiving. These were both made a day ahead in their respective casserole dishes and stacked in the fridge just fine.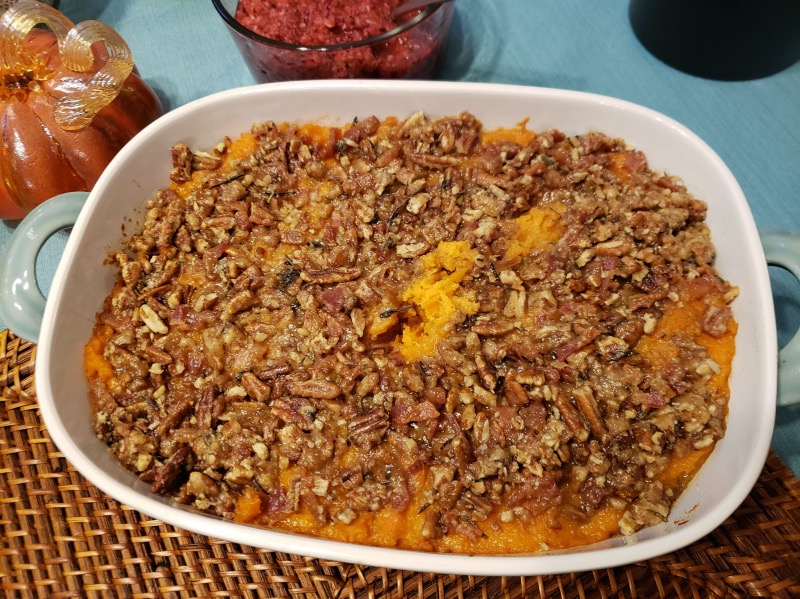 If you buy a frozen turkey like most people do you must take it out of the freezer 3-5 days ahead depending on the size. Defrost in the refrigerator and remember to put something under it in case the packaging leaks and to catch any condensation. 24 hours before you plan to cook it remove all the innards. There is usually a neck bone and some giblets inside on either end. Don't throw these away as they can be added to the stock for your homemade gravy. We smoke our turkey every year, but whether you decide to bake, smoke, or deep fry your bird, always plan to make gravy. Our turkey for 2020 was herb-encrusted, we have made it with pecan wood which gives it a deeper darker skin (shown below)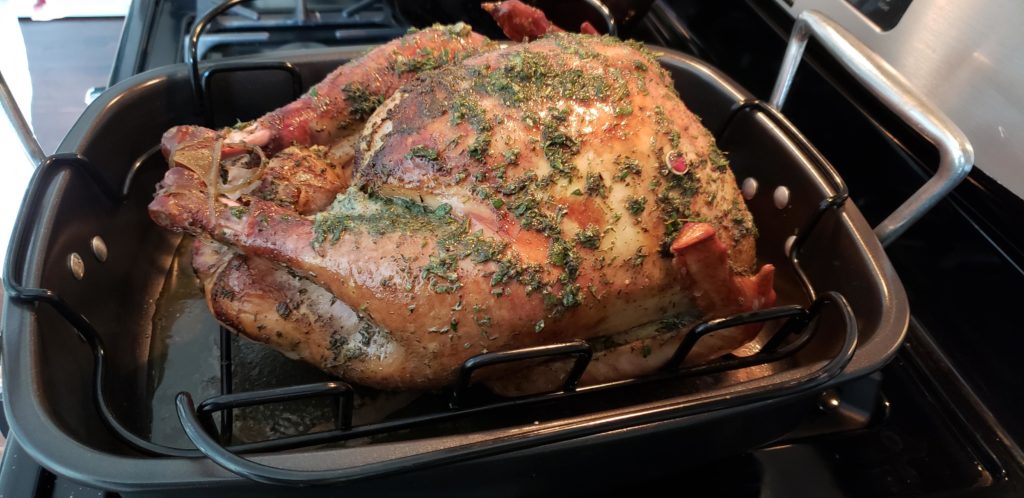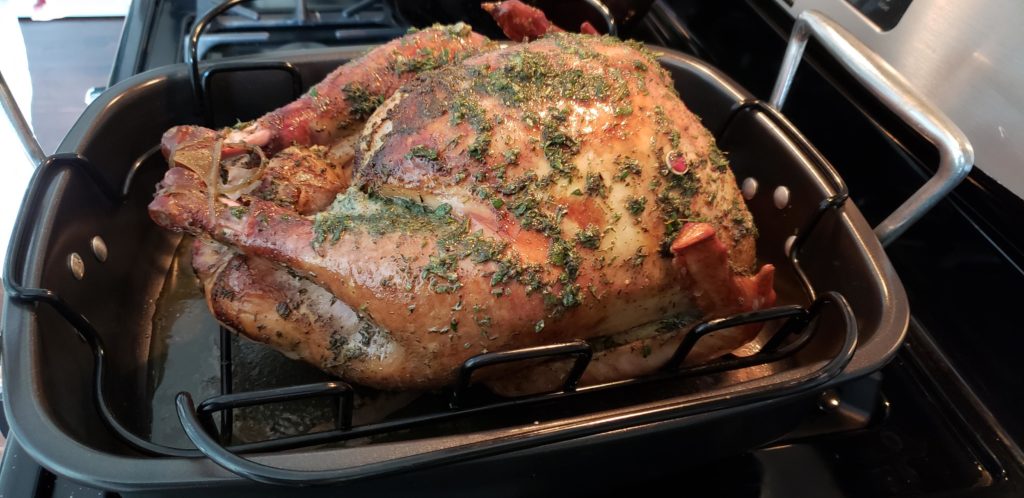 Setting The Table
Plan your tablescape, decide on your color and theme. Do you want it to be rustic, elegant, perhaps a mix of both? Not enough matching plates, don't worry. Buy plain white plates they will work with anything and you can alternate printed china plates with plain white plates. The same goes for stemware and napkins, it does not all have to match perfectly.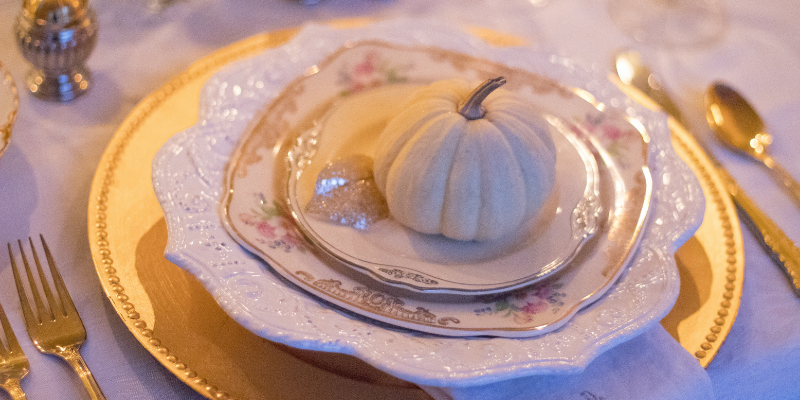 Who will be seated where? If you are having all family it could be fun to place small picture frames with old family photos into the mix. If you plan to have flowers on the table make sure you take into consideration, allergies that your guests may have. Never, ever use scented candles as this interferes with the smells of food. Always have a tablecloth regardless of how formal or informal your Thanksgiving table will be.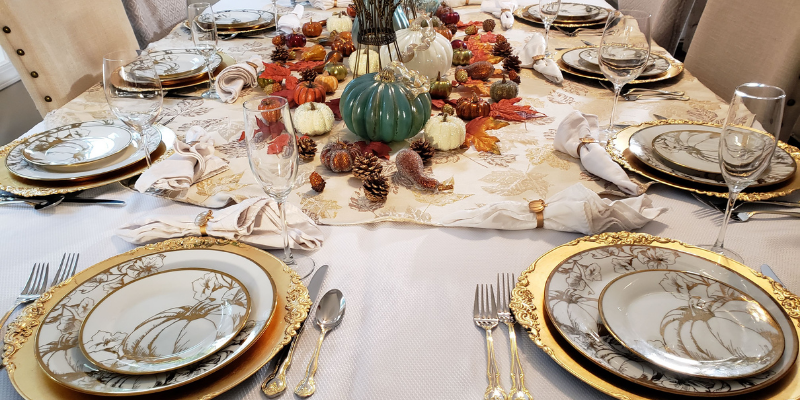 If you are hosting a less formal Thanksgiving gathering such as a potluck you may plan to have guests eat their turkey from some type of paper plate. A quick search on Google netted me some ideas for the table settings using paper plates. If you go this route please spring for the more expensive sturdy plates. You do not want gravy seeping through, messy spills, and the risk of an embarrassed guest. If you are planning to be less formal, I still suggest using quality utensils. The Dollar Store has the silver color or you can opt to use heavy-duty clear utensils they are always appropriate.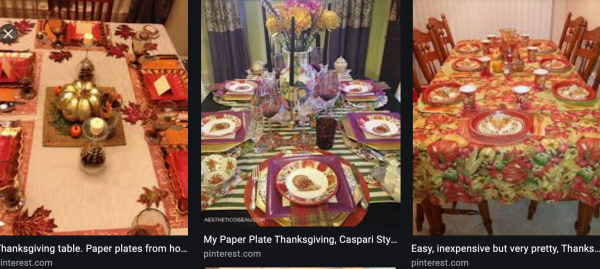 I prefer to let people sit where they are the most comfortable, but you may want to assign seats, If you do, there are so many wonderful options for place card holders that you can DIY for pennies.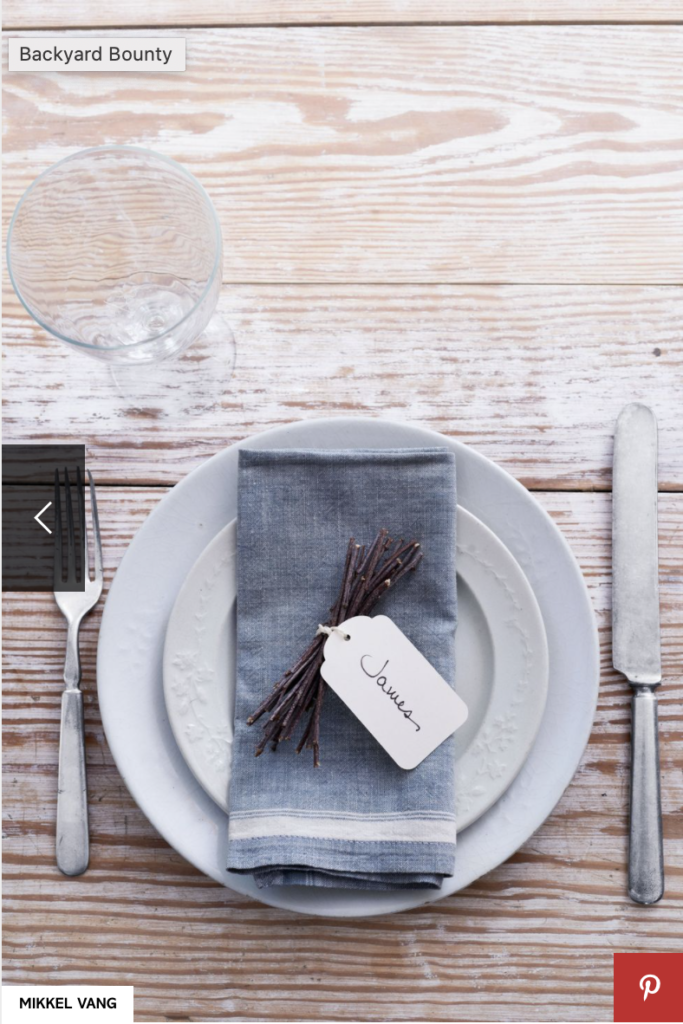 I rarely serve wine from anything other than glass or crystal. Avoid the plastic fake stemware as it is never stable when half full and is tacky. If you have a very large crowd it is acceptable to use the plastic short cocktail glasses for soda and drinks.
Remember to plan for all your serving dishes and utensils, there is nothing worse than rifling through cabinets and drawers in front of your guests looking for a suitably sized bowl or your late grandfather's antique carving set.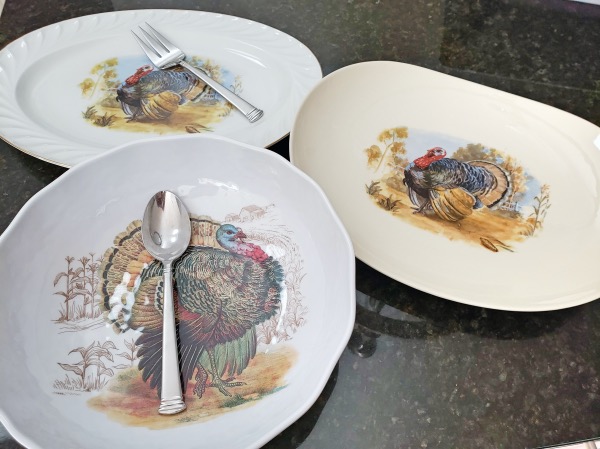 Cleaning Before The Day
Refrigerator space is one thing many people do not plan for. One week before Thanksgiving I run through all the condiments and containers. I use up anything I can and discard anything that has sat too long. This gives me a chance to wipe down the shelves with a soapy cloth and rinse vegetable and fruit drawers. My fridge will not only have more space, be clean for food storage, but will be presentable for my guests.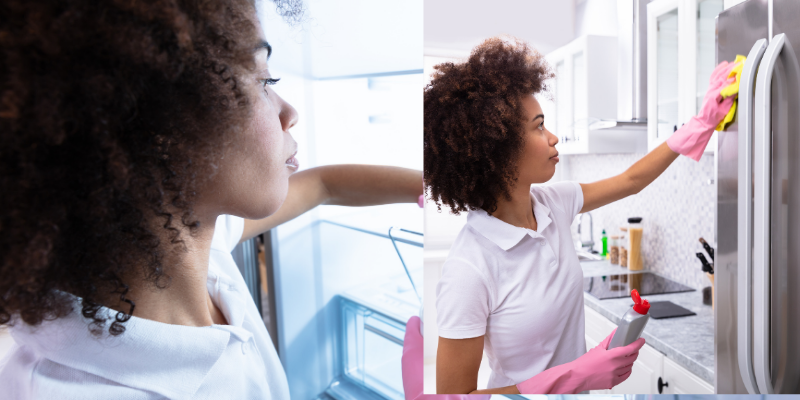 Don't forget the outside and top of the refrigerator. Clean things you may miss on a weekly basis, the ceiling fan, that picture of your great grandmother on the wall, dust and vacuum the day before, don't bother washing the floors unless absolutely necessary, this is best left for the day after to clean up any spills.
The day of your gathering clean the bathrooms, run and empty the dishwasher, empty the trash. Before your guests arrive, wipe down the counters and clean the sink.
Have a plan worked out with a co-host or close friend to help you with removing trash, clearing dishes, or opening the wine bottles You would be surprised at how much these little things get in the way of actually entertaining and enjoying your guests.
Being A Gracious Host
As your guests arrive take their coats and purses to the designated spot and hand them a flute of something bubbly, perhaps champagne, prosecco, sparkling juice, or seltzer water. Placing a cranberry or two in the flute along with some rosemary and/or an orange slice is quite festive. Raise a toast to each one and tell them how special they are to you and how grateful you are to know them.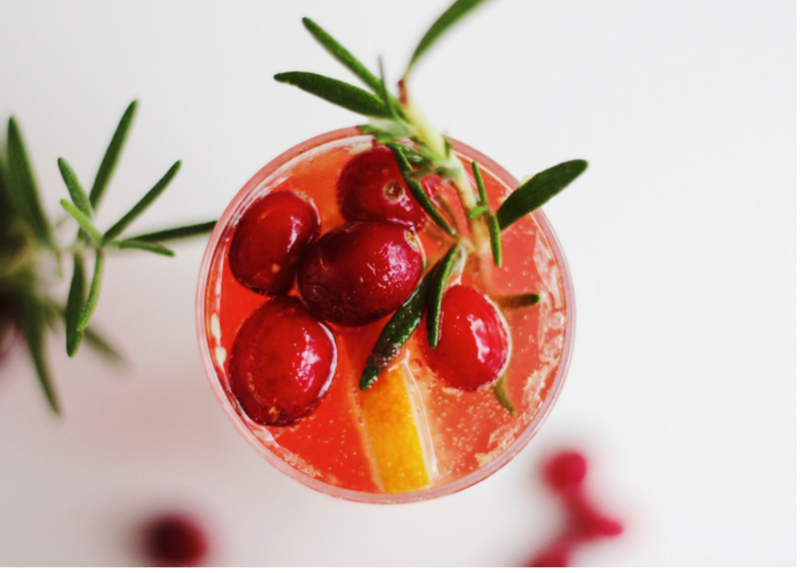 Happy Thanksgiving from all of us at Love of Food Magazine!