Irish Food in the Triangle
There are many places to choose from to visit in North Carolina for Irish food and a great time. We all are most familiar with the Hibernian on Glenwood Avenue. Many remember there was a big fire that shut them down for a time, but when it opened back up it was better than ever. Who doesn't love their rooftop bar? I recently visited on a Sunday afternoon and had a Bloody Mary. Did you know they also have a second location in North Raleigh on Falls of the Neuse?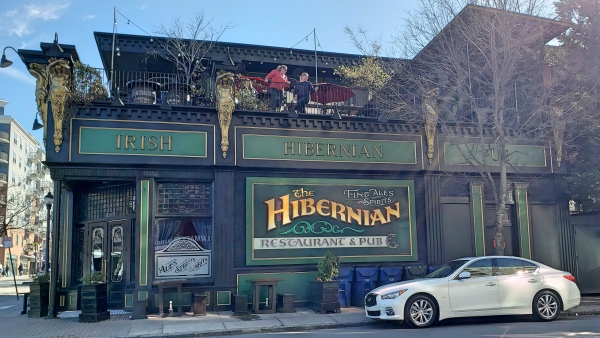 O'Malley's, also off of Glenwood, is a favorite with lots of locals. They feature lots of specials and there is outdoor seating for those great Carolina weather days.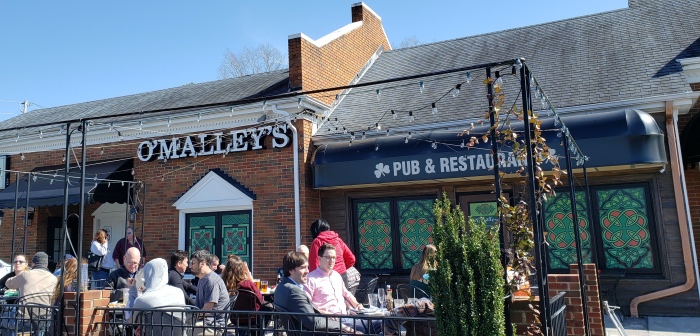 Saints and Scholars off of Spring Forest Rd in Raleigh will always get an Irish mention and people enjoy the food here as well. It is not owned by a person of Irish Descent at all. It is owned by Victor Khoury who is originally from Jordan. Victor used to own Solomon's restaurant on Six Forks Road in Raleigh. When he closed Solomon's during a downturn, he bought Saints and Scholars as-is and took his employees with him. You would never detect he is not from Ireland in the dishes he sells. He combined his Mediterranean flair with traditional Irish food. His focus is on providing the best service possible and purchasing quality ingredients for the foods he serves right down to the sea salt. Look at all the outside seating available at Saints and Scholars in the short video clip below.
Our number one favorite Irish restaurant in the Triangle goes to Tra'Li Irish Pub and Restaurant in Brier Creek. They have two locations, another in Morrisville, but I just adore the decor and everything about the Brier Creek location. Below is a photo of one of their rooms aptly named the library. Couldn't you see yourself holding a private event in that room?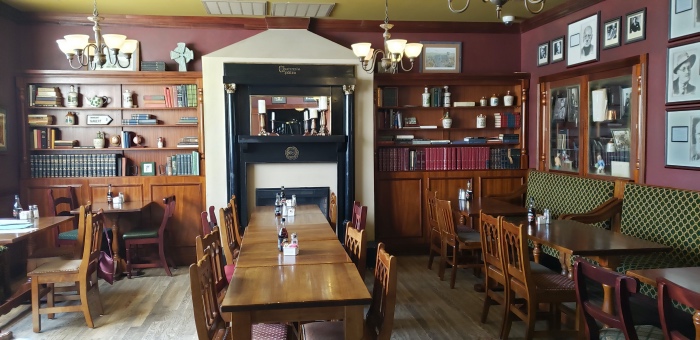 The rest of the pub has a great feel as well. It is the kind of place you just want to drop out in on a lazy Saturday or Sunday afternoon. Read a book on your tablet while sipping on a hot toddy or drink bloody marys while catching up with your friends. They have two separate bars in the place, one is a bit cozier in the back room. I am not sure the reasoning for this but perhaps one day we will interview them and ask.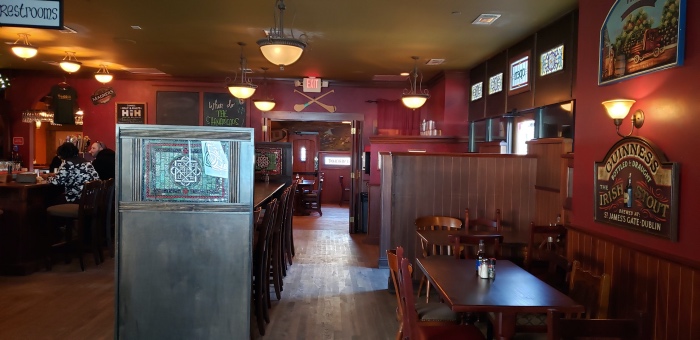 Why it has been selected as my favorite has less to do with the decor and more about the food. The Chef and owner Eamonn Kelly is from Ireland and he trained in Boston and New York. He blends the styles well and then sources using North Carolina foods. On my most recent visit, I had a Guinness Burger. If you want to know what that is, just look at the picture below and you will see atop my burger patty sits a thick slice of cheese made with Guinness. But this is not a burger that sits on a bun, no, this burger sat upon a bed of fresh homemade mashed potatoes with onion gravy, it is pure comfort food! The blend of the cheese, the beef, with the onion and brown gravy, and the potato just all worked so well together. I am craving this as I am writing this article.
My dining companion had corned beef and cabbage and said it too was very good.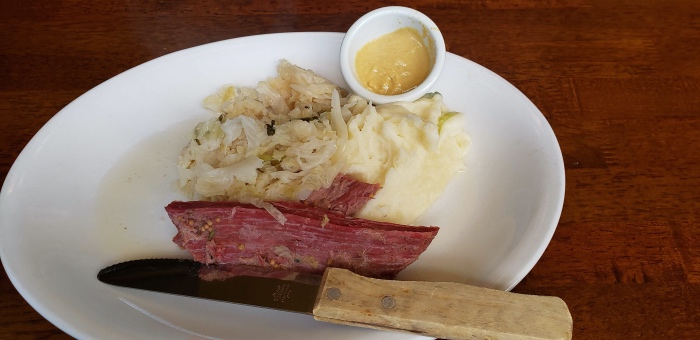 There are many other Irish Pubs outside of Raleigh, throughout the Triangle, alas but only a wee bit of time to visit. We will mention Doherty's in Cary, Pat Murnane's in Wake Forest and in Durham. There is Bull McCabe's and James Joyce Irish Pub. Maybe before Saint Patrick's Day 2021, we will get to visit them and tell you more.