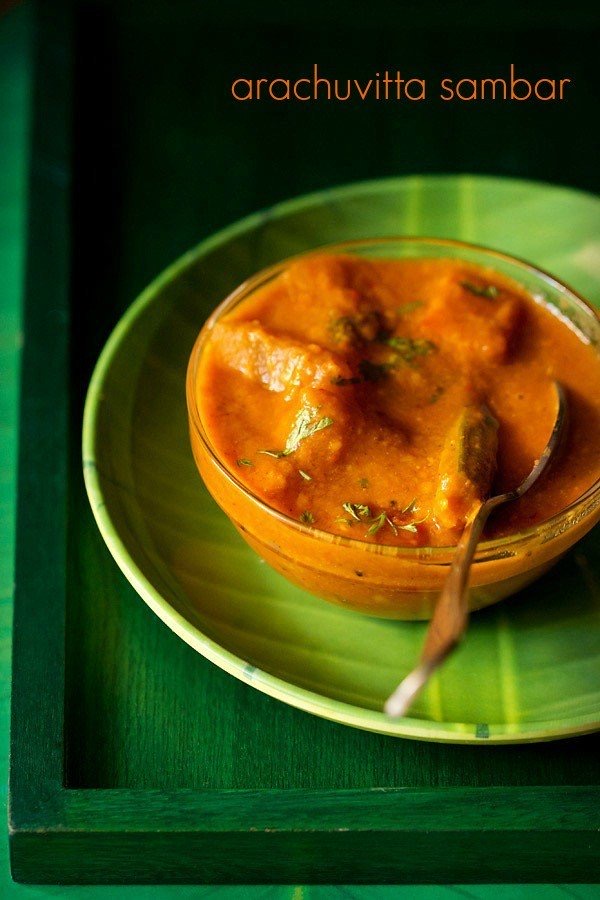 It was a winter morning in Bloomfield Hills, Michigan. We were newlyweds. He called me from work asking if it was okay to bring a friend home for lunch. I had never cooked an Indian meal before but said "Sure!" Quickly I ran to my suitcase and pulled out my special red recipe book, tied with a nice burlap bow. A book I had put together with all the cool South Indian recipes my mom made. A "Sail through your Marriage" collection.
So, arachu vitta sambar is what came to my mind. It is full of lentils, proteins to fill the stomach with. You start by boiling 2 small cups of split pigeon peas lentils. Then dry roast 1-2 teaspoons of coriander seeds, cumin seeds, 2 dried red chilies, and few shreds of coconut. After dry roasting, blend them in a blender, without water and keep aside. This is the spice mixture. Cut the choice of your vegetable. I choose 3/4th cup of okra and half and onion sliced lengthwise for the purpose of this recipe. Cut one-inch divisions of okra.
Heat 2 teaspoons of vegetable oil in a pan. Into the hot oil, add mustard seeds, let them sputter and then add one branch of curry leaves and 2 teaspoons of split chickpeas. Once the chickpeas are brown add a few shakes of asafoetida and then add the cut onion, once the onion caramelizes, add the okra, sautéing it into the oil mixture. Another thing to prep is the tamarind concentrate paste. Take half a teaspoon of this paste and dilute it in 1 cup water making a cup of tamarind solution. Warm it up for a minute in the microwave and pour it into the frying okra. This is what adds tanginess to the sambar. Then add one teaspoon of Sambar Powder…it is a quintessential ingredient for south Indian preparations and available in any Indian grocery store. In fact, all the ingredients I've used in this recipe so far can be shopped for at an Indian store. When the tamarind water and okra ensemble start to boil and the raw smell of the sambar powder starts to diminish, you can now add the cooked pigeon pea lentils and give a good whisk so that everything blends well. Also stirring in the blended mixture of spices adding enough water, to give the sambar a chunky yet watery consistency. Make sure to add salt to the sambar. When the whole thing comes to a good boil, turn off the stove and put a lid on the container. Look, I made arachu vitta sambar from scratch!
You can serve it with rice, and you could make my favorite roasted potato vegetable and dream of the greener pastures of Tanjore district in Tamil Nadu, India where this delicacy was born.
And of course, I had an amazing lunch with my guests!