Make your Halloween Celebrations stand out like a Tim Burton Movie!
What could be more appropriate for the Saturday before Halloween than a spooky adult dinner party? If you have kids, send them to a grandma's house for a sleepover and get ready to take over Halloween adult style!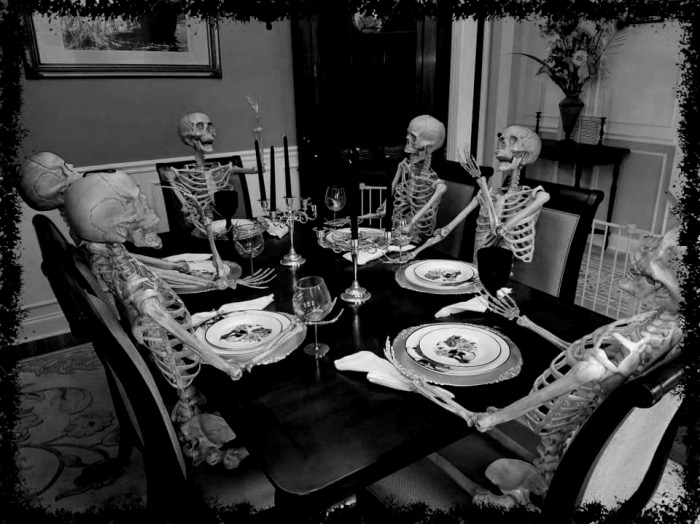 Creating The Atmosphere
The advice in this article is provided to ensure that your dinner party is sophisticated and less like an awkward 5th-grade dance. To start with, avoid tacky, kid-like decor, and kid party food at all costs. There is a fine line between scary and kitschy and you must be able to work pieces together to create a mood. If you are adept at decorating you may be able to pick a sci-fi theme and pull it off, however, most of us may just need to go to Hotel California.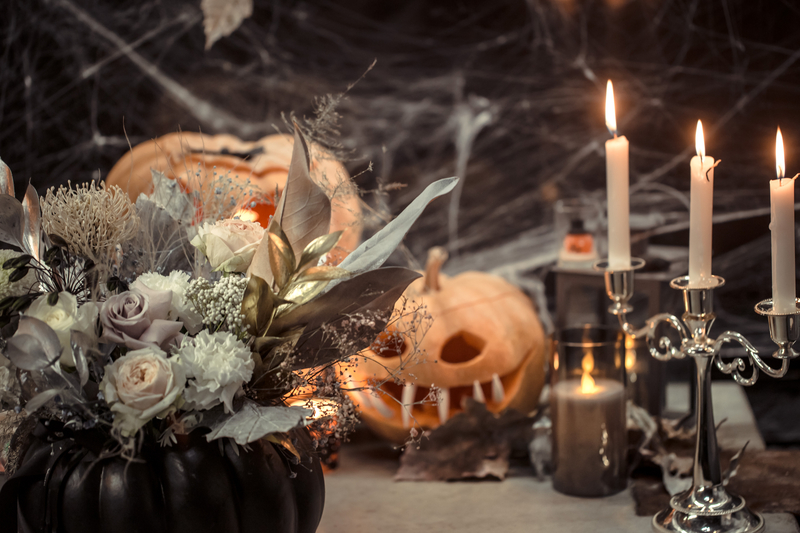 Pick your favorite scary movie and look at how the professionals set up the scenes, pay attention to the colors and props used and take a cue from the experts as to how to make your home more creepy. Try to make your dining room resemble at least one of the indoor scenes in that favorite flick. If you need more inspiration there are many music videos that can also be a great help in setting a tone for decorating. Check out Beyoncé's "Haunted" music video Or some of the old classics television shows like the Munsters, or Addams family. If you are in need of some props and prop ideas check out the HorrorDome online, we especially liked these portraits for the walls.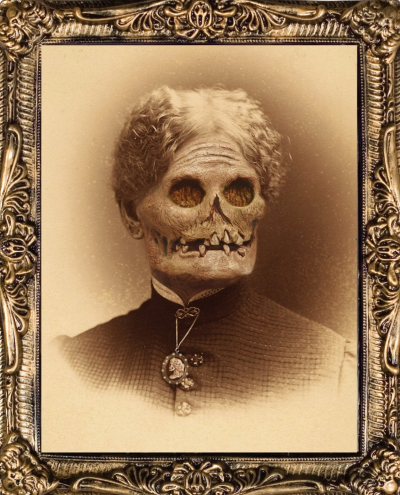 Once you have a theme with a tasteful, but spooky setting, drape everything in the dining room in flowy black fabric from sideboards to the tables and chairs. Or if you prefer you can use sheets to drape everything in white and accent in black. Or you can spill red paint on the sheets for that just murdered look.
If you want a less scary mood you can try using red and purple as your primary colors. You can put small fairy lights everywhere and place mini flashlights, or candles at the place settings so that when you have the lights down very low all you can see is the glow of the faces of your costumed dinner guests.
Avoid strobe lights in the dining room however they can be effective in other areas such as the backyard.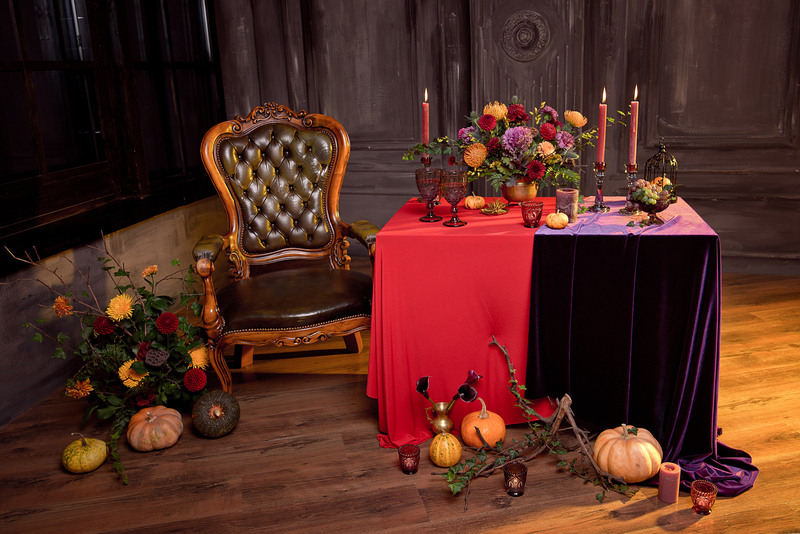 Forget paper plates and pull out the bone-china. Place mirrors on the tables and or on the ceiling if you want to go all out. Candelabras with black candles can light the mood. Place a Ouija board under the candelabra for effect. Tarot cards can be spread out as well with a crystal ball. 
Use cloth napkins. Black preferable, but depending on your motif you could do red.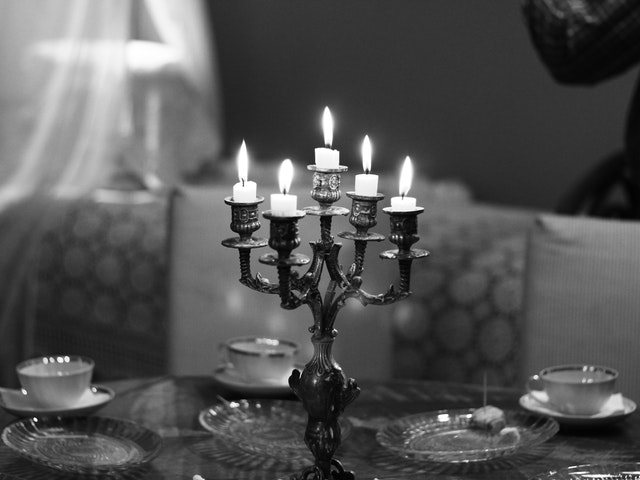 Wrap the napkins in pearls, a string of fake diamonds, or a single feather You can use an old scrabble game to spell out murderous name place cards in front of each table setting. Use spooky words like Murder, Evil Spirit, Boo, Blood, etc… or names of Serial Killers Ted Bundy, Jeffrey Dahmer, Lizzy Borden, or Evil Fictional People Like Hannibal Lector, Chucky, or Freddie Kruger, Maleficent.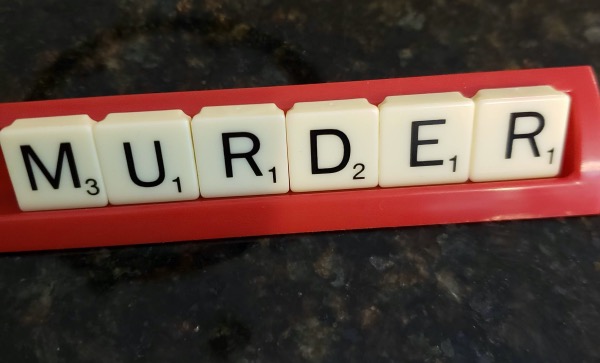 Maybe trick out the doorbell with an eyeball that you press. If you have a Ring doorbell it now has chimes for Halloween!
Remember it's not just the decor, you are setting the tone so dress the part. Why not be elegantly spooky?- As the hosts perhaps you will dress as Morticia and Gomez Addams from the Addams Family Movie, Carrie or Beetlejuice. Get into the characters and act like them as you greet your guests to set the tone. Encourage your guests to arrive in costumes as their favorite evil dinner guests. It will make the pictures, social media posts, and the evening much more fun.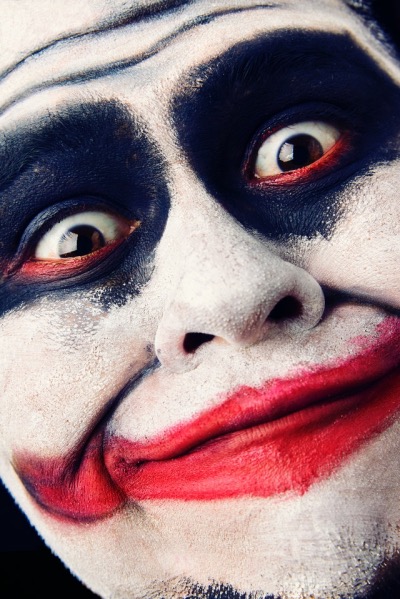 Your theme can be as imaginative and as thrilling as your guests can stand. You may or may not want to add in a party game or two. Turning the evening into a murder mystery party could be exciting. Decide who will be the murderer, create the story or buy one online. Place a piece of paper at each table setting with the written clues and let your guests become suspicious of each other and try to reason out the clues to solve the mystery. Place under the killer's chair (the murder weapon or a damming clue) that identifies them as the killer to reveal at the end of the game.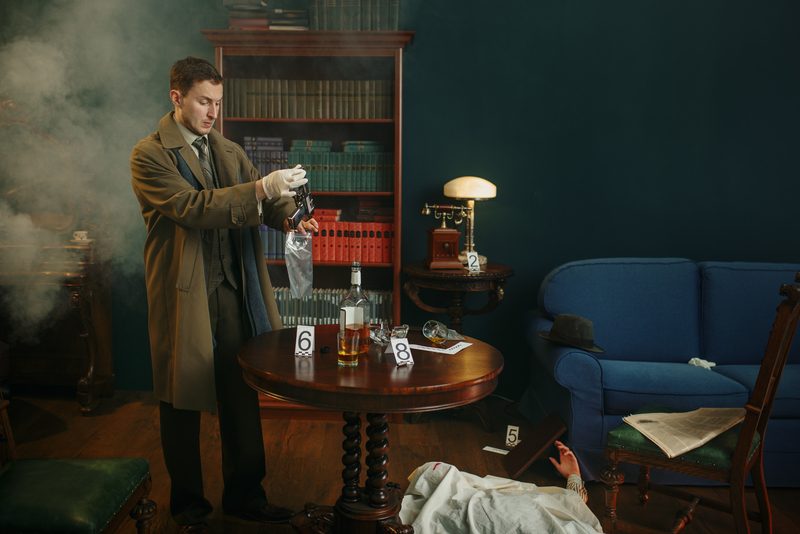 You could play the guessing game of who am I? Give each person an envelope with the name of a serial killer or villain inside and take turns letting the others ask questions about who they are.
Let your imagination sore when planning your music selection. Think bigger and more grown-up than Monster Mash. Think more like the music from the famed Beetlejuice. You can hear it now, can't you "Come, Mister tally man, tally me banana. Daylight come and me wan' go home". Research other soundtracks from scary movies and musicals.
Poor Judd is Dead with the first line saying "a candle lights his head" from the musical Oklahoma is appropriate.
Pushing up Daisies from the Brothers Osborne can be worked in since it points to the topic of death.
The Stranger Things theme track is very popular and can be a great addition to your music line up.
She Wolf by Shakira
I Put a Spell on you By Nina Simone,
Pet Cemetery by the Ramones
Haunted by Beyonce (the music video is very adult themed)
Line up some spooky music videos on a playlist on YouTube. Set up your tablet in the guest restroom and loop the playlist so guests are kept in a spooky trance even when they are away from the party. You can do the same for larger screens in the family room or outside on a screened-in porch although the process is more complex on HDTVs and may involve downloading a third-party app. Every room in the house should reflect the tone of the evening.
Don't forget guest rooms, make sure as people walk by any bedrooms on your first floor that the decor in there is devilish too! Maybe spread a red velvet cloak on the bed, some handcuffs hanging on the headboard and or a raven in a cage as a chandelier. Keep the same elegance flowing with that theme anywhere that your guest eyes may wander.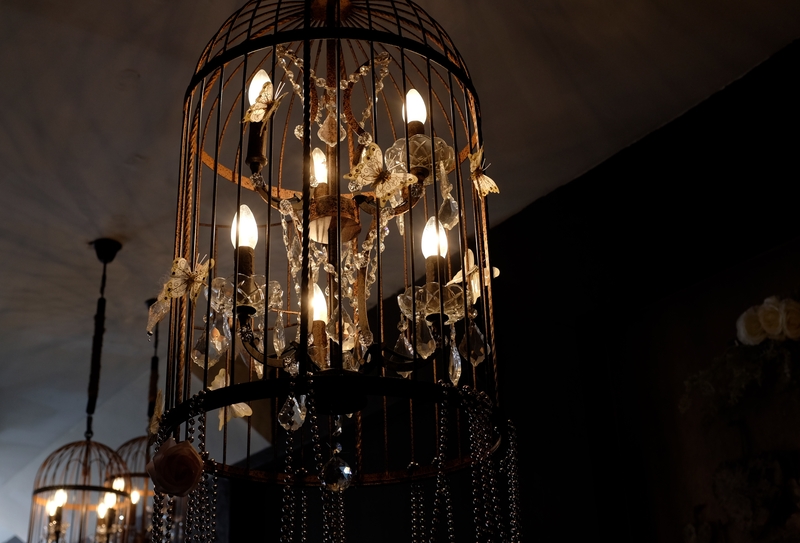 What To Serve for The Dinner
One of my favorites is a large whole fish with the heads still on. You can pick this up at any seafood market and it's easy to grill or smoke outside. It will look amazing on a platter set on the table or sideboard. You can also make individual whole lobsters.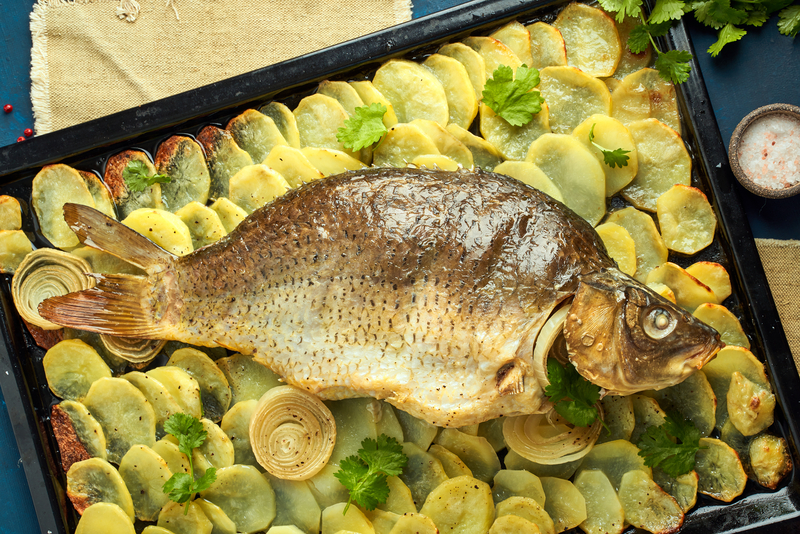 As an appetizer, use glass parfait or ice cream sundae glasses, line with lettuce, fill it with red cocktail sauce and drape cooked and chilled shrimp with the heads intact all around the glass. You can also do this with crawfish. If you and your guests are not seafood fans, not to worry ribs can be another good choice. Beef short ribs can be made in the crockpot and simmer all day. Or BBQ pork ribs just slice them and lay them out on a platter before serving. You can also serve a crown stuffed rib roast and carve it out at the table.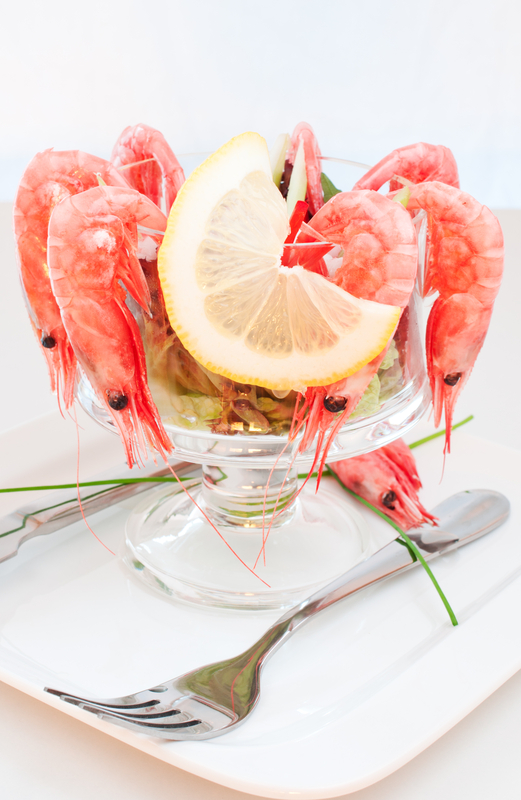 If you are not squeamish, there is something called a suckling pig, it is a baby pig you can get them with the head intact and roast it. Or call around to a butcher shop to try to find a pig's head and place it on the table with an apple in its mouth served alongside some pulled pork sliders.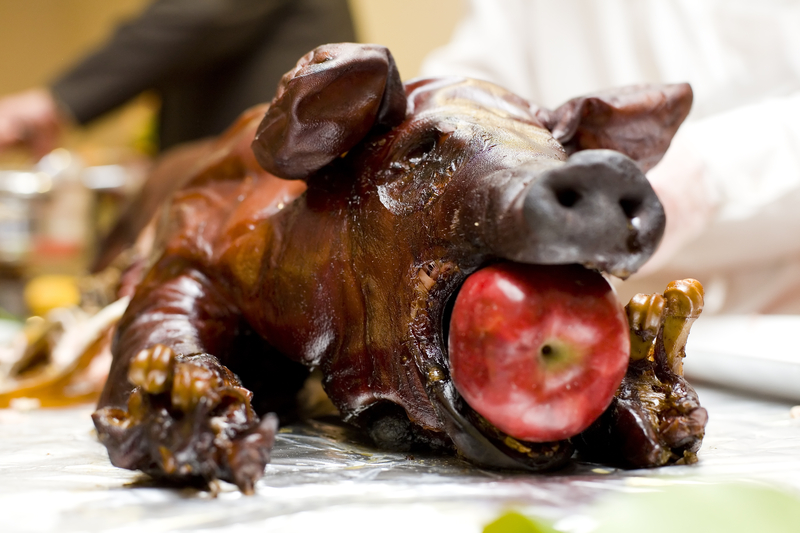 If you are not a meat or fish eater you can roast vegetables to look like they have rotted by leaving them whole while roasting. Serve lentil soup from the heads of decorated pumpkins with painted faces or just make a Pumpkin Cannelloni with a side of kale and blood-red roasted beets with feta cheese.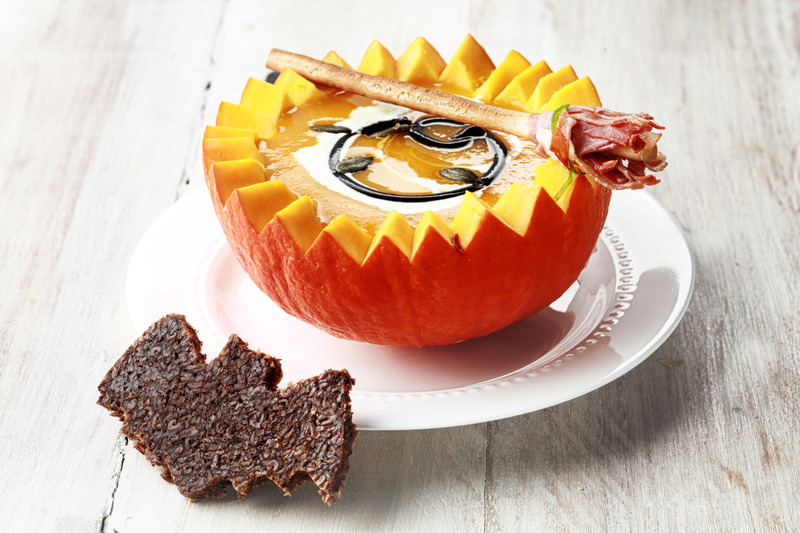 Individually plated green salads topped with a basil leaf, a small slice of mozzarella, tomato, and a slice of black olive can be made to look like an eyeball can be fun. Do not go overboard with the eyeballs or you will lose the sophistication element of your food. Remember your food needs to look elegant, stay away from most of the tacky party food ideas. After all, this is an adult-themed dinner party.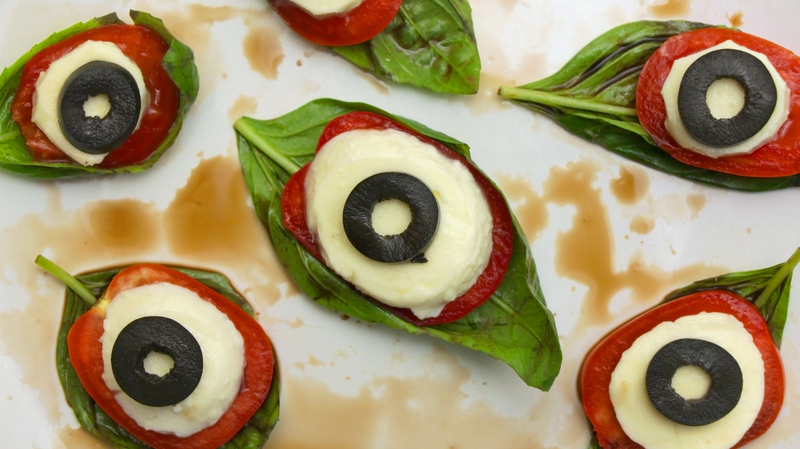 Adult Halloween Party Desserts
A coconut pudding served in martini glasses with a drizzle of red raspberry syrup and a crumble of chocolate cookie is perfect because the pudding and crumble can be done ahead of time and kept chilled. All you have to do is drizzle the pudding just before you serve it. Perhaps you may want to add a bit of drama to your party with fire. You can make a tableside cherries flambé or bananas foster, but be mindful of your very flammable decor. If you want something more simple, a cherry cheesecake or a red velvet cake is also adult appropriate.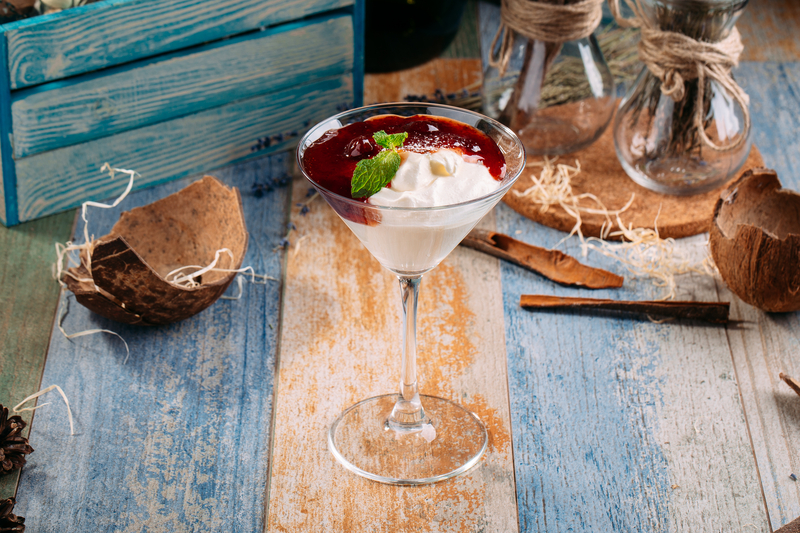 Do Make Cocktails!
Blood Orange Blackberry Cocktail can be elegant and scary sounding. Smoked rosemary in a simple gin martini or in an old fashion transforms the elixir into a new fire and brimstone kind of drink. If you want to learn how to make smoked cocktails. Check out this article by Whiskey Advocate.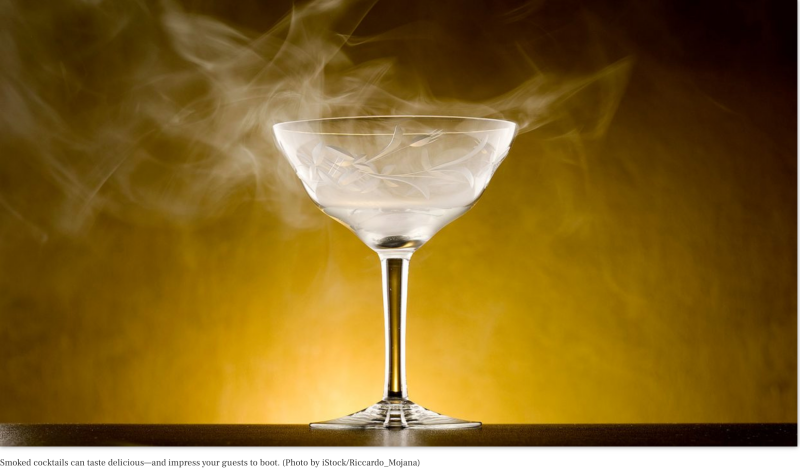 Dry ice can be used for effect in any cocktail you prefer as it adds a foggy effect. Good old fashion red wine is always a hit with dinner and looks so pretty poured into glasses on the Halloween themed dining table.
The Mocktail
Buy the syringes for cocktails, they are everywhere this time of year. Fill them with Grenadine syrup (yes you can make your own from pomegranate juice). Place the syringe in a glass with clear flavored seltzer and let the guests plunge the red syrup into the drink themselves.
Dessert Cocktails
A fun dessert cocktail idea is to make apple cider bourbon jello shots. I am making these for adult Trick or Treat this year, except I will add a slice of bacon.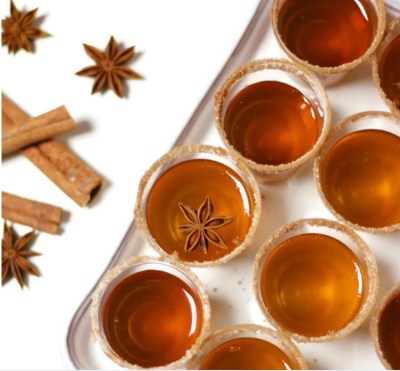 Disclosure
When planning your cocktails take into consideration if your guests will have to drive. Have a plan for an Uber, Lyft, or a designated driver. Spending Halloween locked up in jail for a DUI or worse would just be a real buzz kill. 
We hope that we have given you some inspiration for a grown-up Halloween dinner party that your guests will remember and talk about for years to come.
 Enjoy your spooktacular evening!