Love of Food Magazine's International series is designed to inspire you to travel, virtually that is, to some of the world's most exotic countries. Join us as we discover the people, the culture, and most important the food. We are blessed to know so many wonderful chefs and food entrepreneurs right in our own backyard. Read on and watch as we uncover their inspiration and the secrets of their cooking techniques.
We are excited in this first of many issues to come to bring you along on our journey through India.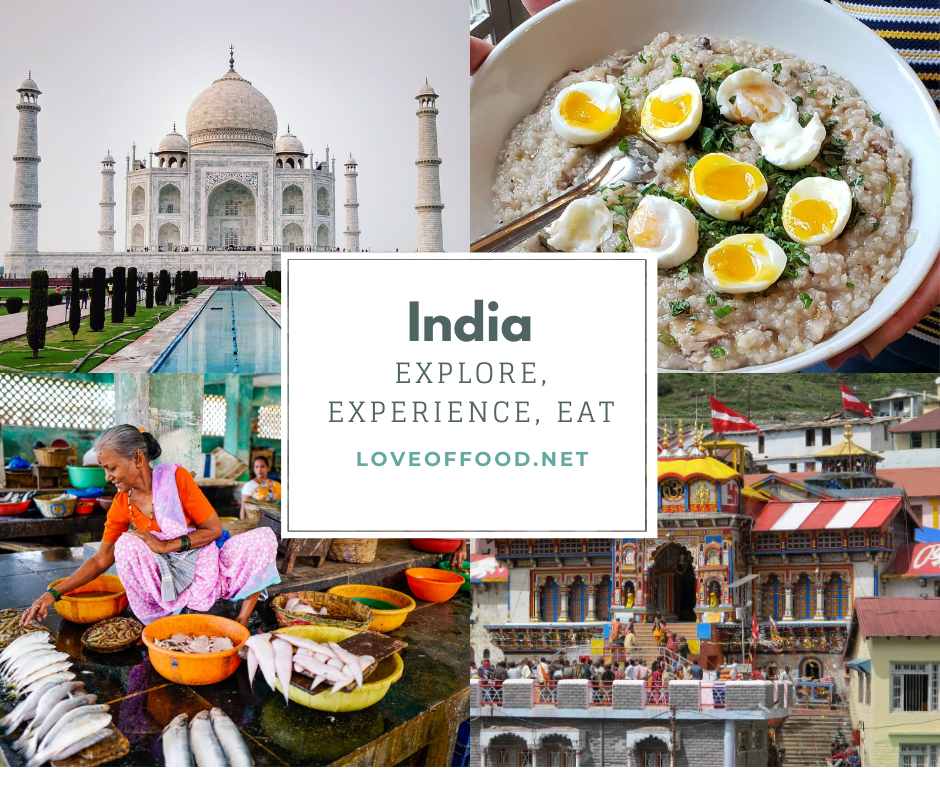 I live near Research Triangle Park, an area in North Carolina known for being situated between three major universities. Duke, University of North Carolina, and North Carolina State. In its recent report of Most Educated Cities in America, personal finance site WalletHub found that Durham-Chapel Hill was the 4th most educated area out of the 150 largest U.S. metros, The technology companies that have a presence in the Raleigh-Durham area concentrate on the value of recruiting a highly-skilled workforce. Therefore we have a heavy concentration of well-educated Asian immigrants who came to the region to satisfy a demand for, technology positions. Cultural diversity is a huge benefit to the area, even outside of the walls of those employers.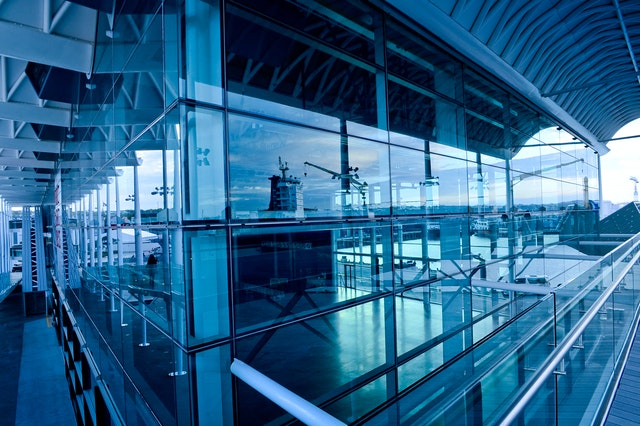 As I began writing, I asked myself, honestly what do I really know about India? Aside from it being a county in Southeast Asia and having a history of deeply rooted customs that I did not fully understand. I have never visited this country and aside from what I saw in popular movies such as "Slumdog Millionaire" or "Eat, Pray, Love" where Julia Roberts visits an Ashram on the outskirts of Delhi, I didn't think I knew much, Then I remembered I was taught a few facts from grade school.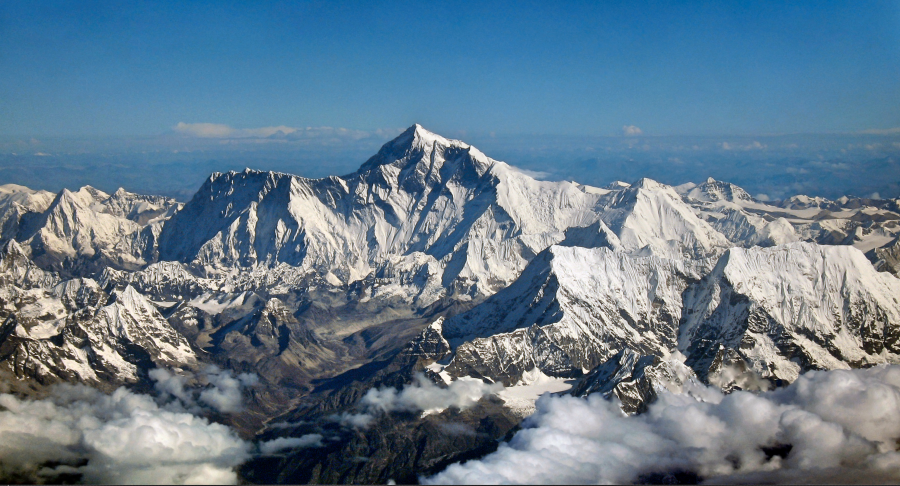 As a school-child I learned the geography of India. I knew that the Himalyain mountain range is partially situated in Northern India.
The Ganges river flows from the Himalayas through parts of India eventually making its way to Bangladesh. I have come to learn more about the sacred Ganges river that is now sadly, extremely polluted. I recently read about an effort to clean it up according to Reuters three billion dollars has been allocated for the clean up. They reported in 2019 that much of the funds have yet to be spent and the pollution continues to happen.
Somewhere in my early education I also learned that India is highly populated. I have come to know its population is second only to China's.
India is a big place and is culturally diverse, there are twenty-eight states and eight union territories.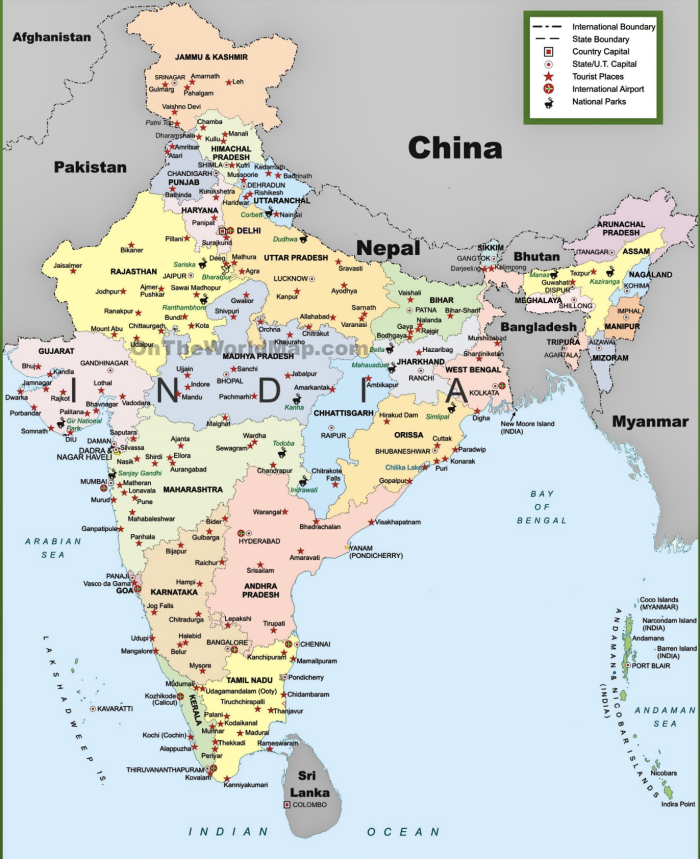 India has nine major religions including Hinduism, Muslims, Buddhism, Sikhism, Jainism even Christianity exists in some parts of the country. All the religions and cultures come with their own varying beliefs and customs. India itself is complex, to say the least.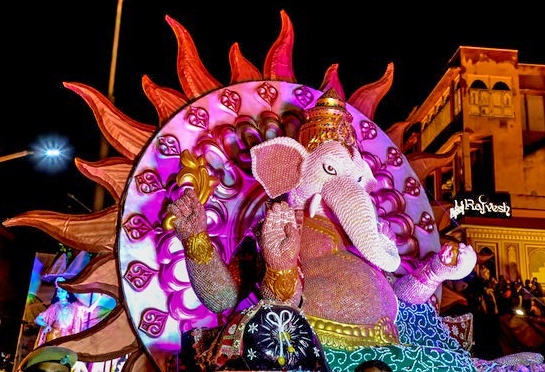 Its food styles and cooking methods can vary from region to region based on things like climate or soil, religious belief, and ethnicity. The north, south, east, and west regions are all very distinct from one another.
Exploring the Southwestern Region of India
Kerala for example is on the southern tip of India bordering the Indian Ocean. While Kerala is known for its coastal beauty of wavy palm trees and wide sandy beaches it has lots of green gorgeous beauty too. It is home to many tea, coffee, and spice plantations. Its landscapes remind me more of Hawaii than India.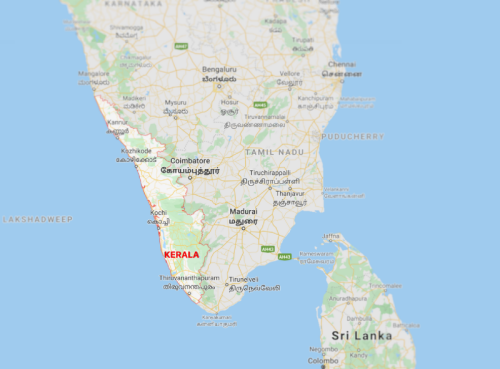 The large coastline provides an abundance and variety of seafood. Combine that with easy access to those spice farms and you have a winning combination for dishes like Prawn Curry made with chilis, turmeric, coconut milk, and jaggery (Indian sugar). Even a simple Dal (lentil stew) can tantalize your taste buds and warm your soul. I am told Parippu Curry is the Dal to look for when visiting.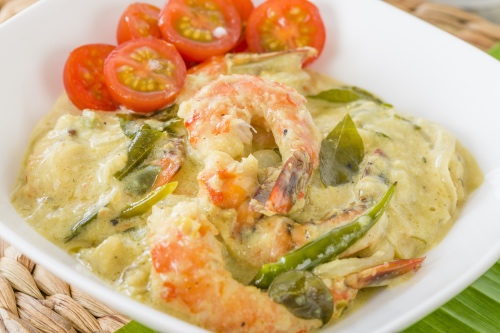 Just to the west of Kerala, it is another paradisiac destination, called Lakshadweep made up of 10 inhabited tiny Islands in the Laccadive Sea. Lakshadweep shares the same marine mountain range as the Maldives. I have read that a vacation to the islands of Lakshadweep will be a lot less expensive than other similar islands. I did also read that you need some sort of registration from the government to visit as they are strict on conservation and alcohol is also not permitted on the Islands.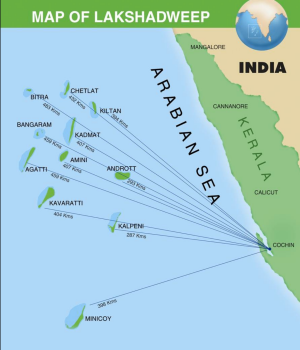 The Portuguese influenced much of Goa which was ruled by Portugal until 1961. Their influence inspired dishes such as Vindaloo which comes from the Portuguese Carne' Vinha d' Alhos, traditionally a pork dish made with wine. The Vindaloo we know from India had been modified to be a chicken curry dish with potatoes and calls for the chicken to be marinated in vinegar. The Portuguese influence made its way through much of the area along India's coastline west of Goa, but also made its way North. Bengal sits Northeast on the Bay of Bengal This region's most notable influence from the Portuguese is actually Bandel cheese, which is a cow's milk cheese most known for its dry texture and smokey flavor.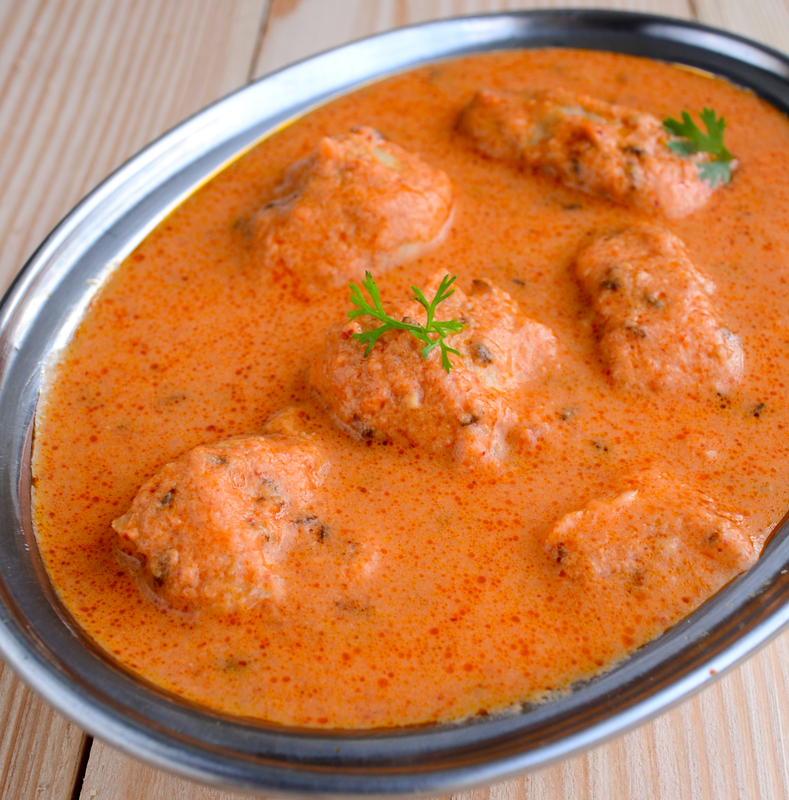 The English influenced Masala Chai by bringing tea leaves to India. Masala Chai is made with a strong black tea steeped in water with milk and an array of bright spices like Cardomom, Star Anise, and Ginger. If visiting India you can observe the street vendors crush and blend the spices with a mortar and pistol before steeping the tea,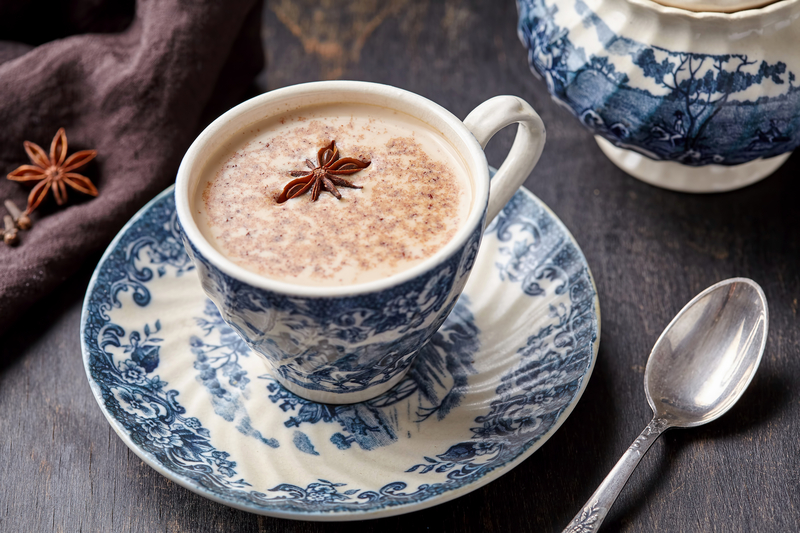 Exploring the Southeastern Region of India
On the southeastern side of India is a larger grouping of islands called the Andaman and Nicobar Islands. It is located at the Bay of Bengal and the Andaman Sea. One of the Islands, The Barren Island is home to the only volcano in India. The Islands have a long history of being claimed by many countries, the Danish, the British, and the Japanese actually had control of them until 1945.
As settlers from other countries came to the various regions they brought with them their architecture and food styles. This is evident in the picture below of Pondicherry, India which was a French Settlement until 1954. Its colorful buildings and tree-lined streets resemble the French Quarter in New Orleans. It is located in the Southeast, right on the Indian ocean. Now it is part of a union territory, its name has changed to Puducherry. Locals just call it Pondi.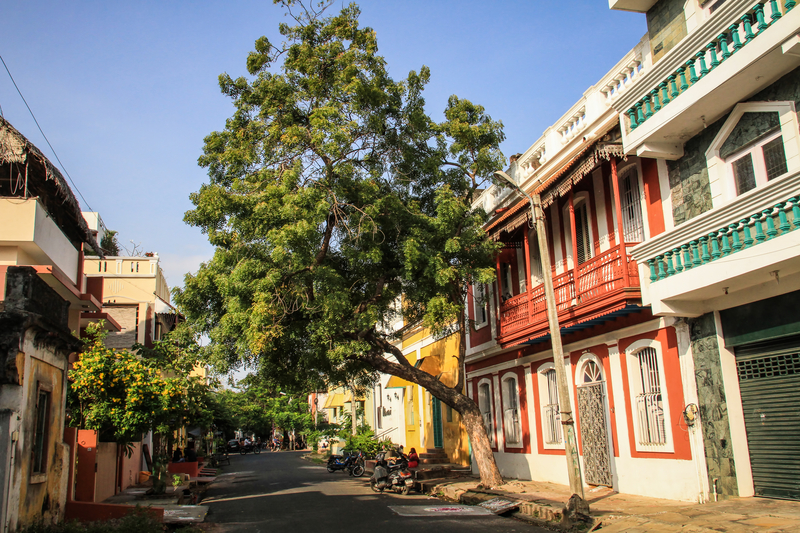 For many years Creole food fused with traditional Indian cuisine used to be quite popular. Local cooks used Ghee, coconut milk, and cashew paste to tone down the heat in many of the traditional Indian dishes. I understand there are many French restaurants to choose from when dining in Pondicherry. If visiting here you may want to try a tamarind fish curry and ratatouille, Kowh-Suey which is a coconut-based vegetarian curry, or Medu Vedas which is a fritter shaped donut inspired by a Tamil influence from Sri Lanka. Dip it in a Pineapple Sheera and you will be in for a sweet treat!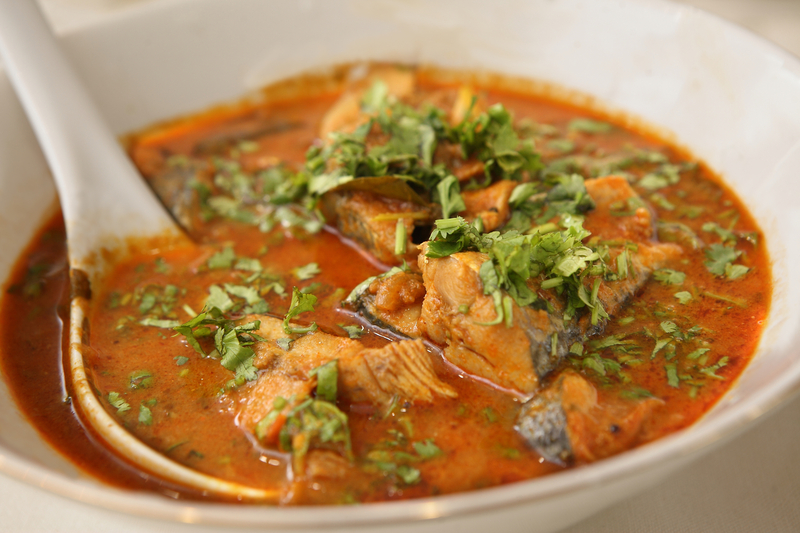 The cuisine in much of India is mostly vegetarian, even when meat is served, unlike in America, it is placed as a side dish. It was Muslims who introduced meat into the Indian diet. The muslins prepare their meat by cooking over charcoal in the clay Tandoor ovens. The Tandoor ovens are similar to the very popular Japanese Kamado style grills we use today.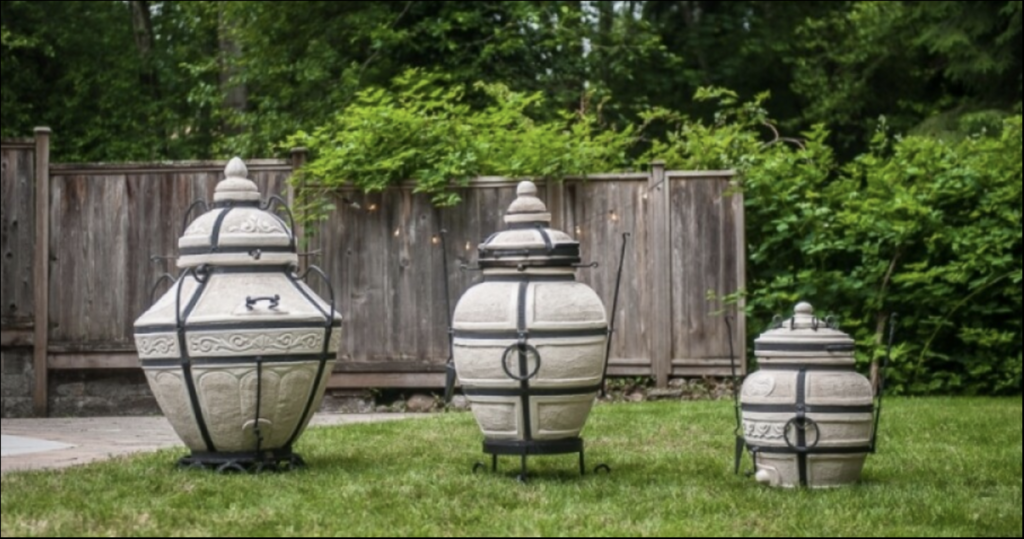 I have read that if it had not been for the Muslims who were great bakers, India would not have the delicious Naan bread which is made from white flour and leavened with yeast and usually a bit of milk is added. The Naan is cooked in the Tandoor ovens. Although we tried it in a pan and it worked, so if you don't own a Tandoor or a Kamado grill don't fret, you can still make an American version of Naan that tastes delicious.
Naan is not to be confused with Indian unleavened flatbreads, Chapati aka Roti both are made from wheat flour although cooked in a pan. Chapatis are a pancake-like staple for many. I am told the Roti can be formed a bit thicker. Paratha bread is another Indian bread made from wheat flour however it is often stuffed or with vegetables, potatoes, or eggs,
The Many Customs of India
In deeper retrospect, I realize that I have had many personal encounters that gave me a first-hand glimpse into the social standards and religious beliefs of India. For years, I worked in the technology sector, it was there I learned a bit more about the religions and their customs. One of my coworkers was raised Hindu. She was excited to show me her beautiful saree and jewelry that she planned to wear one day during a special celebration of Diwali.
Diwali is a festival that celebrates new beginnings and a triumph of good over evil. It is celebrated by Hindi as well as the Jains and Sikhs. Depending on where you live in the west, east, or southern India the traditions may differ slightly. They all have some things in common and that is the light! This festival lasts for 5 days from Mid-October to Mid-November. During the festival, some people light lanterns called Diyas. They may light firecrackers in the streets and watch illuminating fireworks displays, bath in oil, decorate their homes in banana leaves.
The festival of Diwali ends with prayers, more fireworks, and of course a feast where family and friends exchange gifts of sweets. Those may include Gulab Jamon which is a fried dough, dumped in syrup, and flavored with saffron and rose water or Coconut Barfi which is a fudge-like dessert made from coconut and condensed milk.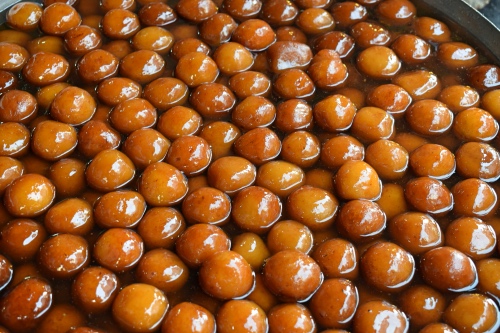 Diwali is not to be confused with another Indian festival called Holi, a two-day celebration of spring and new beginnings. Holi is a holiday that begins with a bonfire and is signified by color. You may have seen people dancing in the streets, throwing and wearing colorful dust. How much fun is that? The dust is made from flowers that have been dyed and ground into a powder called Gulal or from Abeer which is a shiny silver color made from mica, turmeric can also be used.
Aside from learning about all the amazing festivals and celebrations. I learned another valuable lesson on Indian culture from my coworkers. There was one work-day in particular that stands out in my mind. My Hindu cube-mate and I were both working quietly on our computers when out of the corner of my eye I saw a little bug walk across the carpet of our shared work cubicle. I gasped and then stood up in an attempt to stomp on it. My co-worker promptly stopped me by placing her arm in front of my step. She then knelt down and scooped up the little bug with her paper cup. She left to relocate the tiny creature outdoors in the green grass where the bug would be left to live out its journey. When I inquired about why she stopped me, she explained that the little bug could be a relative or a great leader and that killing it would be very wrong, it would bring bad Karma. Her family practiced something called Ahimsa which is to avoid any kind of harm to anything. Ahimsa is one of the main ideals of Hinduism related to Samsara also known as reincarnation. Hindus are not the only religious group who believe in Samsara. Buddhists and other popular Indian religions like the Jains and Sikhs also believe in reincarnation.
Over the years in my technology career, many of my co-workers were from Asia. When we would dine out they would select the best restaurants. They would politely let me peruse the menu for a moment and ask questions about the food, eventually, they would order the food for our table. During the meal, they would teach me a bit about what I was eating. I enjoyed the spiciness of many of the dishes. I treasured those days as it was an opportunity to tantalize my taste buds with cardamom, chilies, and garam masala.
We often hear the term Garam Masala, what is it exactly? Apparently Garma Masala is left open for lots of interpretation. It can contain as little as 5 spices as many as 32 spices or even more. So when you think of Garam Masala think of it more like when Americans make a Dry BBQ Rub.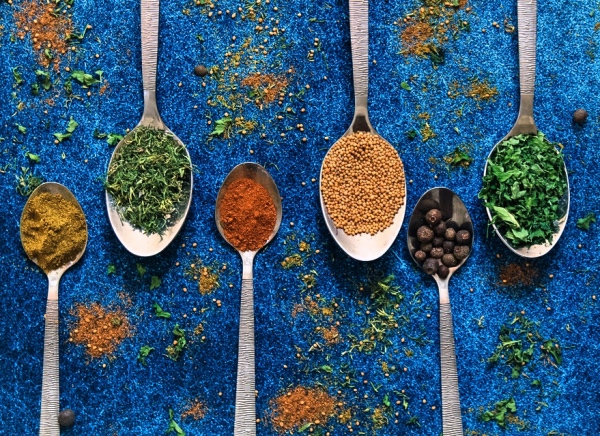 Often while sitting at a table in an Indian restaurant I could feel my nose tickle as I took in the smell of Tarka or Chonk coming from the chef's pan in the kitchen. Tarka or Chonk as it is called is a process of tempering the spices in a pan usually in some ghee aka clarified butter. Depending on what you are making it can be done at the beginning of a dish such as when you are making a curry. Or it can be done at the end of the dish just before serving. This adds more layered flavor and finishes a dish in a more sophisticated way, much like many French chefs add finishing salt to a dish just before serving it.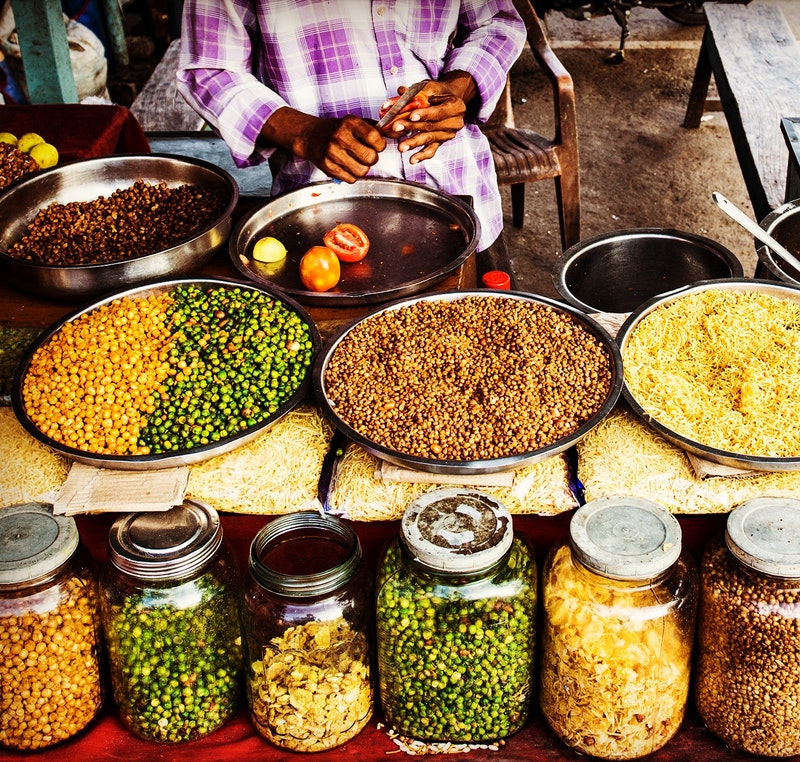 Eating at Indian restaurants with my co-workers was a regular occurrence and one that I immensely looked forward to. You see, that time my husband was an Indian food skeptic. I would crave Chicken Tikka Masala with warm Naan and the opportunity to dip my food in tangy yogurt and anytime I suggested we dine out at an Indian restaurant he would suggest something else. I think partly it was because he is colorblind therefore the red and yellow curries and dark green colors of many of the dishes likely all melded into one color for him,…brown. Indian food dishes likely did not hold the appeal for him like a colorful, contrasting plate of steak and green salad. He also was not a fan of the taste or smell of Indian spices. It was not until I introduced him to chicken made with yellow curry from Thailand did he begin to understand the beautiful flavors a curry can impart. Below is a link to the video of the Curried Chicken Legs we make! This has become a staple in our house.
My husband will still shy away from a lot of heat, but a balanced curry made with fewer chilies is exactly what he enjoys. He now also requests other Indian dishes such as Congi with a soft boiled, gooey yolk oozing over the top of the rice or a hearty red bone-in Chicken Curry, and warm Naan bread brushed lightly with a chili garlic ghee.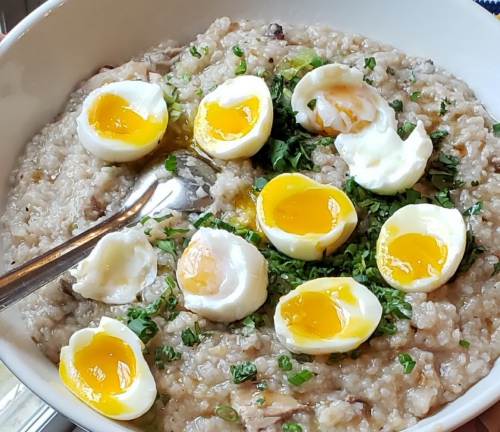 Since those early days, we both have come to learn so much more about this diverse country. We enjoy learning about India's lovely people and their customs. It is no wonder we have completely fallen in love with the food, the complexity of the rich spices, and the unique cooking methods in which they use to honor the food they serve.  We are blessed due to the nature of our work to have access to many talented Indian chefs. We have made amazing friends who run cafes, carts, and commercial kitchens. We try all kinds of Tiffen (Indian snacks) like Veg Puffs, Biscuits, and Kulfi (Indian Icecream) from Cheeni. There has been Crispy Aloo Tikki with Pomegranate, Paranthas, and Paan IceCream and more from blogger Karuna Kumar from Fingers are for Burning. We participate in pot lucks supper clubs, and meet their sweet family members. We have made wonderful lasting connections.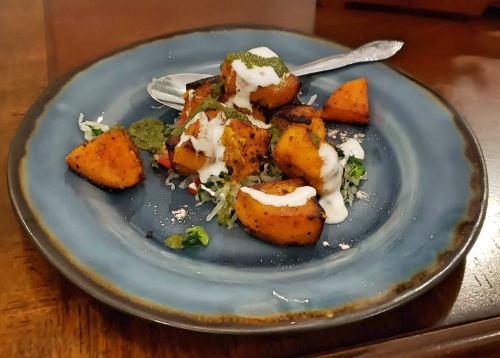 I have always said food brings us all together in so many ways it bridges the gap in cultural divides and connects us to each other with curiosity, experiences, and joy. I may never physically travel to India but feel as if I have been blessed to have experienced a lot of what it has to offer in its lovely people and its amazing food.