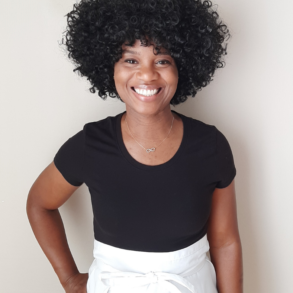 Cherisse Byers has always had a love for food. Watching cooking shows on Sunday afternoons is where it all started. Throughout high school and college that love never faded but she had not recognized it as something big enough to make into a career. It was always a hobby.

Shortly after graduating from college Cherisse was married with two young children. By then everyone who knew her well also knew how much she loved anything food related. Eventually the kids grew up and it was time for the next chapter. The Art Institute of Raleigh-Durham was that next step. She had finally decided to make this hobby into a career. 

Cherisse quickly realized that the food industry wasn't the most family friendly career path. With that said, she decided to take on multiple part-time jobs. It would give her the much-needed experience while accommodating the demands of a household with young children. Along the way she would pick up additional positions with Wake Tech, Williams Sonoma, and the Durham Convention Center on top of being a part-time student. It wasn't easy but it sure was fun!

Upon graduating with a degree in Culinary Arts she had already started her own business providing cooking classes for various events and occasions. Back then, it was a little off the beaten path for a culinary graduate.  Cherisse found that her story made it easy to connect with the home cook. It was so rewarding to watch class participants breathe a sigh of relief at loving what they had just prepared.  After spending several years teaching at Wake Tech, Whisk, the Art Institute and other companies her relationship with food continues to evolve.  Currently, Cherisse is spending more time out of the kitchen. Writing and mentoring has allowed her to engage with the subject of food in a new way.  It's that same invigorating feeling you get from adjusting a familiar recipe and she loves it!