Part 3 of 5 in a series Food Among Art- A Love Story
Miss Piggy Said "Love is where you least expect it. So look there first." Why did I not listen to this pig logic? I have to admit I have lived in the Raleigh area for over 15 years and I had never been to NoFo at the Pig. First, for all the new transplants in the area, let me explain the name. According to the folks at Nofo, North Fourth, Inc. opened its first store in 1997 on North Fourth Street in Wilmington's Historic Art District. The store was called NOFO, a word-stump of North Fourth. The store moved to the Forum Shopping Center and added a cafe. NOFO @ the Forum closed in 2012.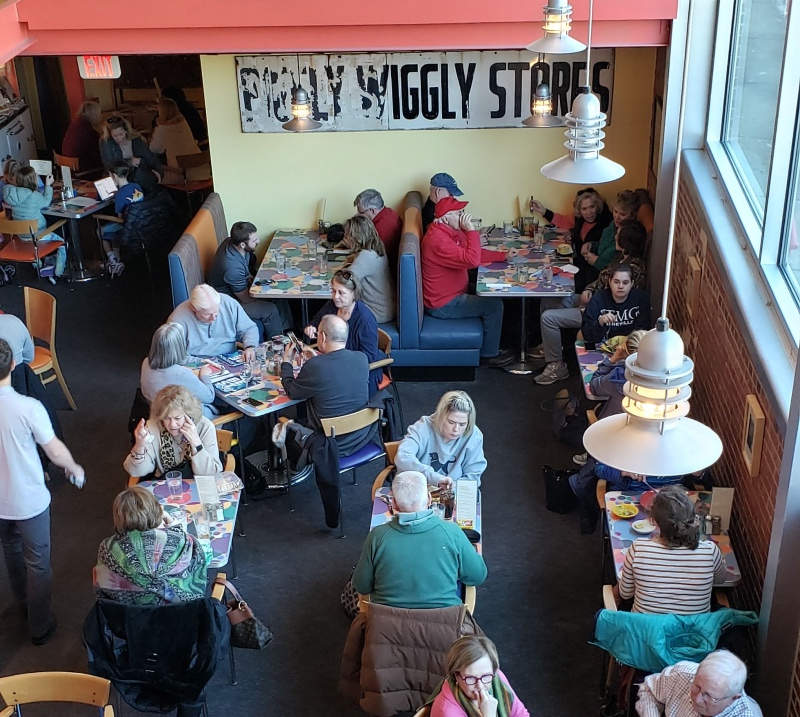 In 2001, after extensive renovations to an old Piggly Wiggly grocery store building, NOFO @ the Pig opened in Raleigh's Historic Five Points shopping district. The building still retains design elements that maintain the original character of the space, including a full-service bar created from Piggly Wiggly food cans and dairy case displays; but the hand-blown glass chandelier encircled with pigs is all NOFO.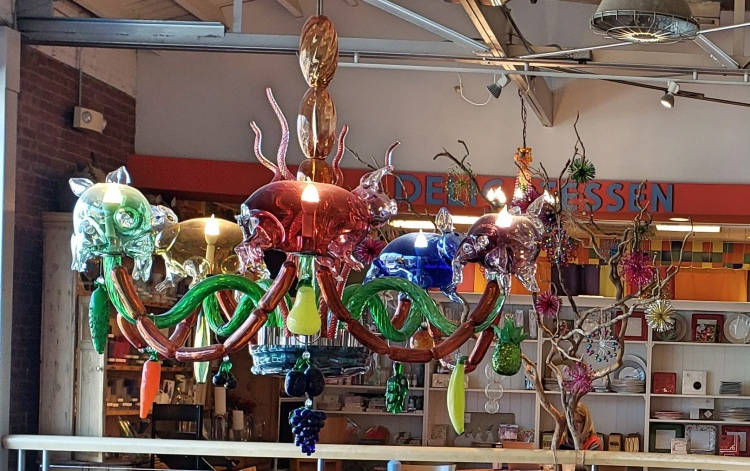 We loved that NoFo moved into the space that was once an old Piggly Wiggly grocery store. This was a southern staple store and certainly no joke. When I lived in Tennessee in the 80's, I shopped at a Piggly Wiggly for all my weekly staples.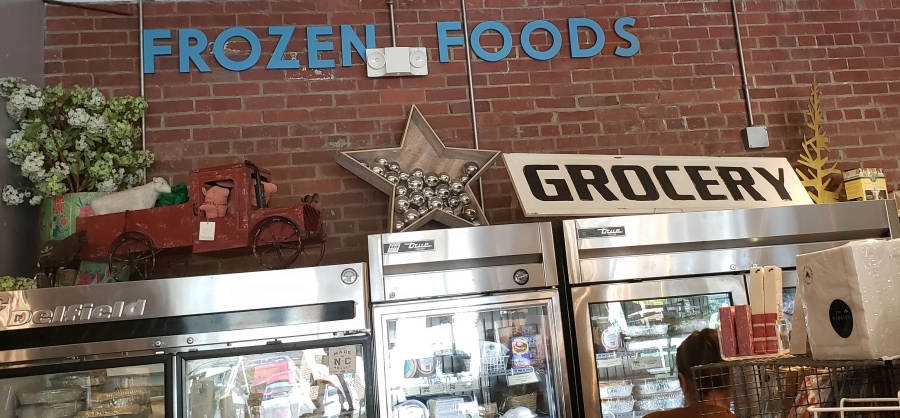 On our visit to see what NoFo was really all about, I truly fell in love with the food and the fun, folk-art atmosphere. Here is a restaurant that allows you to have some fun, but serves up serious cuisine. On our weekday lunchtime visit, we ordered some tea to start. Yes, for anyone not from the South that is served cold, over ice. If you don't want sugar you have to state you want your tea unsweet. The way most southerners sweeten their tea will make your teeth ache. I instantly knew the food would be good based on the fact that the tea was brewed to perfection. Yes, there is an art to brewing the right blend of tea and NoFo has this down pat.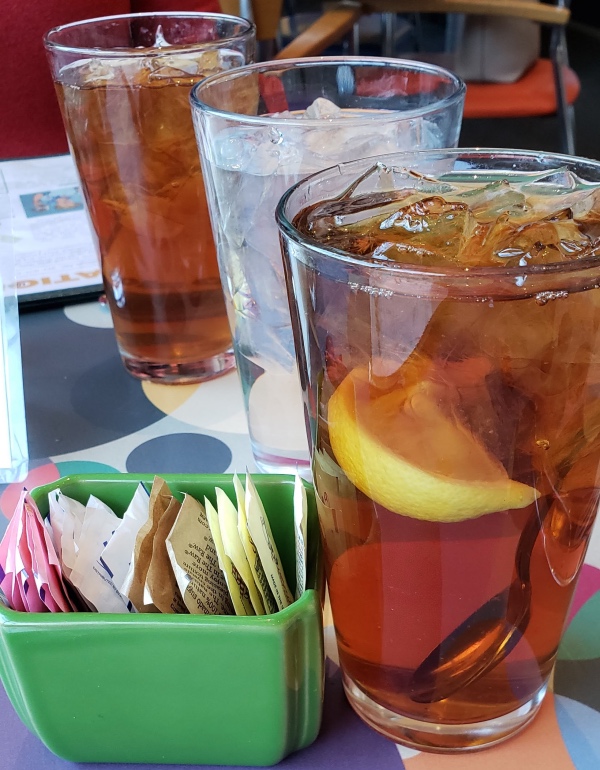 Looking at the menu the Fried Green Tomatoes with Pimento Cheese and Red Tomato Jam spoke to me. They said, and I quote, "If you do not taste these you will regret it." When they arrived they were just as I pictured them. Nice thick round slices of green tomato coated in a cornmeal breading and fried a perfect golden color. Sitting on top was a generous portion of lovely pimento cheese. The tomato jam sat off to the side but I can assure you I added a dollop to each bite of the tomato.

Based on the appetizer experience I was feeling quite confident that no matter what I would order from the menu for my entree. I would be happy. Then I saw a plate of fried oysters being delivered to a table nearby. The seating is pretty close quarters so I got a good look and a whiff of those plump little golden brown sea treats. Yes, my mind was made up even before I realized they were served with homemade french-fried potatoes with the skins intact. My lunch partner wanted some greens so she opted for the salad with fried boneless chicken tenders on top. She was also very pleased with her selection.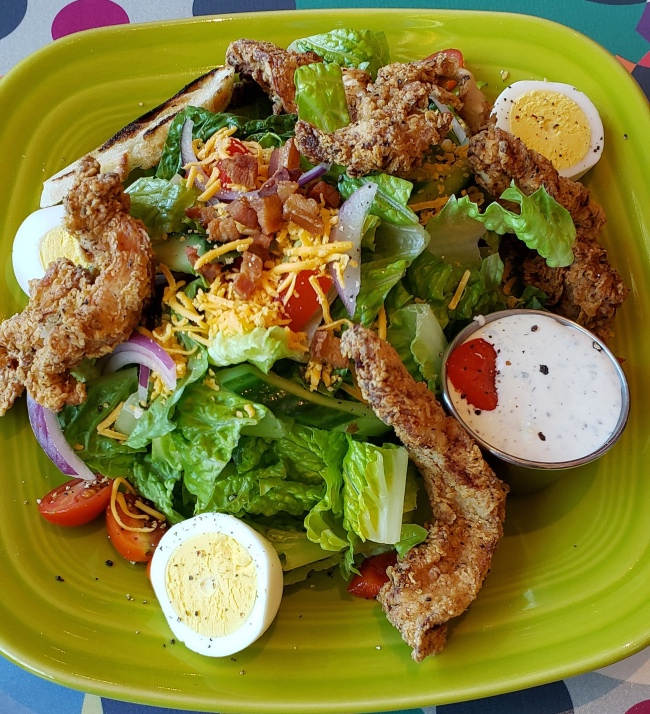 To explain how good my fried oysters actually were, you have to know a couple of things about me. I am originally from the Northeast and we consider our area the ruler of the best cold-water seafood. I consider myself a bit of a shellfish junkie. Lobster, clams, crab, oysters; I love it all cooked, raw, steamed, baked or fried and I will enjoy it all the same. I just came back from a recent visit there and ordered fried clams from a local fisherman's seafood shack and while they were freshly harvested from the Northeast water and sand, they did not hold a candle to the fried oyster heaven I was eating from NOFO.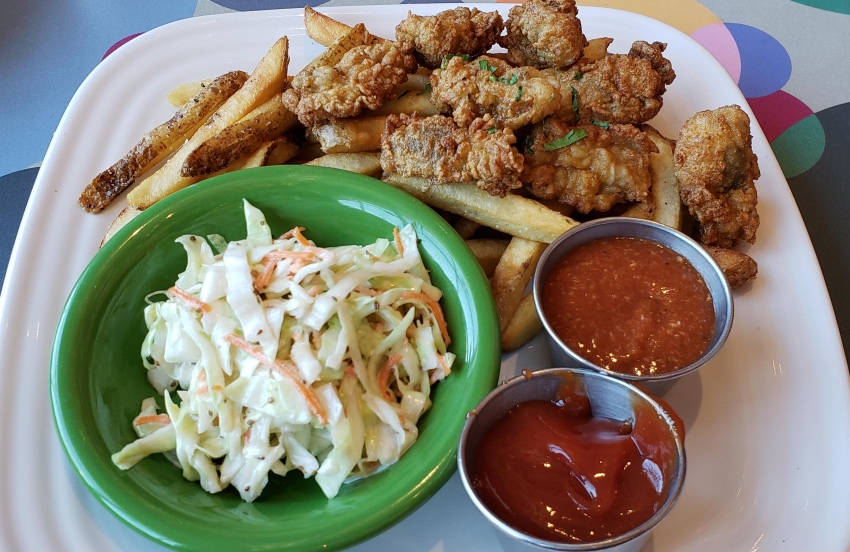 I like my fried oysters served with tartar sauce but as is the tradition in the South, NoFo offers their oysters with a cocktail sauce. I dipped my finger into it to taste and now may have more insight into why their Bloody Mary cocktail is so famous. I plan to go back on a weekend for brunch! I asked the server if they had anything like a tarter or an aïoli sauce and she suggested a remoulade. Great suggestion. I have not had a remoulade this good since a chef friend from New Orleans made it for me. I dipped those round plump and juicy, fried nuggets into that sauce and when the oysters were gone, I went back into the sauce cup this time dipping my french fries.
After we finished our lunch I took a bit of time perusing the art, antiques, and decor that was placed strategically all around me in the dining area and the restroom. I was pleased to see my friend Vivian Howard's Deep Run Roots cookbook prominently displayed for sale. I thought she would love coming here and trying the food and soaking in all the southern charm!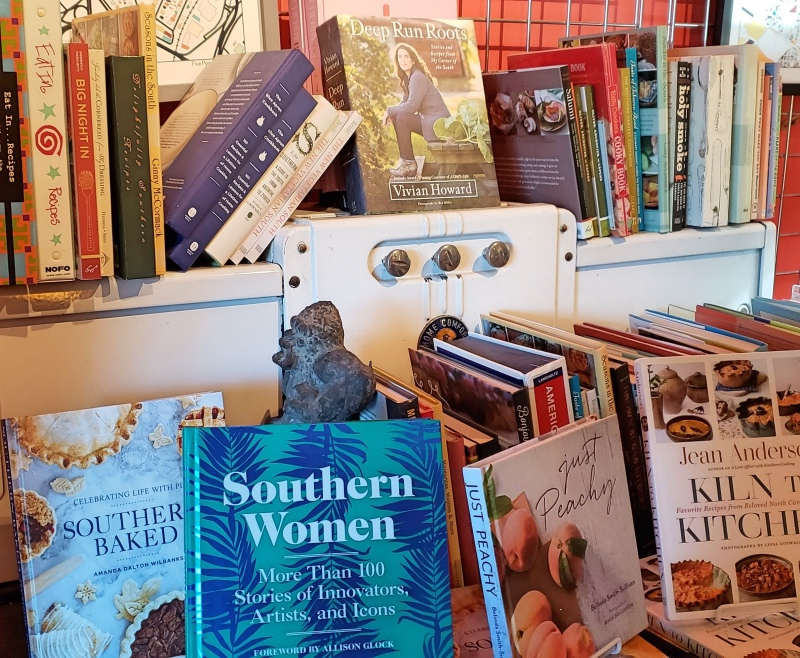 As I went upstairs to the gift shop I was charmed at the display case made out of an old supermarket refrigerator case- likely from the old Piggly Wiggly. I marveled at the colorful chandeliers, especially the one made out of little glass pigs. I wish I had had more time to shop, but I will for sure be coming back for a sit on the outside patio on a spring midday Saturday to have a Bloody Mary and those Oysters with the Remoulade Sauce!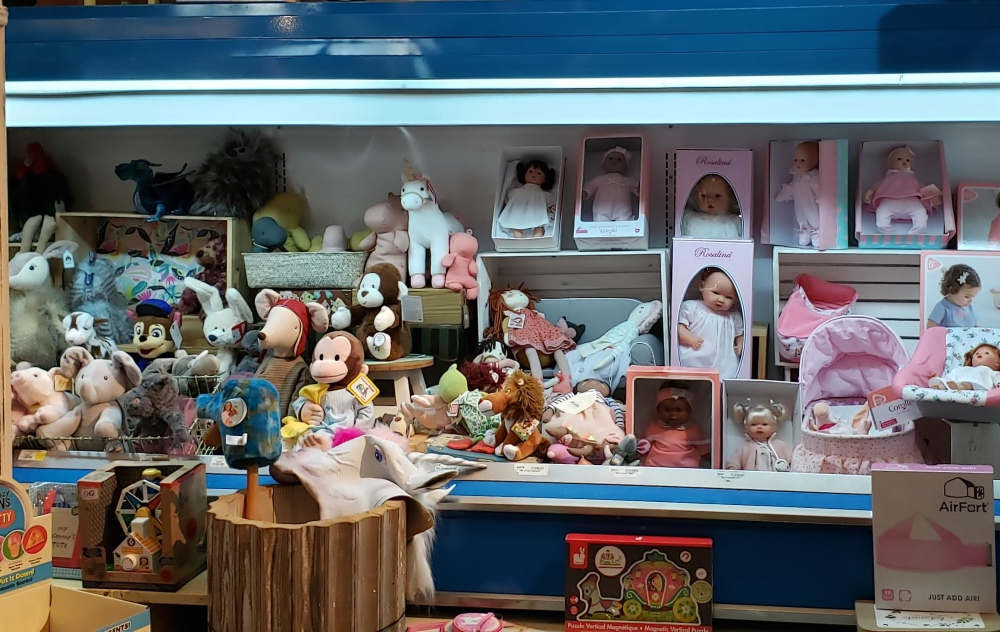 We love, love, loved NoFo! Find Them at 2014 Fairview Rd in Raleigh, NC.