There is a trend right now in the North Carolina restaurant scene and the best way to describe it is simple, southern-comfort food served in a gourmet style. Crawford and Son certainly fell into this category for me. The food was was rustic in nature, amazingly flavorful, rich, and balanced. Ingredients were paired and served in a creative manner that was pleasing to all the senses.
We made an online reservation on this rainy Tuesday night and requested to be seated at the bar. The bar always supplies a good vantage point of the operations of a restaurant. Depending on how busy the bar is you can likely ask more questions of the staff and hear the other patron's opinions as well. We entered to see a hostess stand directly in front of the door, perhaps this is a way to address space better or to let people know that bar seating may require a reservation. The restaurant was much smaller than I anticipated but in no way was personal space compromised. The interior is upscale but rustic with exposed brick walls and lots of black and grey. I understand that Architect/interior designer, Louis Cherry designed the space so that the star, which is the colorful food being served, would be in the spotlight. He is the same person who designed Poolside Pies, Ashley Christensen's latest venture.
The menu was well laid out and limited in the number of items being offered. In each category, it had something that would appeal to everyone. For example, as an appetizer, I enjoyed a hen of the woods mushroom salad that was salty and tangy. My dining partner had pan-seared scallops served over cauliflower with a creamy sauce. When a fine dining establishment offers limited menu choices it speaks to me in such a reassuring way saying "regardless which of the options you select you will not be disappointed." I will caution that the font of the menu is a bit small and since the lighting was dim it made it difficult to read the descriptions of the fabulous dishes being offered. Bring your eyeglasses if you wear them.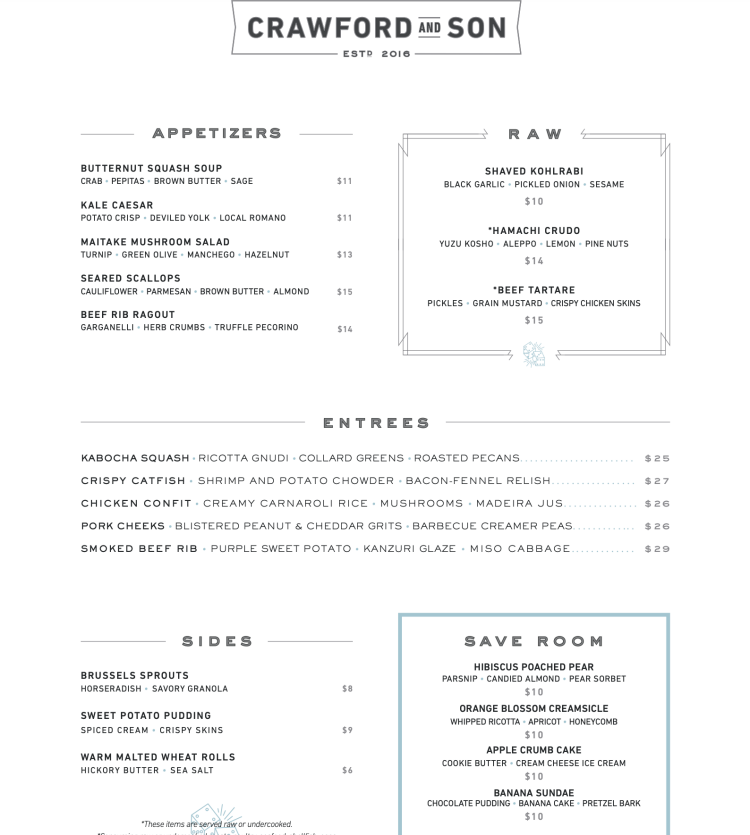 The bartenders were well versed in the menu and were able to elaborate on all the dish's flavors and unique characteristics. They lead me in the right direction with pairing a glass of sparkling wine with my rich entree selection of the Pork Cheeks • Blistered Peanut & Cheddar Grits • Barbecue Creamer Peas.
What else did we order and how did it measure up compared to all the accolades Crawford and Son has received since it opened in 2016?
Top Ten Best New Restaurants by Bon Appetit in 2017, Restaurant of the Year Wake County by Indy Week and N&O in 2019 and now named one of the Three Best Restaurants in America by Open Table are just some of the restaurant's kudos. Not to mention the nominations for awards Chef Crawford has received from the James Beard Foundation.
The cocktail menu was much like the food menu, it had five signature cocktails to choose from and a few Spirit-Free as well. They did offer a larger selection of beer and wine. I opted for a "Peat and Pete" which was whiskey-based and very spicy because it is made with ginger beer and Texas Pete hot sauce, it was very different. My dining partner had a sweeter drink called "Pretty Visitor" made with Aperol which is an aperitif made of rhubarb and cinchona a flowering plant.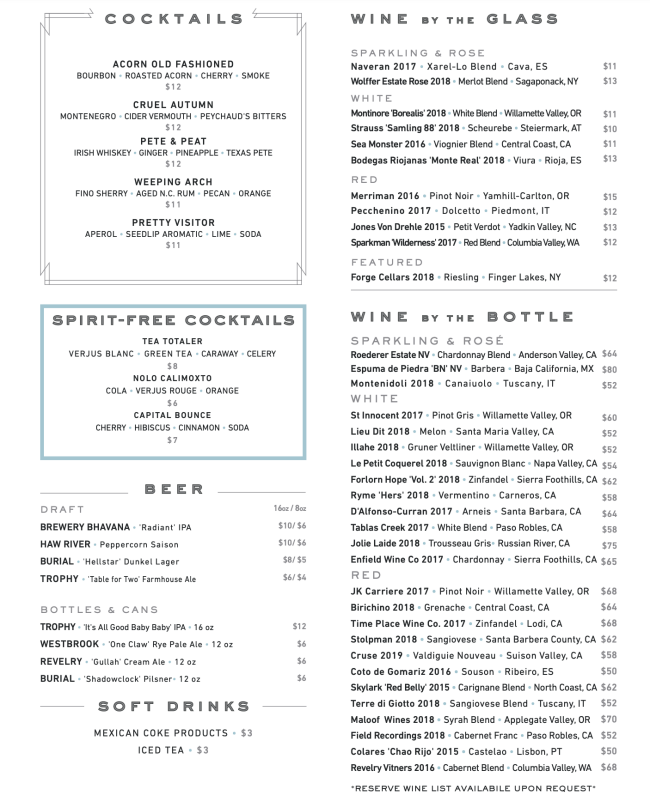 We were starving so we ordered up the Warm Malted Wheat Rolls served with Hickory Butter and Sea-salt. They were warm and fluffy on their own, but the butter made them crave-able. In full disclosure – we ate them all.
The Hen of the woods mushroom salad, or better known as the Maitake Mushroom Salad was served with strips of thinly sliced turnip, hazelnuts, green olive and shavings of Manchego cheese.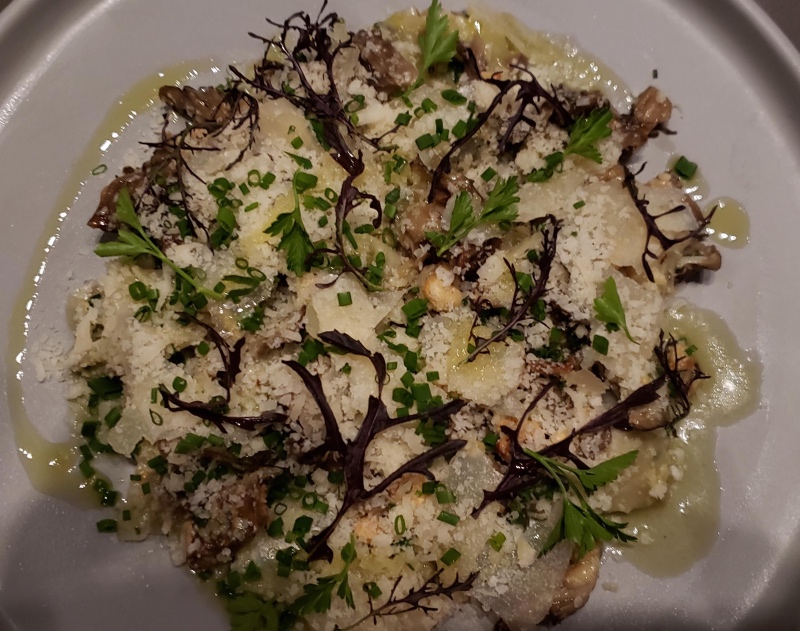 My dining companion's Seared Scallop appetizer had three generous sized sea scallops browned to perfection and when cut with a fork they were as tender as butter. The scallops were served over cauliflower with a brown-butter parmesan almond sauce.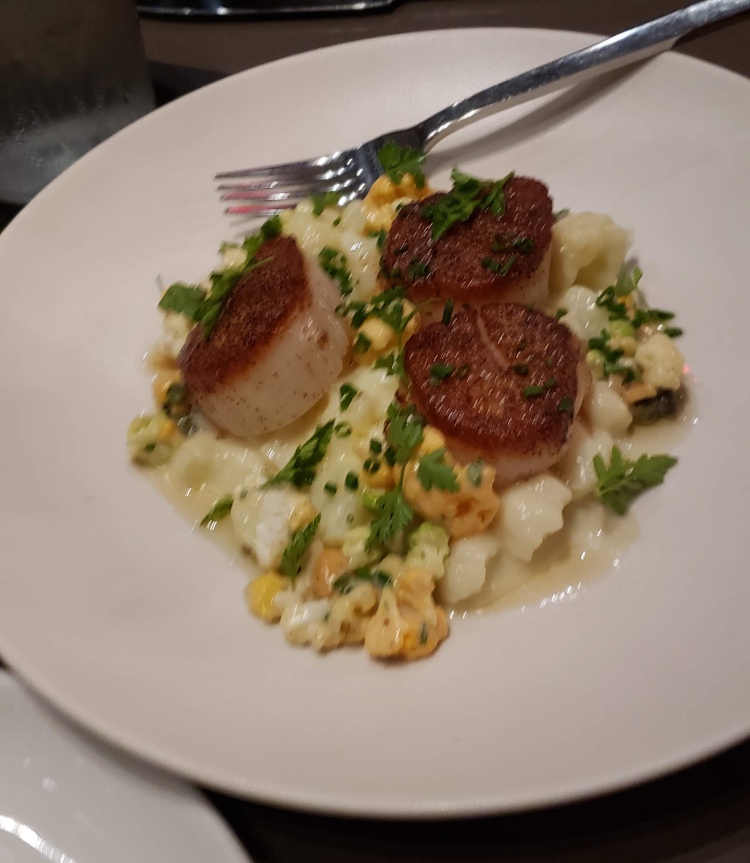 For dinner, my friend ordered the vegetarian option which was a Kabocha Squash with Ricotta Spinach Gnudi with collard greens and topped with roasted whole pecans. It was full of flavor and the Gnudi which was dumpling-like pulled the whole dish together.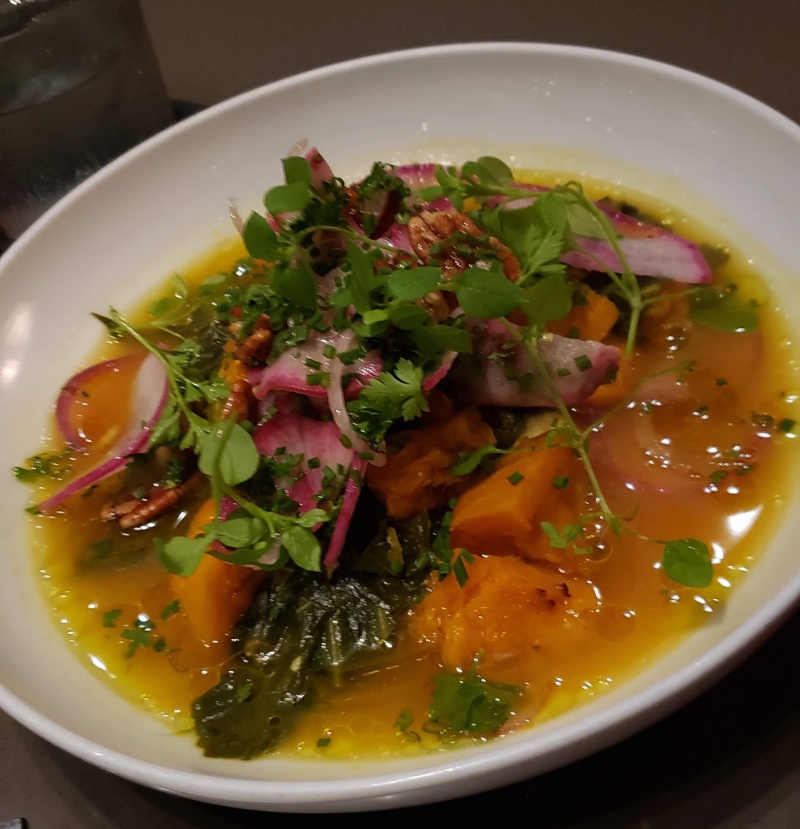 I went for the Pork Cheek entree that I previously mentioned above, which was a big bowl of southern comfort food. Rich and savory, the three generously-portioned pork cheeks broke apart with a spoon allowing me to scoop up some in each bite of the blistered peanut grits and creamer peas (a variety that belongs to the black-eye pea family). I had to take half of this dish home and I am happily enjoying it again as I write this article.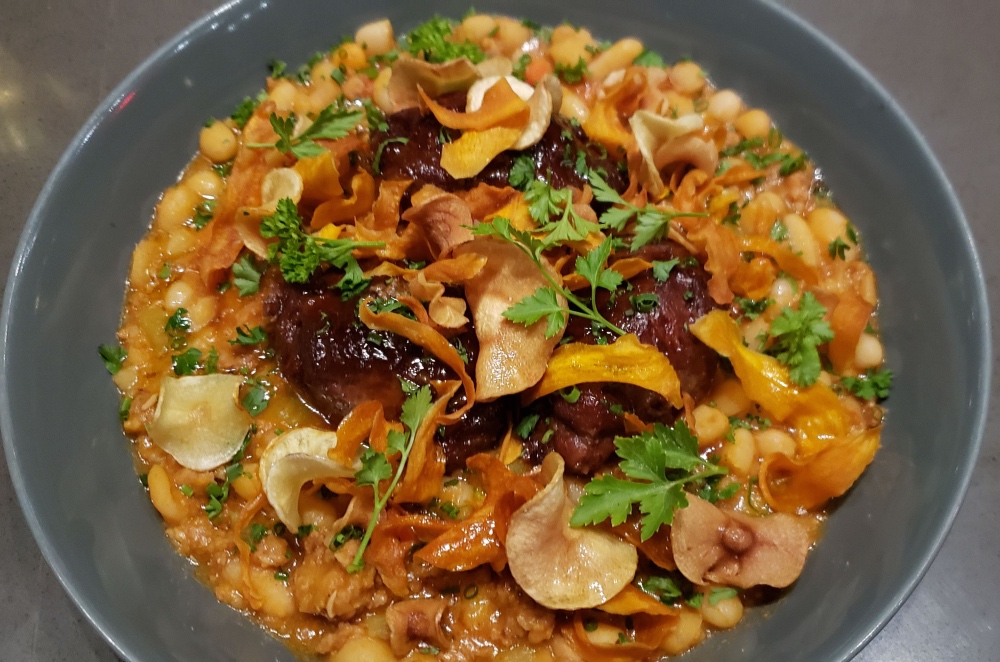 Sadly there was no room left for dessert which looked amazing. What would have I chosen? The Orange Blossom Creamsicle Whipped Ricotta •Apricot• Honeycomb there is no doubt!
I give these executive chefs big kudos for taking simple southern fare items like pork cheeks, beans, squashes, local mushrooms, catfish and pairing them appropriately while creating entrees that people will gladly spend upwards of $20.00. This means a profitable and trendy restaurant with great margins. They are contributing to the sustainability of agriculture and people in the culinary industry while supplying the local public with the right flavors that appeal and delight the senses. This was certainly part of my experience at Crawford and Son. Recently named one of the top three restaurants in the United States by Open Table is certainly an honor they can be proud of. While we were there we witnessed them ringing up gift cards after gift cards for people walking in. These are guaranteed future reservations. May I suggest you book in advance if you want to try them out, even for bar seating?
Crawford and Son are located at 618 North Person St. Raleigh and are open for Dinner Tuesday through Sat 5 PM -10 PM