Stove Top
If a recipe can be made on a stovetop I immediately like it.  It may be for the simple reason anyone can feel comfortable using a frying pan or saucepan. It might be that the recipe is a one-pot meal and that means fewer dishes to clean up. Whatever the reason is that we love a recipe that calls for a stovetop method of cooking you can rest assured we have plenty of them for you to choose from.
Don't waste summer fruits when they make the most delicious jams. You can control the amount of sugar or if...
Yes, you read that correctly! I know it is hard to believe that all that cinnamony goodness could be packed into a pancake and still taste like a cinnamon bun with icing, but low and behold I made them and they were amazing! These take a little bit more effort...
Throw away those cans of processed cranberry jelly and make your own simple, delicious, cranberry sauce this year for Thanksgiving....
These little lovelies are vegetarian and healthy. They make a wonderful side dish to accompany almost any meal or own...
Ingredients 1 Lb. of Raw Shrimp 2 Lemons (sliced) 1 Large Onion 1 Tablespoon of Your Favorite Seafood Boil (I purchased mine at the spice store) ½ Cup of White Vinegar ½ Cup of Olive Oil 1 Teaspoon of Salt ½ Teaspoon of Salt for the Boiling Water Instructions Remove...
Ingredients This recipe makes a large batch for a party. If you love mushrooms make these to keep eat over...
Ingredients This recipe is meant to be made for a crowd. If you are planning to make for a family, by all means, cut the recipe in half or quarters. 2 Lbs. of Orzo Pasta 1 Cup to a Cup and a Half of Chopped Cherry Tomatoes (quartered) 3/4 Cup...
Ingredients 4 oz Chicken (cut thin and into pieces) 8-10 Shrimp (peeled and deveined) 6oz Rice Noodles (cooked and cooled)...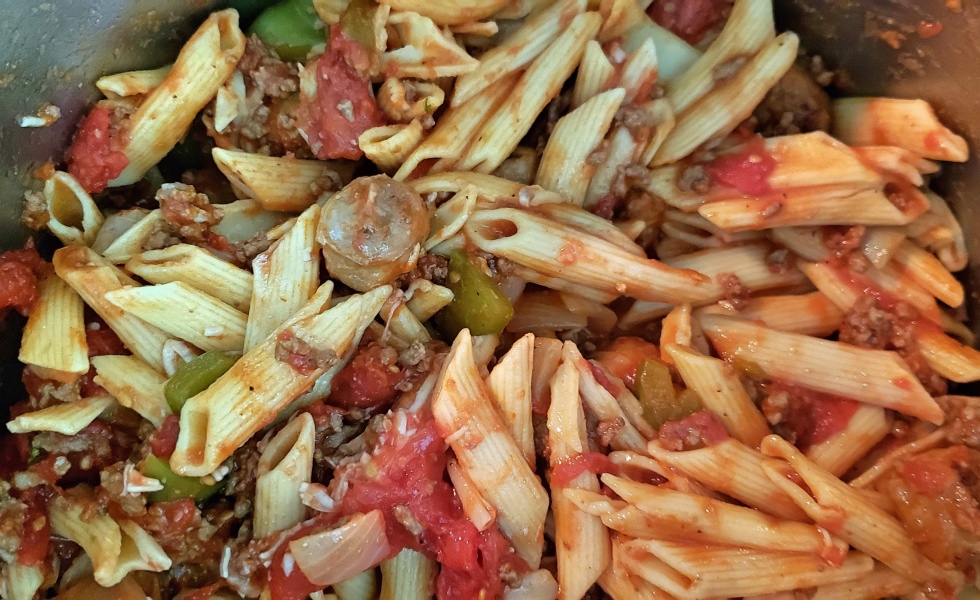 Ingredients Feeds 8-10  2 lbs. of Ground Beef 5 Italian Sausages (I used hot) 20 Oz of Pasta (Casserole Elbows,...
Ingredients 6 Eggs ¼ of a Small Onion Sliced 6 Ounces of Sharp Cheddar Cheese (sliced) ¼ Cup of Black Beans (canned) ½ Cup of Salsa 4 Slices of Bacon 4 Flour Tortillas ½ of an Avocado Sliced Cilantro for Garnish 4 Slices of Jalapeno (optional) Instructions Cook the bacon...